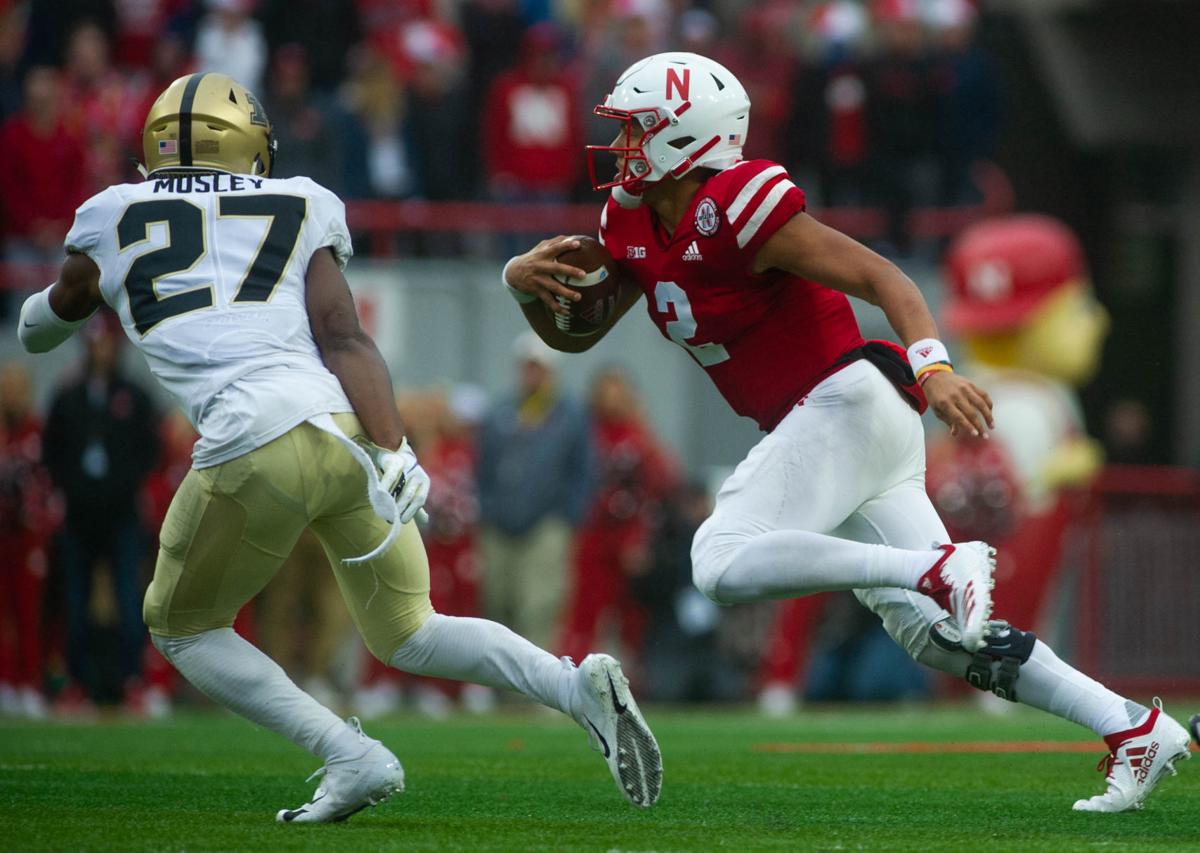 Nebraska travels to West Lafayette, Indiana, to take on Purdue and is looking to get back to .500 in Big Ten play. Let's take a closer look at how the Huskers and Boilermakers compare. 
How the Huskers light up the scoreboard
1. Keep your balance. Against Indiana, Nebraska passed for 294 yards and rushed for 220. If the Huskers can replicate that kind of balance, it can help make up for what at this point looks like a lack of playmaking options.
2. Just that. Item No. 2 is Nebraska's No. 2, as in quarterback Adrian Martinez. He said Tuesday he's ready to return from a knee injury after missing NU's past two games. If he returns and is sharp, it's a lift for the Huskers.
3. Six, please. Nebraska drove into the red zone on its first four drives against Indiana but had just 14 points to show for it, thanks to a fumble and a missed field goal (after a bad procedure penalty). Both of these offenses can score, and NU is going to need six when it gets its chances.
4. 1 + 10. NU needs big plays from Wan'Dale Robinson and JD Spielman, plain and simple. Both looked good against Indiana — Robinson 164 total yards and a TD, Spielman five catches for 97 — and both will be counted on against the Boilermakers.
How the Blackshirts shut 'em down
1. Don't leak. Purdue can't run the ball. The Boilermakers average less than 70 yards per game, 50 fewer than the next worst team in the Big Ten. The Huskers can't allow PU to get anything going on the ground.
2. Bell weather. It's unclear if star sophomore receiver Rondale Moore will play, but freshman David Bell is a big challenge in his own right. The 6-foot-2 Indianapolis native is one of the best young wideouts in the Big Ten. He has three 100-plus-yard games on his ledger, including 13 for 197 and a TD against Iowa on Oct. 19.
3. In a rush. Nebraska's pass rush has struggled lately, but will have plenty of chances against quarterback Jack Plummer and Purdue. The Huskers must find a way to get home at least a few times against a pass-happy attack.
4. (Pay me my) Money down. The Huskers allowed 7 of 14 third-down tries and two fourth-down conversions last week against Indiana. That ain't gonna work. NU is 13th in the Big Ten overall in third-down conversions allowed (40.2%) and has allowed 45.6% in Big Ten play.
Three numbers to know
111.6: Offensive yards per game in Big Ten play for Nebraska freshman Wan'Dale Robinson. The Huskers could use another big outing against Purdue.
414: Total yards for Martinez against Purdue a year ago. The sophomore quarterback said Tuesday he feels like he's ready to return to action after missing two games with a knee injury.
4: Rushing touchdowns on the season for Purdue, which has been held to 100 rushing yards or less five times in eight games.
Under the radar
OL | No. 73 | So.: Bando is a third-year player who's improved his stock over the course of preseason camp and the regular season. He was the No. 3 left tackle until Christian Gaylord suffered a season-ending knee injury in camp, but he's become the sixth man for offensive line coach Greg Austin in recent weeks. He played a half at left guard against Minnesota and nearly that against Indiana when Boe Wilson went out with an injury. Even if Wilson is back this week, it's possible Bando, a Lincoln native, will continue to see some snaps.
ILB | No. 31 | Jr.: Miller isn't fully under the radar. He's been one third of a roughly equal-parts rotation for Barrett Ruud at inside linebacker. Two reasons for Miller's presence at this spot this week: 1. It will be interesting to see how NU deploys its inside linebackers against a team that hasn't been a threat to run the ball this year. 2. Miller is a native of Fishers, Indiana, making this a homecoming for the junior. He is one of two Indiana natives on NU's roster, joining reserve tight end Kurt Rafdal.
Marquee matchup
Purdue wide receiver David Bell against Nebraska cornerback Lamar Jackson
Jackson, NU's 6-3, 215-pound senior, has had a good senior season overall but did not play well against Indiana last week. Bell, Purdue's standout freshman, has dominated at times this fall but had just five catches for 18 yards last week against Illinois. Both are pretty darn good when in top form. It would be fun to see both rebound and get after it on Saturday.
In lieu of a mismatch this week, let's use a category neither team is likely happy with but one that will be critical on Saturday: Turnover margin.
Nebraska is minus-4 on the season and minus-6 in Big Ten play. The Boilermakers are minus-8 on the year and a slightly better minus-2 in league play. The Huskers have been even in the turnover battle once (in a 34-7 loss to Minnesota) and won it once (1-0 in a win against Northwestern) so far in league play.
Prediction
Another week, another game that feels like a tossup. So far, outside of Northwestern, Nebraska has come up on the short end of the stick in these types of contests. Yes, perhaps Martinez will return to action this weekend. And yes, the Huskers do face a team that they should be able to render one-dimensional on offense. Purdue's passing attack is worrisome, though. Last week's ugly performance against Illinois came in a driving rain. The week before, Jeff Brohm's team played tooth-and-nail at Iowa. Perhaps the Boilermakers will get Moore back this week, too. Even if they don't, the combination of a potent passing attack and NU's lack of a pass rush makes it hard to pick the visitors to come out on the winning side of a 50-50 game.