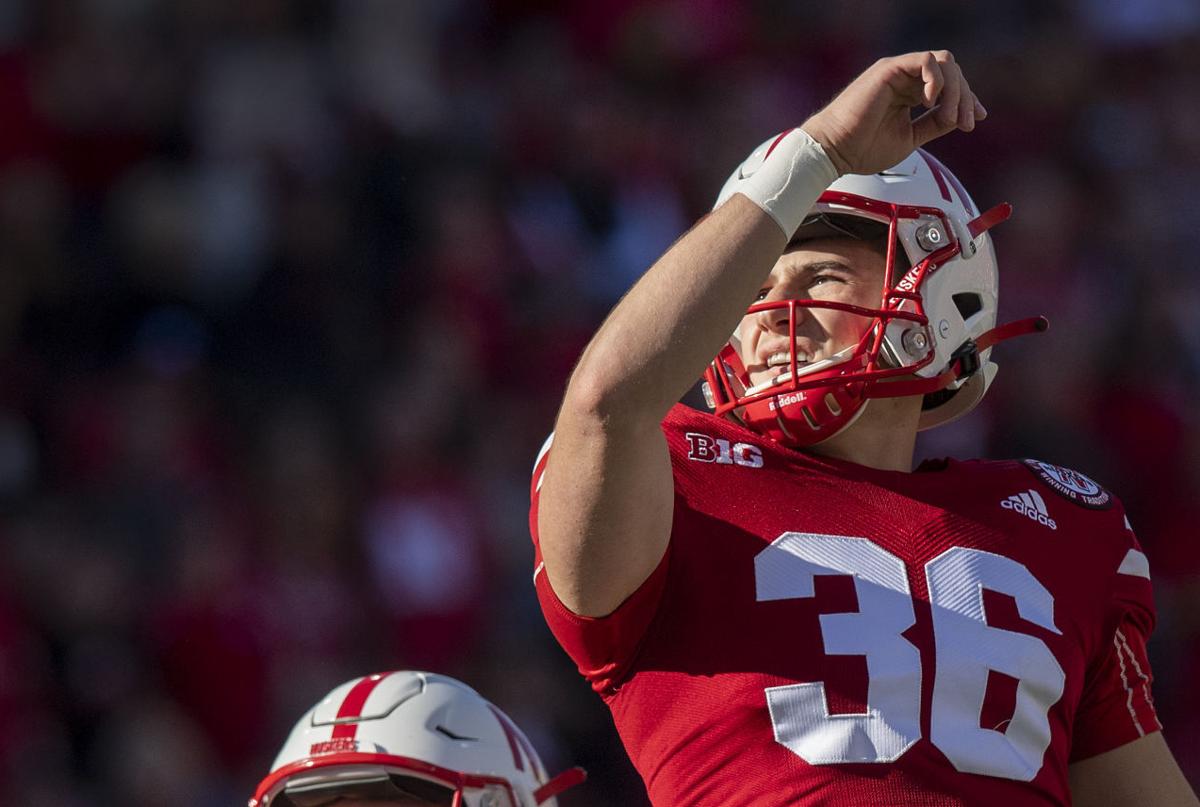 Chase Contreraz on Thursday fielded the question he'd been waiting for ever since he arrived at Nebraska before the 2020 season as a transfer from Iowa Western Community College.
Coach Scott Frost approached him and said, "Are you ready?"
Contreraz won the place-kicking job from struggling senior Connor Culp over the past two weeks.
He delivered Saturday, making both of his extra points and a 33-yard field goal in a successful NU debut.
"I've just been patiently waiting and competing with those guys every day and it's been tough, but at the end of the day I know what I'm capable of and I was 100% confident in myself and my abilities," Contreraz said.
The redshirt freshman from Missouri Valley, Iowa, was a second-team junior college All-American in 2019 and then walked on with the program he grew up rooting for. Needless to say, he had some butterflies when he trotted onto the field after Nebraska's opening touchdown drive against Purdue.
"The first PAT, it was really nerve-wracking," he said. "It didn't even seem like it happened. My heart was racing, it went by in a flash, but once I got that first kick out of the way, the rest were pretty easy. …
"There's nothing like it. I've dreamed about this since I was a kid, playing for Nebraska and kicking through the uprights and hearing that 90,000 fans go crazy. It was unbelievable."
Husker LBs put up gaudy numbers: Nebraska's defense was on the field for a whopping 86 plays Saturday and Purdue didn't generate more than 21 yards on any one of them, meaning there were a ton of chances in the middle of the field. 
The Husker linebackers racked up tackles as a result. 
Sophomore Luke Reimer led the way with a season-high 19 stops (12 solo), while redshirt freshman Nick Henrich followed with a career-best 14 and JoJo Domann added 13. 
Reimer's 19 stops were the most by a Husker in a Big Ten game and the seventh-best single-game total in school history. He's up to 86 tackles on the season, and Henrich is not far behind at 79. 
That was of little consolation to Henrich after NU's 28-23 loss to the Boilermakers. 
"It's super-frustrating, but moments like these are when your character is really defined," Henrich said. "You've got to show up Monday ready to work again, so that's what we're going to do. We're going to keep getting better." 
Karlaftis' key sequence: Nebraska threw double teams and help at Purdue standout defensive end George Karlaftis at times and other times held up decently well one-on-one. Even junior tight end Travis Vokolek got in on the action, taking Karlaftis on by himself on a downfield completion from junior quarterback Adrian Martinez to tight end Austin Allen. 
Karlaftis made his presence felt in a big way in a key third-quarter sequence, though. First, he stuffed redshirt freshman running back Rahmir Johnson for a loss of 4 on the first play of Nebraska's second drive of the half. Then on second down, Karlaftis collapsed the pocket and affected Martinez, who made a poor decision and tried to backhand toss the ball. It was intercepted by Boilermaker outside linebacker Jalen Graham. 
"(Karlaftis) is a really good player. They've got some good players. They're a good team, too," Frost said. "They've got the fourth-ranked defense in the conference or whatever it is. Some of the blocks and things we did in the first half, we didn't get done in the second." 
Huskers offer in-state 2025 prospect: Nebraska on Saturday extended a scholarship to offer to a young — really young, actually — in-state talent. 
That's Omaha Burke freshman linebacker Christian Jones, who was on an unofficial visit Saturday, one day after his Bulldogs knocked off Lincoln Southeast in the first round of the Class A playoffs. 
Jones is the first-known in-state offer for the class of 2025 for Nebraska.