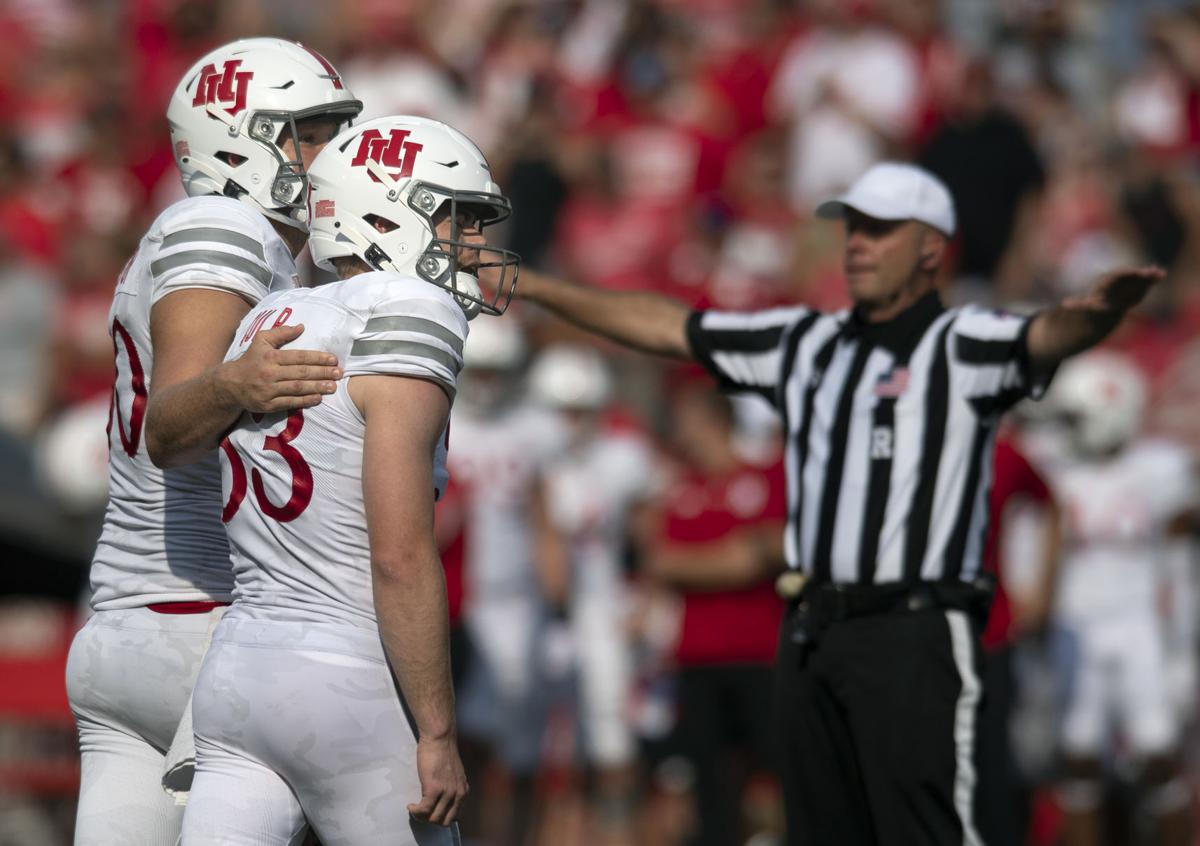 Nebraska has the reigning Big Ten kicker of the year in senior Connor Culp, but he's struggled to consistently put the ball through the uprights in his second season playing for the Huskers.
After missing two extra points against Illinois in NU's season opener, Culp missed field-goal attempts of 32 yards and 42 yards against Buffalo on Saturday. He was also charged with a missed field goal in the final seconds, though the ball appeared to sneak inside the left upright.
"The last one went in," Culp said flatly. "But, it is what it is."
The bottom line in Nebraska's 28-3 victory is that the senior from Arizona had a bad day at the office.
"You're going to have bad days," Culp said. "No one wants them. I want to make the kick more than anyone else in that stadium. Sometimes, things just don't go your way. Also, at the end of the day, it's just a game. That's my mindset on it. I'm going to keep my head high. Stuff like that happens and I'm not going to let that affect me again."
Culp said he felt good in warmups and that both of the kicks, which missed right, felt "really good" off his foot.
"I didn't think they're going to go right," he said. "I'll have to look back at the film to see exactly what happened."
Culp said he's better equipped to handle the adversity now than he is when he went through a similarly erratic stretch as a freshman at LSU in 2017.
"I was a lot less mature and didn't really know how to handle and really push through situations like that, but now I've looked back, kind of came to peace with myself, had a good season last year," he said. "It's just another obstacle I'll have to face and come through, but now I actually know how to handle it and persevere."
Taylor-Britt PR concerns continue: Defensive back Cam Taylor-Britt had a big mistake as NU's punt returner for the third straight week. He attempted to catch a ball with the defense closing in and Frost said after the game that he should have communicated to his teammates to get away from the short punt and let it bounce. Instead, Taylor-Britt got run into by his own guy, freshman defensive back Isaac Gifford, and the ball hit one of them, allowing Buffalo to recover. 
"I'm scratching my head a little bit because two of our best players on our entire football team are Connor Culp and Cam Taylor-Britt," Frost said. "Cam made a ton of good plays on defense and he's a captain and I love him like a son. But punt return bit us again." 
Put the defense out first: NU head coach Scott Frost is fond of taking the ball first when his team wins the coin toss. He followed through on a camp musing Saturday, though, opting to defer and put his veteran defense on the field first.
It almost worked, too. The Blackshirts got a stop at the end of a Buffalo drive and Nebraska scored in the final minute before halftime.
The only missing piece: Nebraska failed to double up and score again to open the third quarter.
"It almost worked out for us," Frost said. "… We had a drive going and sputtered. But if you can score at the end of the first and steal a drive and score at the beginning of the third, you've got a good chance of winning the game. We almost made it happen today."
Quarterback Adrian Martinez said the momentum going into halftime was big, but he also can't help but like having the ball first to open games.
"I know our defense loved it, I think that was the bigger thing," Martinez said. "Those guys were excited that they finally got to start out — first group to start the game and they wanted that. Then to get a big stop, I think, is big for our offense as well."
Cerni struggles, then connects: Freshman punter Daniel Cerni's up-and-down first season continued against the Bulls, but he did have a highlight. The Australian put an ugly 29-yarder behind him and dropped a beautiful, end-over-end 39-yarder at the 1-yard line in the second half. It's the kind of accuracy the Huskers expect from the 6-foot-4 freshman.
"I was really happy for him," Culp said. "He takes a lot of pride in everything he does. He's been working really hard at practice and has left everything out on the table. His consistency and everything will come eventually. He's just got to keep ironing it out and keep going. He'll be a very good college punter."
DT the FB: When Luke Reimer's interception return ended at the 1-yard line, Frost didn't hesitate with his personnel grouping. 
Martinez went under center with Gabe Ervin the tail of a backfield tandem. The fullback in the I-formation? Junior defensive lineman Deontre Thomas. 
He led the way and Ervin rolled into the end zone easily. 
"I've never played offense in a game before, but for me to go out there and play fullback, I was super excited," Thomas said. "One day at practice, Coach Frost came to me and he asked if I wanted to play offense. I said, 'What do you have in mind?' He said 'Fullback.' I said, 'Fullback? OK, let's do it. Let's go.'" 
Touchdown! No, wait: Nebraska turned a trick that is rarely seen in football these days: Three touchdown plays wiped off the board because of penalty. 
First, Samori Toure got loose out of the backfield on a wheel route, but fellow receiver Wyatt Liewer was called for offensive pass interference. That's the second chunk play Toure has had taken off the board because of an OPI penalty this year. 
Then, Zavier Betts hauled in a juggling deep ball that he tipped away from a defender only to have it called back due to a holding on right tackle Bryce Benhart. 
In the closing seconds, freshman Will Nixon thought he had his first career touchdown when he took an option pitch from Logan Smothers into the end zone. The officiating crew, much to the disdain of the Memorial Stadium crowd, ruled that Smothers was beyond the line of scrimmage and threw the ball forward for an illegal forward pass, then let the call stand upon review. 
"I have to figure out how to have our players stop getting called for penalties on scoring plays and explosive plays," Frost said. "I've never seen anything like it, so we'll review those and find out what is going on."
End-of-game management: That bizarre final sequence, which also included the field goal that appeared to go through but was ruled a miss, began when Buffalo took a timeout with 1:55 remaining. On the next play, Smothers rolled to his right and hit tight end Chris Hickman for 54 yards despite the game being essentially out of reach. 
"To be honest, we were ready to run it out until they used the timeout," Frost said. "And then I was going to keep the throttle in. When you get new guys out there, you want to give them a chance to run the offense and make plays, too."