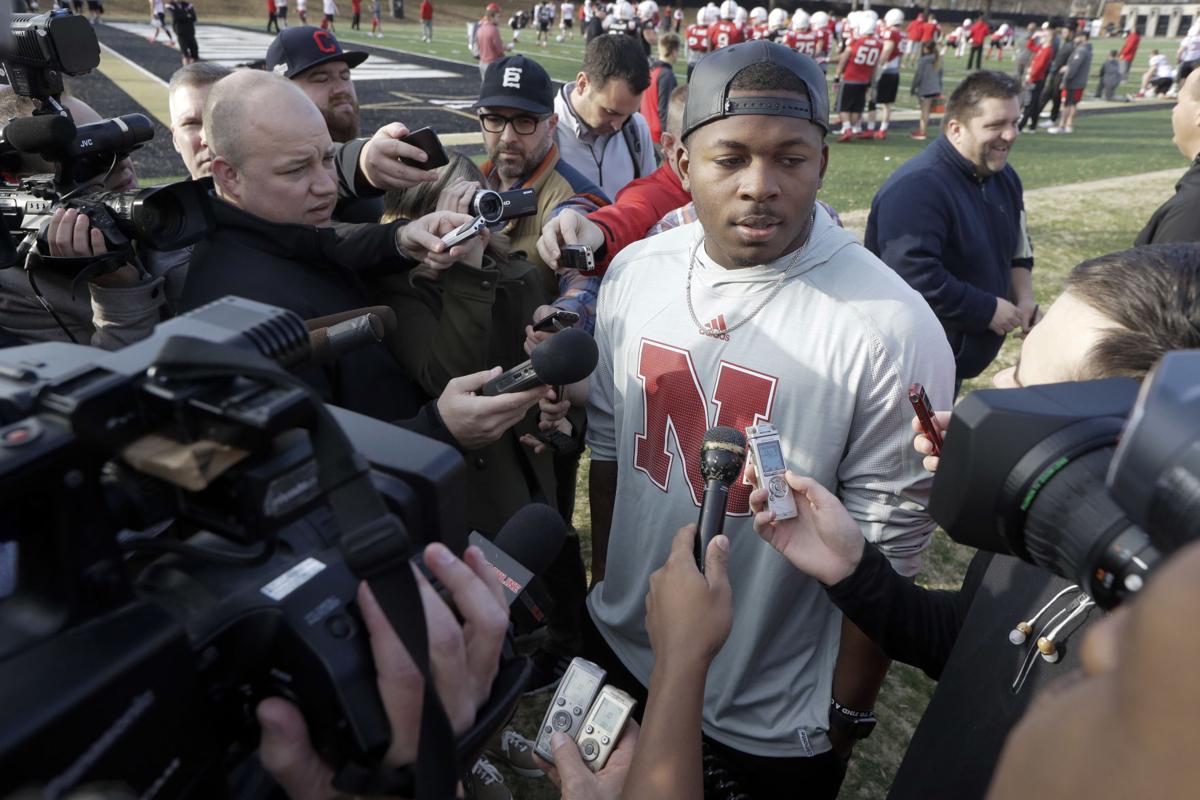 NASHVILLE, Tenn. — Tommy Armstrong, the man who has started more games than any Husker quarterback before him, was in an unfamiliar position of talking about watching his team from the sideline, and then what his football future may be. Wide receiver? Maybe.
Ryker Fyfe, the man who waited, waited and waited as a backup, turning away other options and staying a Husker, was talking about stepping into the brightest spotlight he's seen.
Last game of his career. Biggest game of his career. Heady stuff.
"It means a lot. It's been a long journey, and not knowing if you're going to play much, but that's a risk you take walking on. I think it pays off," Fyfe said two days before he starts for the Huskers against Tennessee on Friday in the Music City Bowl.
"Starting three games at Nebraska means more, I think, than starting four years at UNK, but that's just my opinion."
The senior from Grand Island was referencing a scholarship offer he turned down from Nebraska-Kearney. There were times after that decision when it appeared he might not take a significant snap in Lincoln.
Now he's about to start a bowl game.
"He's ready to go," said offensive coordinator Danny Langsdorf. "He looks like he's playing probably his best football."
Fyfe was his typical laid-back self discussing the game ahead. When a writer from Tennessee asked him about going against All-America defensive end Derek Barnett, Fyfe replied with dry humor.
"Yeah, hopefully they block him."
He will wear a cast on his left wrist, but Fyfe doesn't expect it to be an issue. He can take snaps under center.
Fyfe thinks he's never been more ready for a game.
"Going with the 1s and just knowing you've got to play, you've got to be more locked in, be more prepared," Fyfe said. "I've been having a lot better approach I think the last two weeks."
Armstrong, who hasn't participated in one bowl practice but also hasn't officially been ruled out of the game, said he's Fyfe's biggest fan because he knows how hard he works.
"This team does not skip a heartbeat when it comes to me playing or Ryker," Armstrong said. "I think that just shows how much he's improved, and challenged myself, and earned the respect of teammates."
The possibility of Armstrong suiting up still exists, though even he makes it clear he would be more of an "emergency guy" behind Fyfe and Zack Darlington.
Armstrong said he's probably at about 75 percent to 80 percent as he recovers from a hamstring injury.
You have free articles remaining.
"We're still taking it probably until (Thursday), maybe even Friday, until we figure out what I could possibly do," he said.
Armstrong further aggravated his already ailing hamstring in the 40-10 loss to Iowa. "It kind of set me back a little bit more than I wanted to be, but I just wanted to be out there with those guys," he said.
It's a strange ending for a QB whose durability was an impressive trait at Nebraska. The start against Iowa was the 44th of his Husker career, topping Taylor Martinez for the school record.
After all that, watching the final game isn't an easy pill to swallow.
"It's difficult," he said. "Jordan (Westerkamp) and I always sit in our room … and just talk about how bad we want to be out here. But at the end of the day, it's what's good for you, it's about your health.
"There's certain things that a certain person can do, but you can't be Superman, you can't just go out there and do things how you used to do it in Week 1 and Week 2."
In summarizing his career, Armstrong said this year has "been rocky" because of the injuries late in the season.
Overall, "I think it's been a great thing, just for me, being out here with my brothers, being out here with guys I graduated with, young guys I became friends with," he said. "I look forward to watching them in the future."
Armstrong wants more football to be in his future, too.
"Right now I'm just keeping my options open," he said of possible positions he could play, trying to get as healthy as he can be come Pro Day in March.
Armstrong mentioned he'd like to work out some with wide receivers coach Keith Williams in the weeks ahead.
"I've played it here and there in high school," he said. "I'm not opposed to it. Whatever I can play, just to get a chance. That's all I ask for, is a chance to just go out there and do what I can do. I'm a hard worker. I'm a gritty player."
But first things first, this game. Armstrong said that's his focus even if he doesn't play.
He'll be supporting Fyfe and teammates going against a Volunteer defense that has struggled mightily, ranking 109th in total defense, 111th against the run and 73rd in points allowed (29.3 points per game).
"We should be able to move the ball and score a little bit," Fyfe said. "But we've got to come out and play, and do it."
And, yes, he'll think of his old childhood friend Sam Foltz when he steps on the field.
Sam's dad, Gerald, was on hand at Nebraska's practice Wednesday. Fyfe thinks his buddy Sam would be proud of him. The quarterback talked with Gerald after the practice about how much Sam would love Nashville.
"That's kind of who I'm playing for," Fyfe said. "That's who this team is playing for this year."