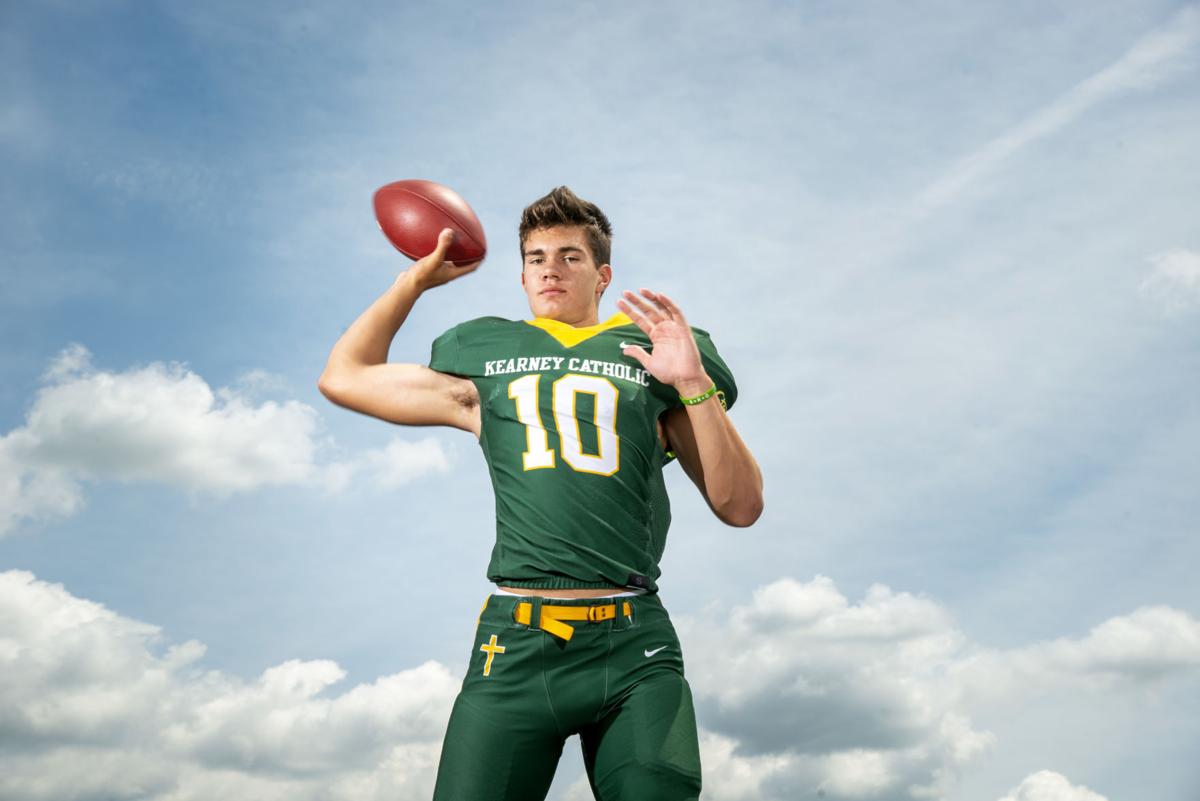 Meet the players who plan to don Husker red in the coming years.
High school profile
My school: Kearney Catholic.
City profile: Kearney is 130 miles west of Lincoln and has a population of about 33,000.
Players to play college football in the last 5 years: 2 (Nebraska walk-ons Matt Masker and Eli Richter).
Number of players with NCAA Division I offers: 1.
Number of players out for football: 52 in high school.
This week: Class C-1 No. 4 Kearney Catholic has a 6-1 record going into Friday's game against Cozad. The Stars will begin the playoffs next week. Haarberg has thrown for 11 touchdowns and rushed for seven TDs this season.
Player profile
Height/weight: 6-foot-5 and 190 pounds.
Position: Quarterback. He's been the starting QB since the middle of his sophomore year.
Rankings: Rivals.com ranks Haarberg as a three-star prospect. He's the No. 4-ranked high school senior in Nebraska. He committed to Nebraska on May 9.
Final schools: Nebraska and Boston College.
Coach's point of view
Kearney Catholic coach Rashawn Harvey shares some stories about Haarberg:
The best play I've seen him make: "Probably one of our zone-read concepts. He does a great job of selling that ball, giving it to the running back, and he pulls it out pretty good. He hit the corner and stiff-armed a kid, and 69-yards later we're in the end zone."
What college recruiters see in Haarberg: "I think coaches like his size. The kid is 6-5 or 6-6. They liked his athleticism, and his speed for being that tall. And also his ability to study the game. He had great conversations with coaches during that process, and via Zoom would watch film with coaches."
On what it was like for people in Kearney waiting to see if a Nebraska offer would come this spring: "The coaches were anxious, everybody on our staff, to see if they would make an offer to an in-state quarterback. (Nebraska) hadn't done that (since 2001). Obviously people in our program know his athleticism and talent and ability as a quarterback. We got a lot of coaches who are Husker fans, and we have an alum on our coaching staff, Paul Brungardt, so when it happened everybody was definitely excited."
Favorite Haarberg story: "Probably my favorite story is when he was a freshman and we were playing a playoff game and we were down and we needed some guys and some speed to stress the defense. He was more of a receiver in his freshman year. In the fourth quarter I looked around on the sideline, and I'm looking for him and I was like, 'Haarberg, you're in.' And his eyes lit up and he got so nervous. But he went out there and did a great job as a freshman."
Husker position-by-position breakdowns
Be the first to know
Get local news delivered to your inbox!