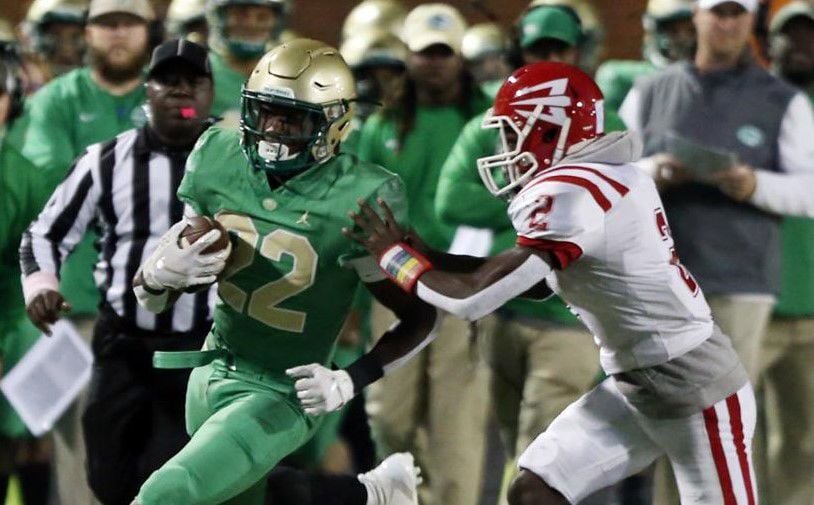 Meet the players who plan to don Husker red in the coming years.
High school profile
City profile: Buford, Georgia, is about 30 miles from Atlanta and has a population of 12,000.
Number of seniors committed to NCAA Division-I programs: Nine.
This week: Buford (10-1) plays Hughes on Friday in the third round of the AAAAAA playoffs.
Program history: Buford has won 12 state championships, including in 2012, '13, '14 and '19.
Player profile
Height/weight: 6-foot-1 and 200 pounds.
Rankings: Rivals.com ranks Ervin as a three-star prospect and the No. 23-ranked running back in the nation. He committed to Nebraska on June 23.
Season stats: He's rushed for about 900 yards and 15 touchdowns.
Coach's point of view
Buford running backs coach Fyrone Davis shares some stories about Ervin, and being the college coordinator at a football factory like Buford:
Ervin's season: "He's had a really good season. He's done the things we expected him to do. It was his time, and he's waited his time over the years. We've had some good backs come through here, and he had to wait his turn and he's done a phenomenal job. Nebraska is getting a phenomenal young man, due to the fact of him waiting his turn and being patient and understanding what's going on."
What college coaches saw in Ervin: "His ball skills are really, really good. I think that's what Nebraska is going to like about him. He's a big back with elite ball skills."
One of his favorite stories about Ervin: "A lot of people don't know that Gabe Ervin runs track. He's a 48.4 (seconds) 400 (meters) runner at 200 pounds. I like telling people that story. That's a big man running a :48 400. He was regional champ in track, so he's done some phenomenal stuff. Our track program is really good, and to watch the things he does in track practice is unreal. In 2019 we probably had 30 coaches at track practice watching him. That's how he really got found, when they see that big body running a 200 or 400."
On being the college coordinator at Buford (the program has had about 30 NCAA Division I scholarship players in the past four years, and had three D-I running backs last year): "It's fun. I enjoy seeing kids go to schools at all levels, and that's what we've been about the 14 years I've been here. I think we're No. 1 in the state of Georgia for producing the number of kids going to school. So that's an honor for Gabe to be part of the system."
The college coaches who have visited Buford: "We've had many head coaches. We've had Urban Meyer, we've had Nick Saban, Kirby Smart, Dan Mullen, Herm Edwards. We've had a slew of coaches through here. Every school has been in here. From the West Coast to the Midwest. We probably averaged 150 schools in the spring."