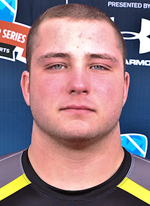 Future Husker: Tanner Farmer
My school: Highland, Ill.
Positions: offensive tackle and defensive tackle.
This week: Highland has a 3-0 record going into Friday's game against Jersey, and has outscored its opponents 150-28.
Other sports: Farmer was the Class 2A wrestling heavyweight state champion last year with a 39-0 record. He's the first state wrestling champion from his school.
Projected position at NU: He is the ninth-ranked offensive guard prospect nationally and a four-star recruit according to Rivals.com.
First contact with the Huskers: "(Offensive line coach John Garrision) and I had been talking over Facebook, and he wanted me to call him. The way I heard it, (Garrison) had been talking to another high school, and their coach referred me."
My final schools: Nebraska and Missouri.
Date committed: June 11, 2013.
The moment I knew I wanted to be a Husker … : "I loved the place, and was pretty sure I wanted to pick it. At the summer camp, the coaching with Coach Garrison and (coach Barney Cotton), I liked the way they coached, so that pretty much sealed the deal for me."
If I wrote my recruiting profile
Mel Kiper would say: "I've been described as a road grader before. If somebody gets in my way, I don't usually have too much problem with getting them out of the way. I can pass block, but I'm more of run blocker."
Favorite TV show: "Probably 'Tanked.' It's a reality show about these two guys who live in Las Vegas that build huge fish tanks that are just out of this world. It's on Animal Planet."