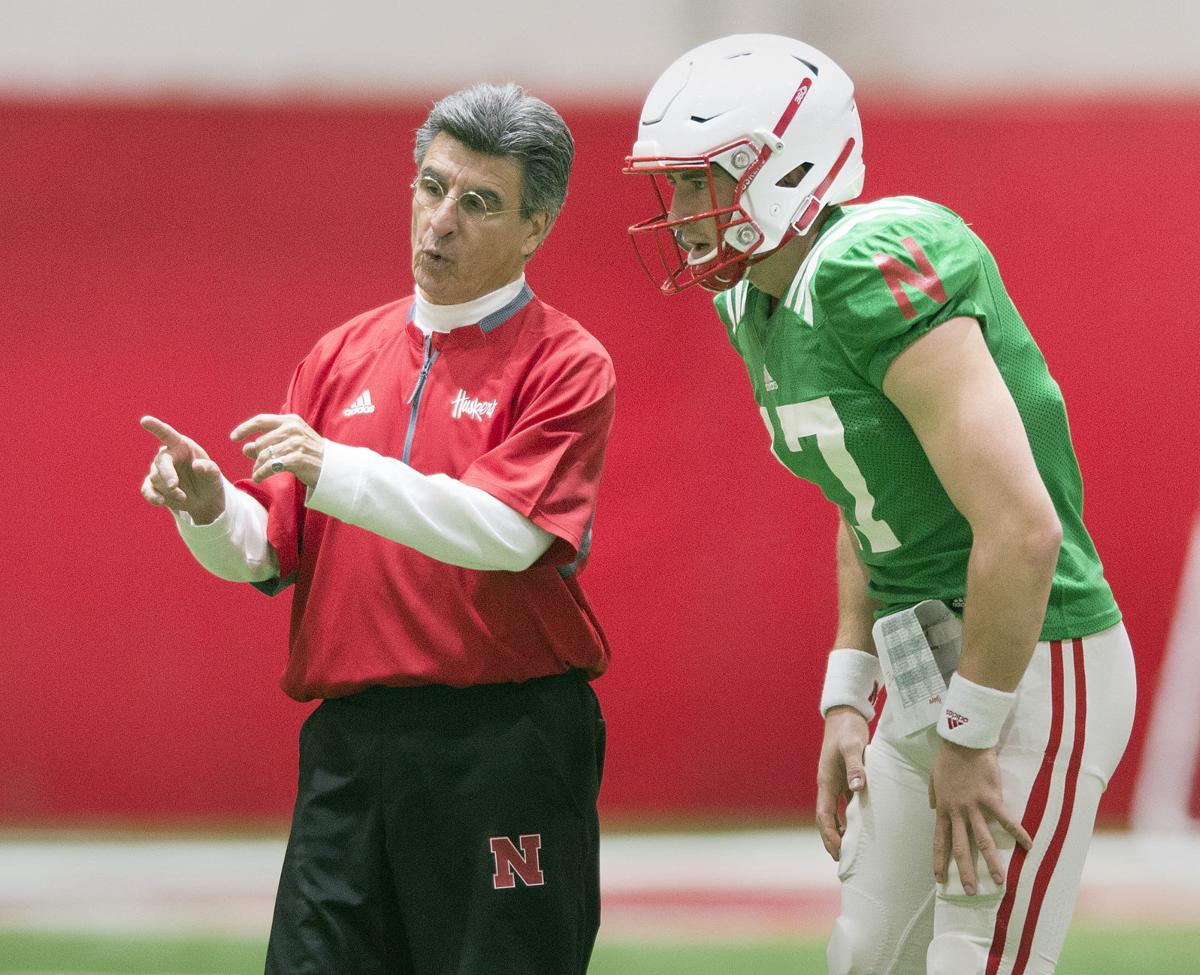 Mario Verduzco has a standard greeting when he introduces himself to a quarterback prospect for the first time, whether it be by text message or direct message on Twitter.
The Nebraska quarterbacks coach — and essentially every other Husker assistant — has talked about the power of the "N" logo and the weight that it still carries in terms of first impressions, but a name drop goes a long way, too.
"The nature and notion that I'm coaching for Scott Frost is really, really powerful," Verduzco said. "I mean, dude, it is powerful. It's golden. Usually, when I text or am introducing myself to a young guy for the first time or to a coach, I'll say, 'This is Coach Verduzco here, I'm at the University of Nebraska. I coach the quarterbacks for Scott Frost.'"
Recruits seem to universally talk about the Huskers as a program on the rise and about believing what Frost and the staff are pitching. For Verduzco and his pursuit of quarterbacks in particular, there's also a definite allure to playing for Frost.
The head coach says the benefits of NU are easy to see for signal-callers.
"I believe so much in our offense and Mario Verduzco and the way we train quarterbacks," Frost said. "If you look at our offense from my time at Oregon as a coordinator and our time at UCF, the quarterback is highlighted and has had unbelievable success."
All of that firepower should benefit NU in the 2019 cycle, too, because Verduzco and Frost find themselves in a unique situation. They landed what they feel is a blue-chip prospect in 2018 in Adrian Martinez and they have four quarterbacks (three on scholarship) who are all of sophomore eligibility or younger. Every highly regarded prospect will tell you that he's not afraid of competition, and that's largely true, but quarterback recruits in particular are almost always at least aware of the depth chart and roster situations at the schools recruiting them.
That hasn't hindered NU's pursuit or changed the approach the school takes in trying to find a signal-caller for 2019, the pair insists.
"Not for me, no," Verduzco said. "Frosty wants us to get the best guys we possibly can and offer those guys we feel can operate our offense at the highest level."
You have free articles remaining.
"We're going to get the best guy we can get," he said.
Still, several of the quarterbacks that the Huskers have offered are in situations where they've played multiple positions, they're seen by some as more developmental projects or they haven't played a ton at the varsity level in high school.
Take, for instance, three-star Luke McCaffrey. He'll be a full-time starter this fall for the first time after following his brother, Dylan, and then splitting time with now-Colorado Buffalo quarterback Steven Montez. Elsewhere, four-star John Rhys Plumlee (Hattiesburg, Mississippi) has played both ways in high school, is being recruited to play multiple positions depending on the college and is also a standout baseball player. Terrence Gipson (Houston) doesn't have a particularly star-studded offer list outside of NU, but clearly Verduzco, who saw Gipson in the past couple of days, was impressed with what he saw in the three-star.
So a quarterback prospect has to have the physical attributes — "Frosty wouldn't be happy if I brought him a guy that's 6-flat in the 40(-yard dash) just because he processes information fast," Verduzco said — but they also don't necessarily have to target the most polished passers out there because the staff is confident in its ability to train athletes.
"With Frosty and myself, we feel pretty good about the fact that if a young guy has XYZ issues, we can get it corrected," Verduzco said. "As a result, that kind of opens the pool of quarterbacks for us because there are some guys that won't touch a guy. Maybe because they don't know how to fix it or whatever."
Some schools already have their signal-caller for 2019 locked up and many have been done shopping for a while, but Nebraska likes where it's at in its own process.
There are some natural points of intrigue. McCaffrey made a point of getting to campus for a March junior day very quickly after receiving an offer. Four-star Michael Johnson Jr. is from Eugene, Oregon, and his dad is on the Ducks' staff, but they just took a verbal commitment from another player and Johnson's sister is a track athlete at Nebraska.
Once Verduzco is through his May evaluations — NU has offered about a dozen quarterbacks overall, a list that includes four-star Jayden Daniels (San Bernardino, California) the No. 80 overall player in the nation by the 247Sports Composite — then perhaps a pecking order will become more clearly defined for the Huskers.
The first wave of quarterback commits has long since come and gone for the 2019 cycle, but Verduzco and Frost clearly feel good about where the Huskers stand.
"I like where our board is, I really do," Verduzco said.