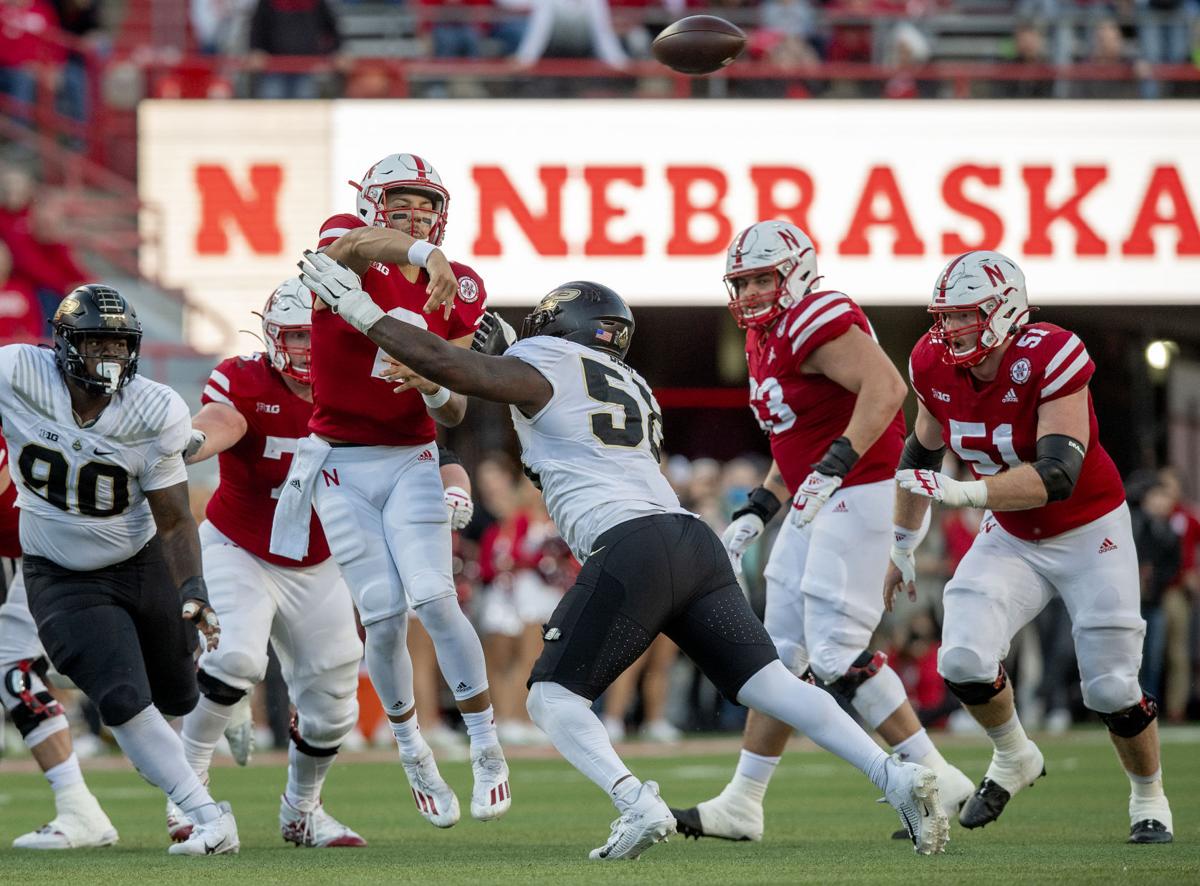 Scott Frost very quickly squashed any talk of opening up the quarterback conversation after what happened to Adrian Martinez and the Nebraska offense in Saturday's 28-23 loss to Purdue at Memorial Stadium.
"That's not a story," Frost said. "We're going to play the guy that we think gives us the best chance to win, period. Right now, that's Adrian."
The thing is, Martinez will always be the story. Because that's how it goes as the quarterback at Nebraska. Especially when an offense and a team rely so deeply on one player to make the whole operation go.
Martinez threw four interceptions Saturday — three in the second half — as Nebraska's offense bogged down its defense by leaving it on the field far too long.
Does Martinez feel like he always has to make a play to bail out his offense?
"I play quarterback, so the ball's always in my hands, and I have decisions to make on every play," Martinez said. But "… It's a team game, and I'm one cog in the wheel of success or failure. That's what my quarterback coach always says. And we as a unit feel that way.
"Today I felt like I wasn't a good enough cog."
Martinez started the second half 3-for-9 for 43 yards before throwing three of his interceptions. There was a forced shovel pass into double coverage. There was a bad luck ball to Austin Allen that was popped in the air by a Purdue helmet and snagged by the Boilermakers. There was an overthrow of an open Samori Toure that fell into the waiting arms of Purdue's Cam Allen.
That was all after Martinez and a wide open Toure couldn't connect at the end of the first half for what could have been a game-changing touchdown.
Maybe it wouldn't have mattered. Maybe those who remained in the stands and vocally expressed their frustration with NU's anemic attack still would have had the chance to do so, and Martinez would have heard them just as clearly as he heard them anyway.
"I was frustrated as well. So I can understand the frustration," Martinez said, before taking a long pause. "And simply put, I wasn't good enough. It's not like we deserved to be applauded as we came off the field."
As the final two quarters wore on, and Nebraska's running game went nowhere, and Martinez struggled to complete passes to players on his own team, the clamor around the Memorial Stadium stands grew for Frost to make a change.
The head coach never did.
"In my mind I (considered it)," Frost said. "We didn't talk about it."
Frost let his quarterback have it on a second-half scramble that ended with Martinez 1 yard short of the sticks on a third down.
"That's where you gotta be a little bit of a nut cutter, and lower your shoulder, or dive, or jump, or do whatever you can to keep a drive going," Frost said. 
Martinez often does all he can and more. Sometimes it results in the spectacular. Sometimes it results in Saturday.
"You have to walk a line there, and part of that is one play at a time," Martinez said. "You have to continue to do your job. … But you can't be overly aggressive and lose that opportunity."
Ironically enough, Martinez etched his name even deeper in Nebraska's record books Saturday.
He is now the program's all-time leader in completions with 631 after passing Tommy Armstrong. He is the third Husker with 10,000 yards of career total offense, joining Armstrong and Taylor Martinez. He is the fourth Husker with two, 2,000-yard passing seasons, and he is the third Husker quarterback to score 200 career points, joining Eric Crouch and Tommie Frazier.
But all those quarterbacks, even for their imperfections, also won at a much higher clip than Martinez has. 
"To win a game in the Big Ten, it demands your best," Martinez said. "You don't give it, you lose."