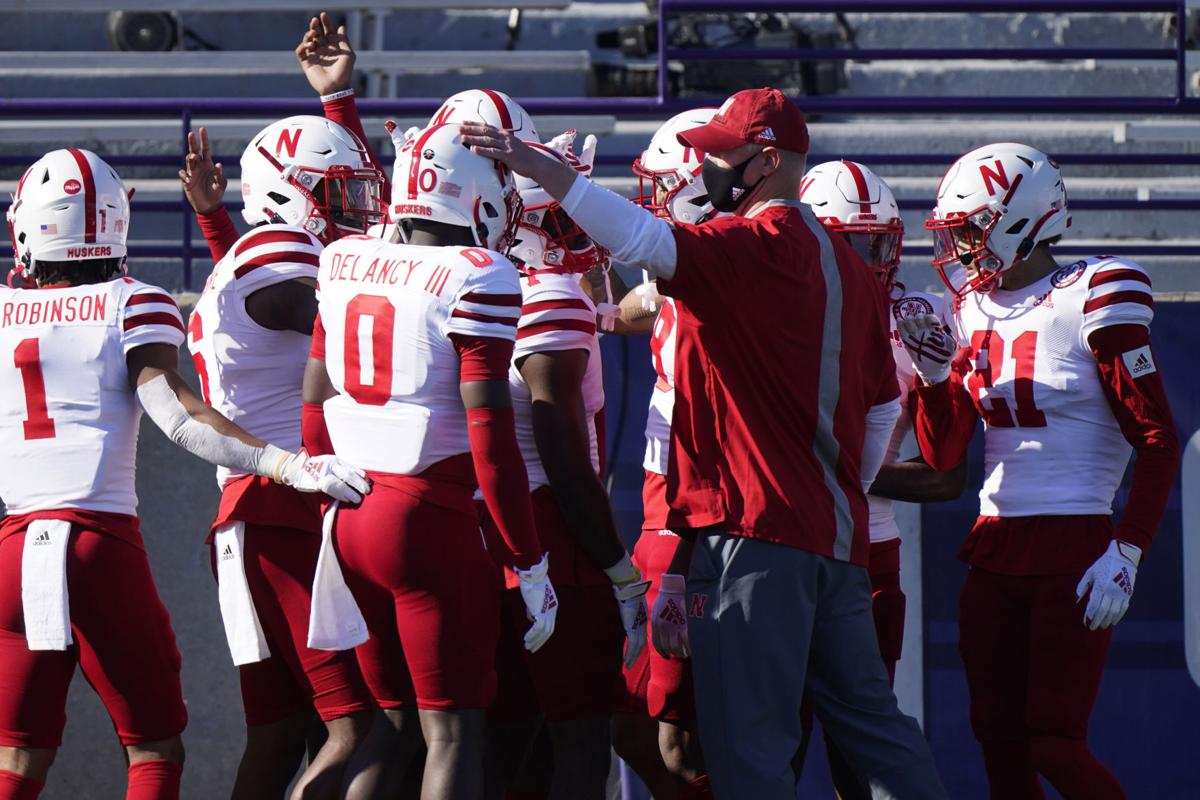 Nebraska third-year coach Scott Frost accepted a lot of the blame for Saturday's loss at Northwestern — the Huskers' seventh defeat in the last eight games dating to last season. 
He's putting ample pressure on himself to turn the program around, Frost told reporters Monday as his 0-2 squad continued preparations for Saturday's home game against Penn State (0-3).
In fact, Frost said, he might put too much pressure on himself at times.
"The state of Nebraska means so much to me," the 45-year-old graduate of Wood River High School said. "This program is everything. This is my life right now. I'm doing everything I can to get this program to where everyone wants it, as fast as possible. It certainly hasn't gotten there as quickly as I want it to, but I haven't for one second lost hope or belief in where we're going and what we're doing. 
"Just being around it every day and seeing the progress and seeing the talent that's been infused into this program. Seeing us being competitive. Again, it's about turning the page and finding a way to win a game, then getting on a roll and getting some momentum. I think once that starts to happen, we have all the pieces in the program that we need to win and win at a good clip. 
"But nobody's more impatient than I am, and nobody's putting more pressure on themselves than I am." 
Nebraska dropped a 21-13 decision against Northwestern, a disheartening development for Frost's program in part because the Huskers had chances to take control of the contest. However, some familiar bugaboos — penalties, turnovers and subpar special teams play — again cropped up.
Frost's message to his players this week as Nebraska prepares for its first home game of 2020? 
"I think they realize the situation they're in," he said, emphasizing his belief that the program is making progress. "Sooner or later, the scoreboard is going to show it. There's no doubt in my mind how much progress we've made. We just need to turn it into wins.
"That game Saturday was as frustrating a one as I've had here because we had opportunities to be in control of that game. We could've won the game, maybe even should've won the game. It wasn't like playing some other games when it felt like we were just outmatched talentwise. We weren't (outmatched) in that game. 
"The guys are impatient just like I'm impatient to get this changed. I keep saying it, but once it turns, it's going to turn in a big way. We need to have that happen soon."
It won't happen if Nebraska keeps stubbing its toe with penalties and turnovers. Along those lines, Frost said NU's margin for error isn't big enough to overcome too many penalties and mistakes in general. He emphasized that point in practice last week. Still, there were too many penalties (nine), he said. There were too many instances when the offense started a possession first-and-15. 
Northwestern shifted personnel up front at times, which caused Nebraska to "get jumpy," Frost said. 
Even so, it's about focus and discipline, he said. 
"As an entire football program, we've got to get that fixed," he said. 
He does like Nebraska's progress on defense. The Huskers are holding their own in the trenches. Linebackers and defensive backs are quicker to the ball, the coach said. He's seeing fewer busts and loafs. 
Bottom line, the defense played well enough Saturday to win a lot of games, but the offense must improve, especially in the red zone. 
"I think we went out there and played hard," said Nebraska inside linebacker Collin Miller, a team captain. "We had only one penalty on defense. We're staying disciplined."
Nebraska junior wideout Kade Warner, also a team captain, said it's critically important that the team continues to believe in itself. He said the receivers group remains confident. He said that sort of belief must expand to the entire team. 
"I've talked to the leaders of every position group," Warner said. "If you don't have belief, you don't have anything else. The fact we've worked so hard to get to the point we're at, you have to believe the next step is coming. I think we'll keep working, keep moving forward and get over that hump."
Watch now: Here's what Frost, players are saying as Penn State week begins
Watch now: Here's what Scott Frost and players are saying as Penn State week begins
Watch now: Warner says team has to 'believe that the next step is coming or else you can't work any harder'
Stille says grade for defense vs. Northwestern is 'in the 'B' range'
Miller says team needs to learn how to 'put our foot on someone's neck' to finish wins
Watch now: Dismuke looks ahead, says 'we shouldn't want to lose the rest of the season"
Watch now: Frost declines to name starting QB, assesses Northwestern loss and looks ahead to PSU