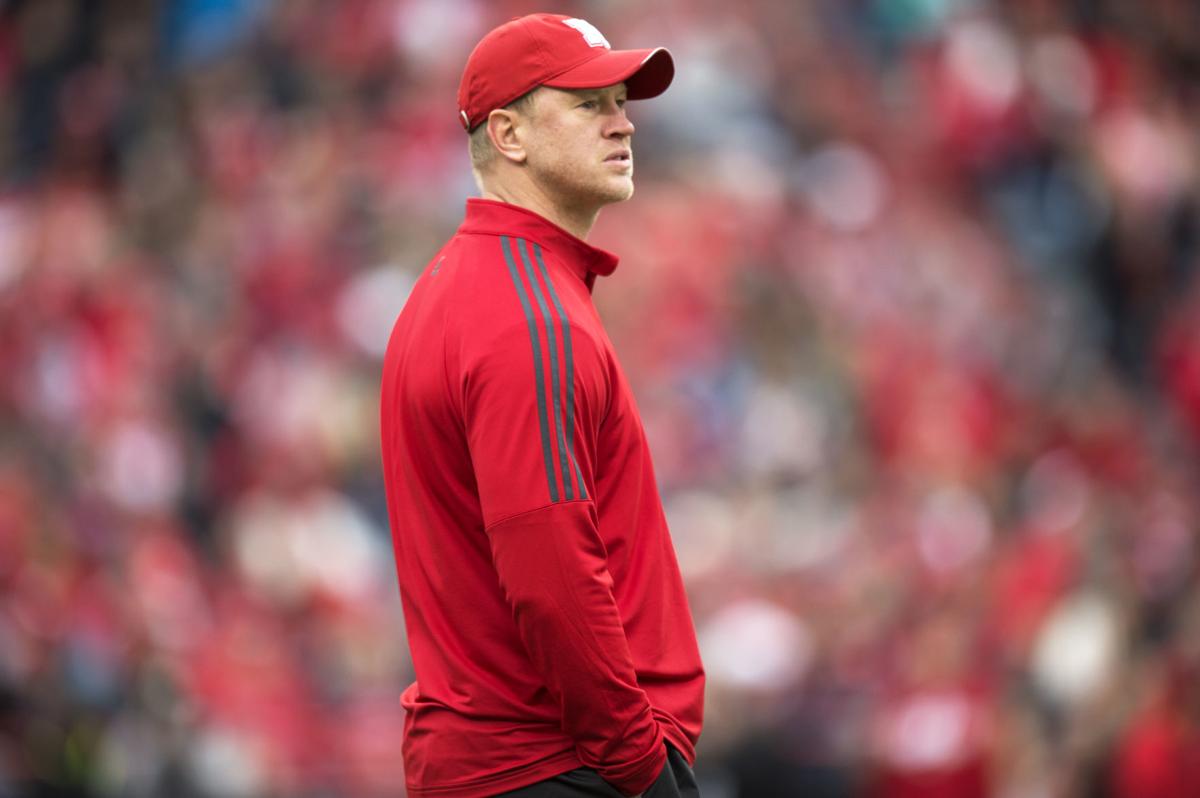 Scott Frost backed an eight-team playoff and told some stories about fatherhood on Thursday morning during an appearance on an Orlando radio station.
The first-year Nebraska head coach appeared on 96.9 FM The Game in Orlando in part to clarify remarks made last week regarding Central Florida's championship rings after he led the Knights to a 13-0 record and a Peach Bowl victory over Auburn.
"I'm so proud of that team and will be forever," Frost told Orlando Sentinel columnist Mike Bianchi, who had Frost on his show weekly during Frost's tenure at UCF. "I don't want anything that I said in an answer to have the appearance of diminishing from what they accomplished and how grateful we are to have been a part of it. Just like every question you ask me, I was honest."
Frost told USA Today recently that he wished the rings UCF made had recognized the undefeated season and the bowl win instead of saying "National Champions." 
"All I'll say is if we had stayed there, I would have had a hard time getting behind it," Frost said then. "I think it was smart by them, because it has kept UCF in the media and in the conversation. But you know, like our rings, I kind of wish my ring just said 'Undefeated Season' and 'Peach Bowl Champion.'"
Frost didn't shy away from that sentiment on Thursday, but reiterated he thinks UCF deserved a chance to play for a national title. He is a vocal supporter of expanding the College Football Playoff from four teams to eight, in large part due to situations like last fall, when a Group of Five team is left out in favor of Power Five programs.
"Right now there's a system in place that crowns the national championship," Frost said. "I think that system is better than it was when I was in college and two great teams still couldn't play each other. … I really think an eight-team system with maybe five conference champions and three at-large teams would open up the door for a team like UCF or any other team that has a great year to get in.
"Sports is the best when you can decide these things on the field."
Responding to a recent comment from SEC Network analyst and former Alabama quarterback Greg McElroy, who named several highly ranked teams, including Auburn, that he thinks would have "dusted," UCF in a title game setting, Frost said, "That's a pretty strong statement considering what happened in that game with Auburn. But that's kind of my point is all that is speculation."
A (very) young quarterback prospect: Frost also was asked about his young son, R.J.
"He's awesome," Frost said. "They've been in Orlando because we're trying to get the house sold down there, and I didn't see him for about a month during spring ball, but I got to spend a week-and-a-half with him here recently and we're going to get them up here soon. He's growing, and being a father is the best thing that ever happens to any man, I think."
Bianchi jokingly asked Frost, "Are you working on his throwing mechanics yet?" and the 42-year-old Wood River native gave an answer that surely brought a smile to the face of NU quarterbacks coach Mario Verduzco.
"You know, that's funny, I actually take his arm and put it through the right motion every once in a while, just so maybe he can (get) the right feeling early."