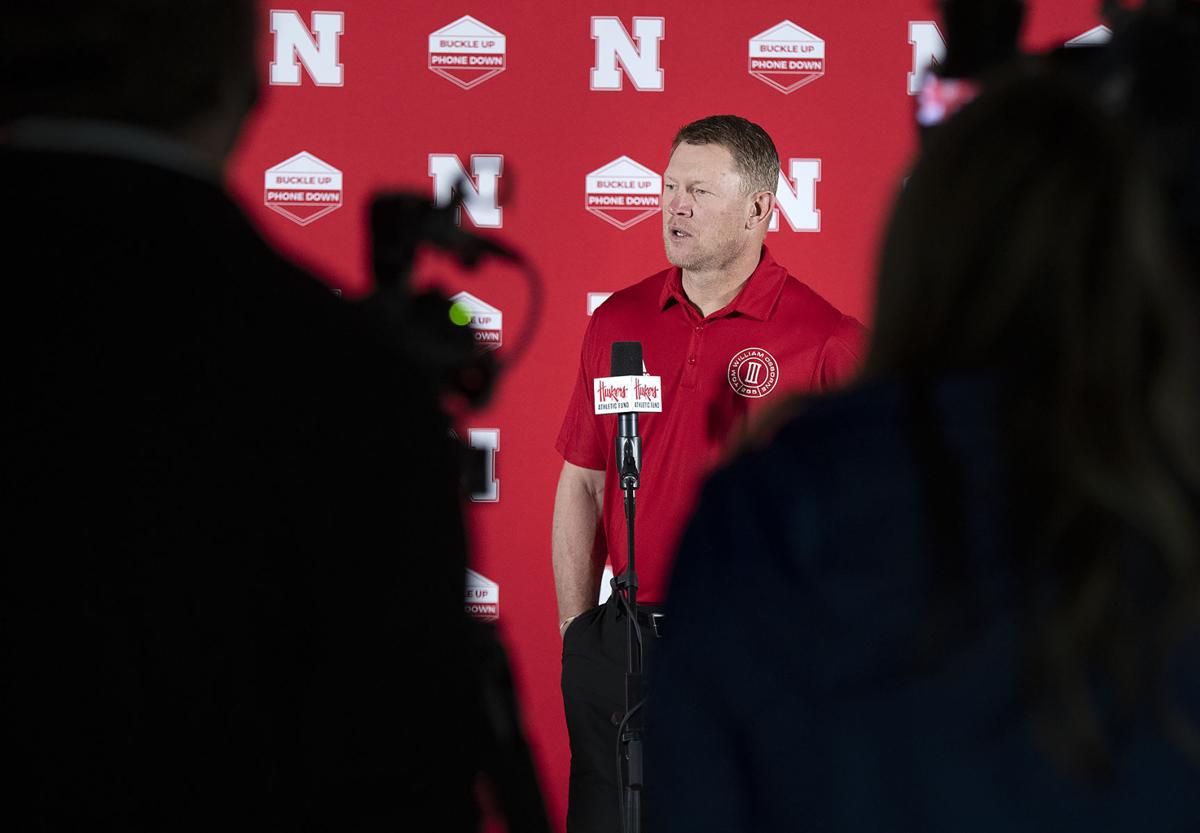 Nebraska quarterback Adrian Martinez hasn't tipped his hand about whether he is going to return next year and he may not have made a final decision yet.
Coach Scott Frost on Thursday evening during his hourlong appearance on the "Sports Nightly" radio show said he and his three-time captain and four-year starting quarterback have been talking about the future for quite a while.
"Been having (conversations) for a long time and we'll continue to have them," Frost said. "I want what's best for him, obviously. He's poured a lot into this. I believe in him so much. I see him every day and believe in him. I think we can still get a lot better around him. Obviously, if he's back, he's going to have a new coach and some new ideas.
"We'll figure that out in about nine days."
Martinez, of course, can return for another season because the NCAA granted an extra year of eligibility to all college athletes due to the COVID-19 pandemic.
A busy head coach: Frost walked into the radio studio at Memorial Stadium with his call sheet in hand.
"Trying to get it done," he said.
That's the kind of finish to the season it is for the Nebraska head coach, who's leading the Husker offense without four offensive assistants who he fired last week.
Frost, though, also called it, "an exciting time and it keeps us busy."
The fourth-year head man said he'll rely heavily on all of the interim coaches who have been elevated to full-time, but Steve Cooper in particular.
Frost on Monday outlined the duties for the four fill-ins and on Thursday reiterated that Cooper will operate as the "offensive coordinator" in the box on Saturday against Wisconsin.
"I really trust Steve Cooper," Frost said.
He also talked about the discussions he's had with players since the assistant coaches were fired. By the Journal Star's count, 57 out of 151 players on the roster lost their position coach.
"It's tough. If it wasn't tough, I'd be concerned," Frost said, adding that he's had a lot of one-on-one meetings in the past week-plus. "It was tough because the guys that aren't here are such good people. … The kids were sad to see them go. Some cases angry and frustrated about the season and the result and what happened. It's tough. I've been heartbroken, too, because those are some of my best friends."
Praise for Nouili: Frost was asked about putting sophomore Nouredin Nouili on scholarship recently and the coach had high praise for NU's starting left guard.
"Looking back, I wish we could have got Nouri on the field faster," he said, adding that it took Nouili a little while into the season to get the playbook fully down and prove he needed to move into the starting lineup. "He's really made a difference on the left side of the line since he got in there. … He's a physical presence. He's going to keep getting better. He's been one of the best players on the offense since he's been in there and I expect him to keep going."