NATIONAL SIGNING DAY
Frost, Huskers aimed for maximum talent, but also addressed needs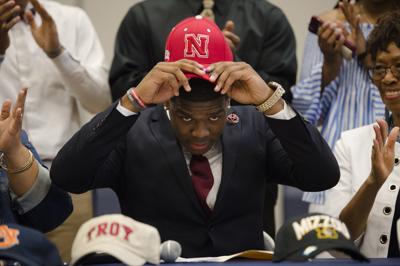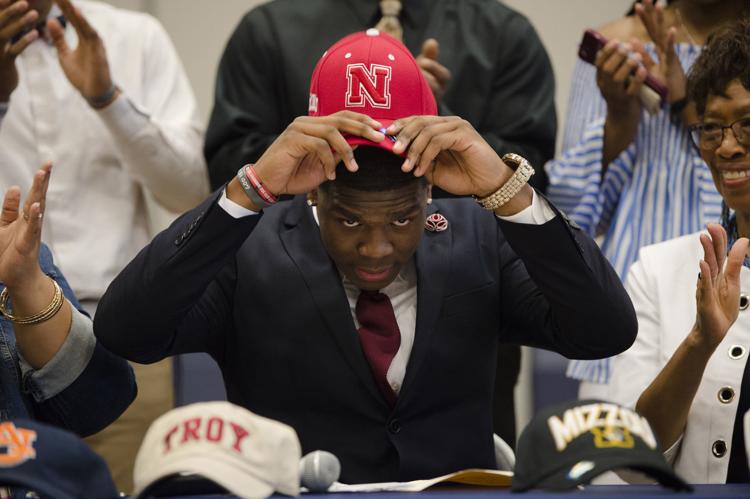 When Scott Frost was hired as Nebraska's head coach on Dec. 2, he inherited a 2018 recruiting class that would dwindle to six players and had many Husker fans wondering what could realistically be accomplished in a short amount of time.
Sixty-six days later, he addressed reporters on National Signing Day as the leader of a football program with 24 signees and a group that ranks in the top 25 in both major recruiting services' rankings.
The Huskers began building in December and managed to land 13 in the early signing period.
They garnered six more verbal commitments through the month of January.
Much was left to be determined Wednesday, though, the first day of the late signing period.
Suffice it to say Nebraska finished with a flourish.
The Huskers signed 11 on Wednesday, including five players who made their decisions over the course of the day. The headliners: four-star outside linebacker Caleb Tannor, plucked from the heart of SEC territory, and four-star running back Maurice Washington, a dynamic, multifaceted offensive weapon.
"We've been through a transition like this recently and one thing we didn't want to do was make the mistake of bringing in kids that were knee-jerk reactions to fill spots," Frost said Wednesday. "We're not bringing anybody in that we don't think can help this football team.
"A lot of these guys are going to help us and a lot of these guys are going to have a chance to help us early."
Washington and Tannor each fit that bill.
In fact, Tannor said as much Wednesday morning in a signing ceremony at Miller Grove High in Lithonia, Georgia. First, he added some flair to his announcement, donning a Nebraska hat, tossing it on the ground, then wiping off a table full of hats that included suitors such as Auburn and Florida. Finally, he pulled a second red hat he had hidden in his lap and put it on, the first major victory of the day for NU. The main thrust of his reasoning was clear in an interview with The Champion Newspaper right after he signed.
"Just being able to play early, early as a freshman, that's what I really want to do," he said. "I love the coaches. The coaching staff is great. They really care about you on the field and off the field, also. It's a great experience. It's going to be and it already is."
The head coach and defensive coordinator Erik Chinander identified athletic edge players as an area NU needed to address.
"I think watching from afar when Nebraska transitioned to a 3-4 type scheme last year, I'm not sure all the personnel fit or didn't have time to develop to fit into that scheme," Frost said. "We need outside pass rushers. Caleb is the type of guy who can rush the passer from the outside, but he's also athletic enough to make plays in space. We had a kid like that in Shaquem Griffin (at Central Florida), and we're looking forward to having that dynamic player here and I hope we got it."
Slideshow: Meet the 2018 Husker football recruiting class
Click through for player profiles, highlights and more from the Huskers' 2018 recruiting class.
Frost on Wednesday said that he thought signing day had less drama than years past because so many kids signed in December, but it wasn't without ups and downs for the Huskers. Tannor's early decision came about two hours before fellow four-star outside linebacker Javontae Jean-Baptiste signed with Ohio State, the cap of a back-and-forth recruitment. Bergen Catholic head coach Nunzio Campanile told the Journal Star on Wednesday morning that Jean-Baptiste changed his mind multiple times in the final 36 hours and that Greg Schiano's decision to stay at Ohio State rather than leave for the New England Patriots' defensive coordinator job on Wednesday may have played a role mere hours before Jean-Baptiste officially chose the Buckeyes.
That, however, was NU's only major loss of the day.
In addition to Tannor and Washington, the Huskers landed signatures from three-star tackle Willie Canty III (Belle Glade, Florida), three-star wide receiver Andre Hunt (Lancaster, California) and three-star defensive back Cam Taylor (Montgomery, Alabama), and also signed each of the six players who were verbally committed entering the day.
Add those to the 13 early-period signees, and NU finished with a class of 24. Scholarship numbers compiled by the Journal Star indicate that the Huskers are likely at the Big Ten's oversigning limit of 88.
The class is ranked No. 24 in the country and No. 3 in the Big Ten — trailing only OSU and Penn State — according to Rivals and checks in No. 22 (fourth in the Big Ten) according to 247Sports' composite rankings.
"I don't really care about the ranking, it matters on one day and that's today," Frost said. "I'm not here to win February, I'm here to win football games in the fall."
To help in that pursuit, though, the Huskers loaded up on offensive skill position players and help for the secondary. Those two groups accounted for eight of NU's 11 late-cycle signees and 16 of 24 players overall.
"When you're taking over a 4-8 team, there are a lot of needs," Frost said. "We didn't want to focus on one position with the short amount of time we had, we just wanted to take the best players. So there might be one or two positions when we took more than we wanted and a couple positions where we would have liked another guy to fill out a roster spot, but in general we feel good about every player we got. … Going forward, we'll be able to balance the roster and fix the positions we'd like to have."
Despite the time crunch, the Huskers added a lot. Consider that 24 scholarship players plus three Division I transfers — Ole Miss defensive back Breon Dixon on scholarship, and Central Florida quarterback Noah Vedral and Air Force athlete Lane McCallum as walk-ons — and a walk-on class that currently stands at 20 mean NU has added 47 players this cycle so far.
"I want competitors," Frost said. "I want guys that like football. I am also really proud of who these kids are. I think our staff approached recruiting from the perspective that we are going to be genuine and we are not going to be used car salesmen. Not lying, cheating, stealing and blowing kids phones up to get them. More than anything I think that helps us get the right kind of kid. The kid that doesn't need to have all that happen to him to pick a school."
Now that signing day has come and gone, NU's coaches will take some vacation in shifts, begin to build familiarity with the existing roster and, of course, continue recruiting for 2019 and beyond. Frost made clear it's not anything close to a finished product, but instead only a start.
"We have got a lot of work to do," Frost said. "We have got a lot of work to do in the weight room, we have got a lot of work to do in the classroom and on the field. But I know we have a coaching staff that knows the direction that we need to take this team and a lot of kids that are hungry and excited about the change.
"So this is going to be a process, but I can't wait to get started on the first steps."