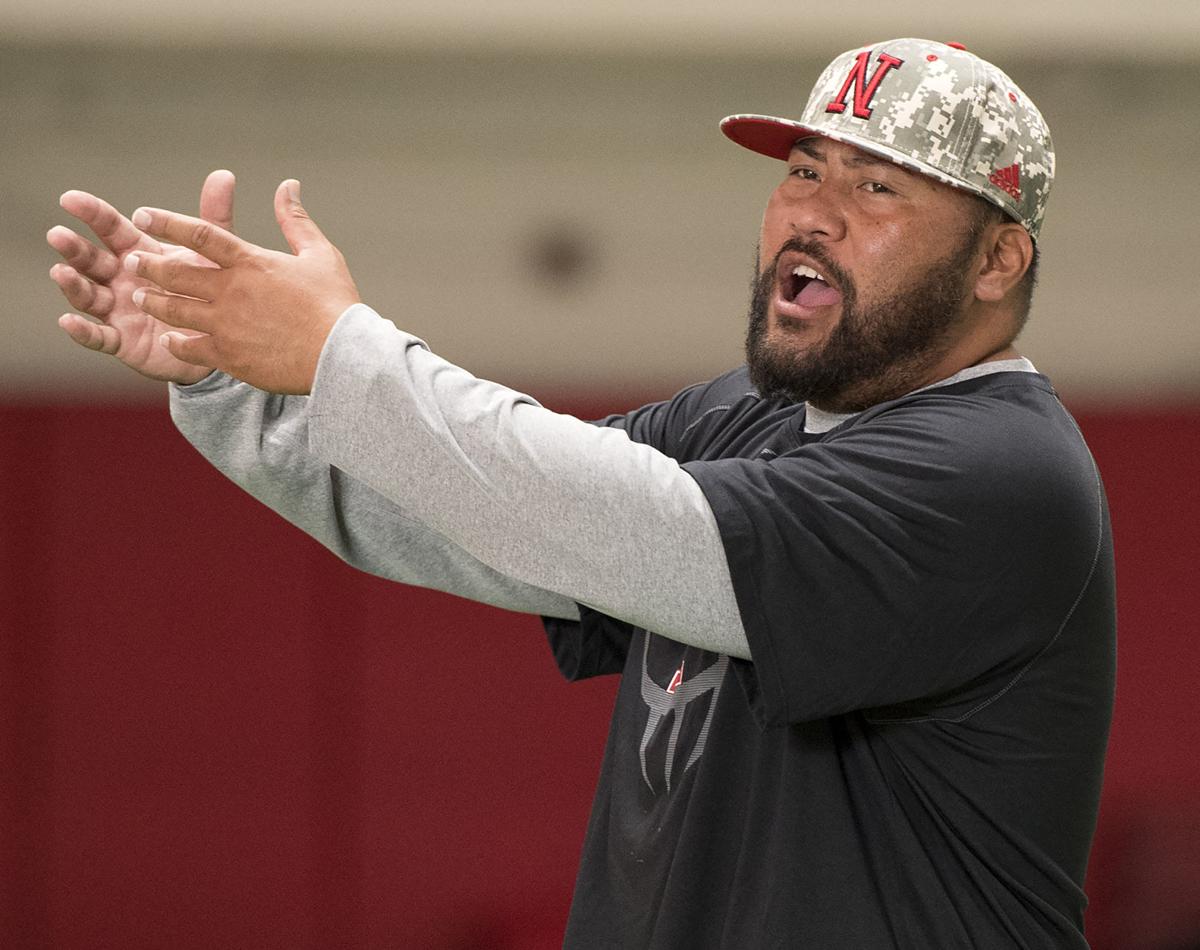 Scott Frost ventured into uncharted waters this winter when, for the first time in his head coaching career, he had to hire a replacement full-time assistant coach.
Frost, entering his second year at Nebraska and fourth overall as a head coach, put together his initial staff before taking over at Central Florida prior to the 2016 season, kept the band together for two years with the Knights and added from within the group when he made Barrett Ruud his 10th assistant after arriving at NU in January 2018.
Only when Mike Dawson left for the New York Giants in February was Frost tasked with adding to a group that considers itself as tight-knit as any in the country.
So far, the returns on defensive line coach Tony Tuioti have been very positive.
"He's been awesome," Ruud said this week.
Fellow assistant coaches have said all along that Tuioti fits the staff's culture well and players said as early as spring ball that they took to his coaching methods quickly. He came from Cal, where he coached under head coach Justin Wilcox, who runs a 3-4 system similar in style to Erik Chinander's, so familiarity existed there, too.
As Nebraska prepares to enter Big Ten play, the contributions Tuioti has made to the staff are becoming clearer and clearer.
"To me, good defense is about understanding your problems," Ruud said. "Every defense you call has a positive to it and a negative to it. And I think he's helped us with a few of the negatives that were coming up in certain calls last year."
For the most part, as Ruud explained it, those problems centered around how the Husker defense goes about fitting the run game and, depending on the particular call, where the strengths and vulnerabilities are. 
"He had a lot of little tweaks that worked within our system," Ruud said. "It wasn't like he came in and had a brand new, 180-degree philosophy." 
That is in part because Tuioti came in with a working knowledge of the general principles on which Chinander bases his system thanks to the two years Tuioti spent working for Wilcox in Berkeley.
You have free articles remaining.
"You're talking about, there's a certain group out there — Justin Wilcox, (LSU defensive coordinator) Dave Aranda, the guys at Alabama and the guys at Georgia — that's probably the closest to us schemewise," Chinander told the Journal Star. "It's not all the same, but it's similar. What (Tuioti) came from, he did a lot of the same things we did. Justin was obviously in the Pac-12 and so we've talked for a long time and they've run some of the same stuff we run."
Players describe Tuioti as a technician on the practice field. He has endless coaching points about hand placement, footwork and the mechanical way to defeat blocks and make plays.
"Athleticism is there. Everyone on the defensive line is athletic, that's not the hard part," senior defensive tackle Darrion Daniels said. "Effort is there. The effort was there last year. We fly around, that's just the nature of being a Blackshirt. But Coach 'T' really focuses on our technicals and makes sure everything is fundamentally sound, and that plays a huge role in why we're able to do what we do now."
In coaches meetings, Tuioti's game-planning contributions include his own tweaks and ideas about Chinander's scheme and the scouting and game-planning for opponents' pass protection plans.
"He's responsible for the protection piece of it and he's done a good job of beating protection," Chinander said. "He's done a great job of saying, 'We should do this' or, 'Hey, this is our system, this is what I think we can do within the system.' He's done a great job of learning our system, learning the personality of the staff and bringing stuff he's done in the past and kind of adding to the system.
"He's also got experience in other systems that he's been in, so he's brought a few simulated pressures, a few third-down ideas."
Nebraska has nine sacks (No. 6 in the Big Ten, tied for No. 23 nationally) and 26 tackles for loss (T-4, T-13) through three games and has forced a Big Ten-best nine turnovers. The Huskers are allowing 2.18 yards per carry, the No. 6 mark in the Big Ten and No. 12 in the country so far this season.
That's not all because of Tuioti, of course, but it's safe to say NU is happy with the contributions from the staff's lone new guy so far.
"I think he has made that group better and, really, a lot of guys better from the top to the bottom of the roster," Frost said. "We have a lot of guys on the D-line that are contributing now, and every one of those guys has improved since Tony got here."