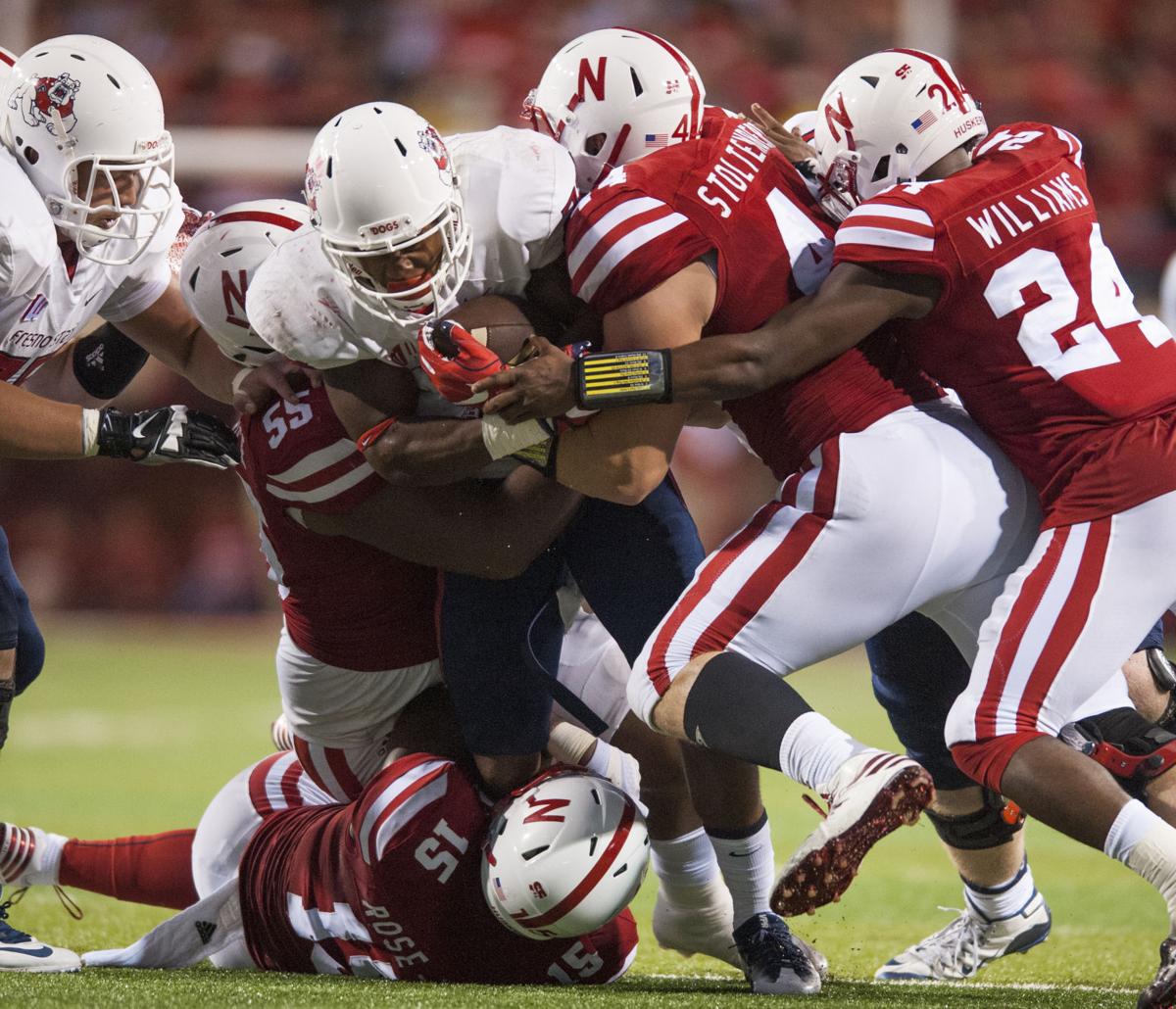 Fresno State traded punches with Nebraska for three quarters Saturday, but the Bulldogs couldn't hold up in the final 15 minutes.
"I thought our guys went toe to toe with them for a pretty good bit, then they broke our will in the fourth quarter," said Fresno State coach Tim DeRuyter. "I liked our guys' effort, but it wasn't enough to beat a good team like Nebraska.
"The bottom line was they were able to run the football against us, particularly late. We shored things up after the first quarter and played pretty well in the second and third quarter. The floodgates opened when we got a little discouraged there in the fourth quarter."
The play that broke the Bulldogs came with less than a minute left in the third quarter when quarterback Virgil Chason's pass was intercepted by Nebraska safety Kieron Williams. Two plays later, on the first play of the fourth quarter, Tommy Armstrong connected with Alonzo Moore on a 57-yard touchdown pass that put Nebraska up 28-10.
"They got the interception, and that was probably the story of the ballgame," DeRuyter said.
Linebacker Jeff Camilli saw the game the same as his coach.
"We went out there and played really hard," he said. "I thought we played well for the most part. The team got down on ourselves after a couple big plays. I thought we were right there. We're a young team. We got our heads down and they capitalized on that. You can't have that. That was really it. We had a couple big plays that went the wrong way."
Fresno State had a shot to tie the game at the end of the first half, driving to the Nebraska 8-yard line in the final minute. But backup quarterback Zach Kline, who replaced starter Chason Virgil, took too long to run a second-down play, forcing the Bulldogs to kick a 26-yard field goal that pulled them to within four at the half.
Virgil, a redshirt freshman, returned to the game after intermission, and continued to play well, DeRuyter said.
"I don't know if any our players were 100 percent healthy in the second half, you play a big, physical football team like Nebraska," DeRuyter said. "He did what he thought he was going to do. I was really proud of the way he played and came back after getting banged up."
For his part, Virgil said he knew he'd be back.
"I knew I was going to play in the second half," he said. "We were in a close game, a dogfight. I wanted to be out there with my team. It was nothing serious. I knew going it at halftime I was going back out there regardless."
The game, he said, came down to a combination of Bulldog mistakes and Blackshirt prowess at the line of scrimmage
"We shot ourselves in the foot a couple of time," Virgil said. "That's what we've got to fix. Nebraska defense is a real good defense. … We knew it was going to be tough to run the ball on them. We were passing the ball pretty well. The D-line played hard, stopping the run."