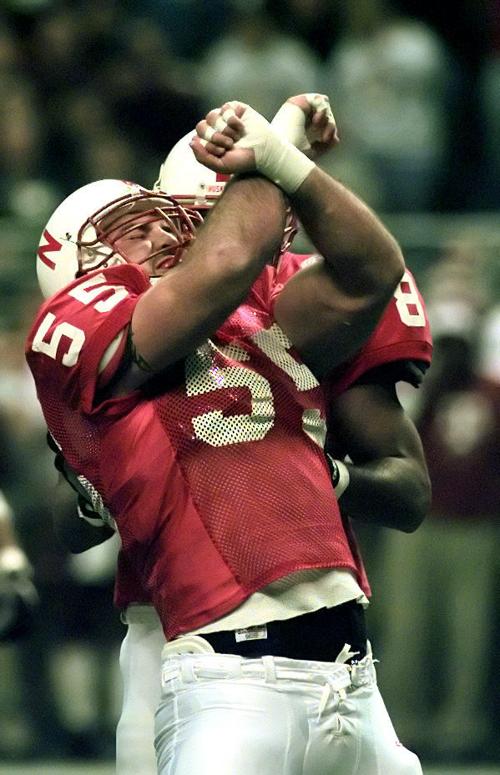 Long before they lined up next to each other on the best Nebraska defense in history, Jason and Christian Peter almost ended their on-the-field relationship because of off-the-field problems.
"I was a freshman and Christian was a redshirt sophomore and we were living together in an apartment and we got in the car to head to the training table for dinner," Jason Peter said recently. "He had just had a really good game against Oklahoma and everybody was praising him.
"I let go with, 'So what if you got a bunch of garbage tackles, you're a garbage player,'" Jason said.
"Well, Christian lets rip with, 'You're not any good and nobody likes you. Why don't you just leave here?'"
Jason packed his bags and was ready to transfer to Michigan.
One thing led to another and Christian said, "That's it. F--you. Get out of the car," Jason said. "I said f--- no. He gets out of the driver's side, comes around to my side and he had this crazy look in his eyes. I lock the door, so he comes back to the driver's side, we start fighting, end up in the back seat, then on Ninth Street, we're blocking traffic and fighting.
"Well, we're both bloody. Shirts ripped. And I walk into the training table and Christian is behind me. And all the linemen are sitting together. They start laughing. We said, 'Let's go somewhere else to eat.' A few hours later, we're best friends, brothers and teammates again."
In 1995, Jason and Christian lined up at defensive tackle, between rush ends Jared Tomich and Grant Wistrom, on what became the best defense in Nebraska history on what was, arguably, the best college team ever.
You have free articles remaining.
"Coach (Charlie) McBride said that Christian and I were in charge of stopping the run," Jason said. "Grant and Jared were supposed to be flying anywhere they wanted. Our linebackers were blowing people up, and our secondary was the best there ever was.
"We had a race to get to the quarterback and it seemed like I was always a half a second late, because one of those other guys got there. It didn't matter, we didn't give up points and we won every game."
The Peter brothers racked up a combined 10 tackles for loss, 16 quarterback hurries and 76 tackles that season.
"I was playing scared that I might let everybody down," said Jason, who later was an NFL first-round draft pick and played eight seasons. "I didn't have a learning year and here I was lining up next to Christian and he's the team leader, the intensity guy, who set the tone, with the pregame speeches and the head-slapping firing up of the team. And all those guys were so good, you couldn't believe you were on the field with them."
The seasoning came from practice. Practicing against the famous 1994 offensive line of Brenden Stai, Zach Wiegert, Aaron Graham, Rob Zatechka and Joel Wilks, and backups Aaron Taylor, Steve Ott, Eric Anderson and Chris Dishman was enough, Jason Peter said.
"Nebraska offensive lines had this brutal reputation and they were really good — the best we faced, and we faced them a couple of times a week," Peter said. "I think other teams were afraid to play us. We'd get the ball, Tommie Frazier would run over some people, the backs would run over people and the line would just crush people.
"You could hear all the trash talking at the start of the game and then hear nothing, see it in their eyes that they really didn't want to play us anymore. Kind of like a prize fight, knowing the knockout punch was coming in 15 seconds, a minute, but it was coming from our team.
"Hell, it scared me my first couple of years here. I have played a lot of football, even coached some, but I have never seen anything like that 1995 team since."
Peter, who lives in Lincoln, is a public speaker sharing stories about his experiences and overcoming addiction.