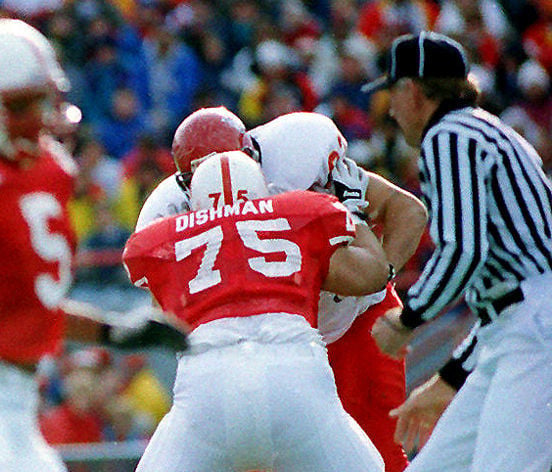 Chris Dishman was pretty sure nobody on the team thought the 1995 Huskers were going to become one of the best teams in college football history.
"We were replacing four starting offensive linemen, had just won the national title in 1994 and we didn't know if we could live up to that," the former left tackle from Cozad said. "We could see there was talent.
"Heck, Ahman Green was fourth on the depth chart at I-back — he turned out to be pretty good," Dishman recently said with a laugh. "We had great leaders — Aaron Graham at center, Tommie Frazier at quarterback, and name anybody on defense, and we had the best coaches."
But questions hovered throughout the spring and summer, said Dishman, who lives in Garland and helps coach at Malcolm High School.
"Can we win with a bunch of offensive linemen who were all 6-3 and built like wrestlers?" Dishman said. "Can we get this all together?
"Milt Tenopir said he knew we could be a good line. We might not have Brenden Stai or Zach Wiegert, but we could play and we could block and we could argue about who had the most pancake blocks."
Nebraska answered the questions and erased any doubts with a 64-21 victory at Oklahoma State to open the season.
A 50-10 win against Michigan State, a 77-28 win vs. Arizona State, a complete demolition of Big Eight opponents and eventually the total destruction of Florida in the Fiesta Bowl added exclamation points to the discussion.
Nebraska tore through the record books as it ripped through opponents week after week.
"It seemed like once the lights were on, we were pretty good," Dishman said.
The 1995 Huskers were also known for a lot of other things besides football.
"We had some guys who had some problems, but we handled a lot of that through the Unity Council — the things we could handle — and that brought us all closer as a team," Dishman said. "I think that's how we stayed together even though we were a fighting bunch of guys. I mean, almost every day there was a fight.
"I mean, our practices, you've heard other guys talk about them, they were tougher than any games we played, and if Jason Peter got me mad, we'd get to swinging. Other guys too. A split lip, a bloody nose and yet, we're sitting together at dinner and laughing about the whole thing."
That spirit was never matched, he said.
"In the pros, everybody is an All-American and you're in a business," said Dishman, who spent eight years in the NFL. "That year, heck all my years at Nebraska, there was nothing like it.
"There may never be anything like it again. You'd like to think so. That feeling, like before the Florida game, when they were talking about how we didn't have speed and we couldn't play on grass, and yet, that game was over before it started."
Be the first to know
Get local news delivered to your inbox!