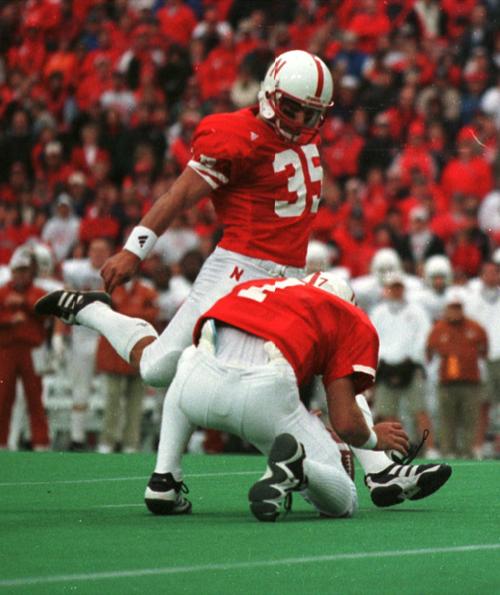 For kicker Kris Brown, the 1995 Nebraska football season was like riding on the world's fastest roller coaster, blindfolded.
The freshman from Southlake, Texas (older brother of current Husker kicker Drew Brown), was just figuring out where to go for his classes and how to keep busy during workouts, while Nebraska's veteran team was planning to upend the college football world.
The high school quarterback/kicker, basketball guard, third baseman and track sprinter arrived on campus in August.
"I had never been just a kicker before, so I was working on kicking, trying to earn the job, replacing Darin Erstad, who had just gone No. 1 in the baseball draft," Brown said. "I had classes, practices, lifting, trying to learn about Lincoln and my teammates. I was so excited to be on the team and to be a part of it all.
"I just didn't know what was going on around me."
Brown said it wasn't until the middle of the national championship season that he took time to look around and see the best defense in the country and the best offense in the country stomping through the Big Eight and everybody else.
"I was in that week-to-week mentality and had all kinds of distractions before I was starting to watch what was going on from the best seat in the stadium — the sidelines," he said. "On defense I saw guys like Jared Tomich and Grant Wistrom and Christian and Jason Peter and Jay Foreman.
"And later, when I saw all those guys from that team in the pros, I realized I was surrounded by a lot of talent."
You have free articles remaining.
Brown's first extra-point attempt failed. But he made a field goal and kicked seven extra points before Nebraska finished off Oklahoma State 64-21.
He finished the season with 58 PAT kicks, hit 13 of 16 field goals, and was the top scorer on a team that included Ahman Green, Tommie Frazier and Lawrence Phillips.
Brown went on to a 12-year NFL career with the Pittsburgh Steelers, Houston Texans and San Diego Chargers.
"I knew I wouldn't be kicking many field goals my freshman year, because our offense was so good and so powerful we hardly ever faced fourth down in field-goal range, and we didn't even have that many third-down situations," he said.
Brown, who lives in Omaha and owns six Dunkin' Donuts franchises, didn't take a statistical approach to his kicking.
"I just kicked the way I kicked in high school — more of a 'feel' approach," he said. "A couple of steps and kick the ball hard. I don't think I ever saw film or studied my kicking and steps and all that stuff until my third year in the NFL. Before that, it was kick and kick and kick. Coach (Dan) Young never said much about my approach, and since I was making most of my kicks, I never asked much either. Jon Vedral was my holder and he was always perfect, so there wasn't much to do other than to kick the ball."
Brown was recruited as a kicker after Nebraska coaches saw him perform in a summer kicking camp. "I think they wanted an athlete who happened to kick. It worked so well with Darin (Erstad), they figured they had a plan that worked."
The plan worked for four years. The two-time Academic All-Big Eight kicker finished 217-of-222 on PAT kicks. He kicked his way to seventh on the all-time NCAA scoring list and picked up a degree in education.
"I played a little scout-team stuff, but I never had to take any big hits in practice — who'd want to be hit by those guys anyway? And I was a part of one of the best teams in college football history," he said. He was an integral part in NU's 45-6 record from 1995 to 1998. "I got to play with the legends of Nebraska football."