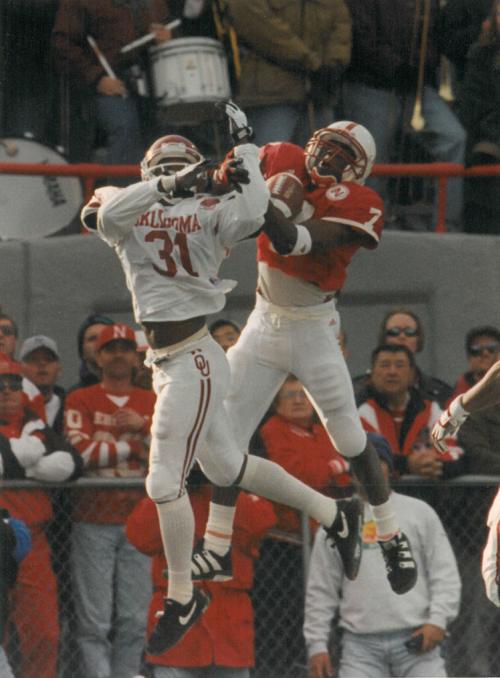 Receivers running routes? Surely you jest.
"We were blockers first, then receivers," Reggie Baul said. "Heck, I could catch. I could run. Even beat Riley Washington in 40 yards. Get to 60 yards and he'd pass me."
But none of that was as important as blocking the cornerback, the safety or a linebacker so Tommie Frazier could sprint around the corner or Ahman Green and Lawrence Phillips could get a wide-open run.
"We practiced running routes and went through passing drills all the time," said Baul, the starting split end for the 1995 national champion Huskers. He started eight games for the 1994 national championship team, too.
"But when it came to game time, and even in practice, I blocked first and then ran as fast as I could to get open for a pass," Baul said.  "There were no routes other than go deep."
The Papillion-La Vista graduate, who helped lead the Monarchs to the state championship in 1990, caught a 75-yard bomb from Frazier to open the 1995 season at Oklahoma State. He had catches of 42 yards and 51 yards in previous seasons. Baul caught five touchdown passes and averaged almost 18 yards per reception in his career.
"Blocking was the way to get to play, though," he said. "And practice made us all better every day.
You have free articles remaining.
"We can all say with pride that we were part of the team they still talk about 20 years later as one of the best teams ever."
In practice, blocking meant taking on Tony Veland, Michael Booker, Tyrone Williams and even Phil Ellis sometimes. "Let me tell you, blocking a guy built like Ellis was hard," Baul said.
"Thanks to our offensive line, as good as they were, I didn't have to block Grant Wistrom or Terrell Farley or Christian Peter in scrimmages."
Baul had his struggles at Nebraska and after college was over, too. He served six months' probation for receiving a stolen credit card when he was a player. After he saw a NFL career disappear, he bounced around and eventually graduated in 2001. But his battles with drugs led to a conviction for possession of crack cocaine in 2007 and he served a sentence.
"It took me as long to get over the drugs as long as I used them," he said. "I had a lot of help, but I also got a lot of help. I had the goal of becoming a part of my son's (Reggie Jr.) life. Now, I help coach him in football — his first year of full pads.
"His friends look up on the Internet some of our games and tell my son 'Hey, your dad was pretty good.' That's kind of fun to hear."
With his experience, Baul works for his sister, Doraine Hooks, a licensed mental health provider in Omaha.
"I work with kids with issues, at-risk kids, and I can identify and speak from experience," Baul said. "It took me a couple of years to get things right and I know, with time, we can help other kids with addiction and behavior problems."