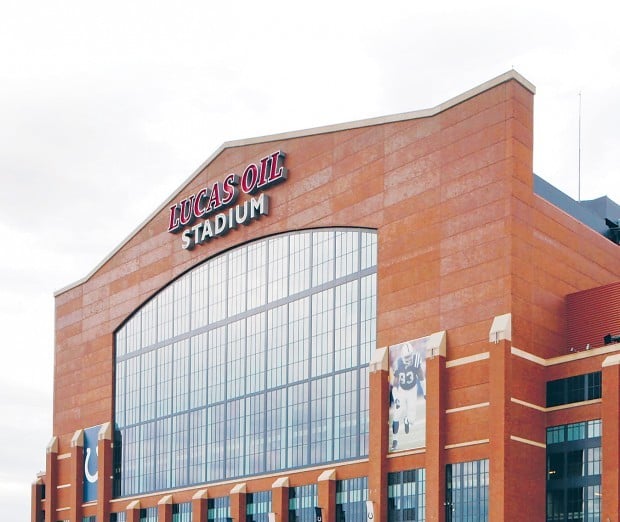 FIVE THINGS YOU SHOULD KNOW ABOUT …
(As told by Indianapolis Colts vice president Larry Hall)
1. The $720 million stadium in Indianapolis opened in 2008, and is located near the central business district, with a great view of the downtown skyline. There are thousands of hotel rooms in the area.
"Indianapolis is not a huge city by any means, and the stadium dominates the skyline. As big as the stadium looks outside, it's actually even bigger inside because the field itself resides 24 rows below street level. When you walk in, you would go down to the 100 level of seats."
2. The stadium has a 200-foot window on one side. That, combined with the largest retractable roof in the NFL, means if the weather is nice,  spectators can have the feeling of being at an outdoor stadium.
You have free articles remaining.
"The north end of the stadium is where the window opens. If for some reason it's crazy warm and the Big Ten wanted to, they could open the window and open the roof. It takes about nine to 12 minutes to open or close the roof or window. When the building opened, that window was the largest operable window in the world."
3. The stadium is the home of the NFL's Indianapolis Colts. The stadium was named the 2009 Sports Facility of the Year by Street and Smith's SportsBusiness Journal and its Fieldturf surface was ranked as the NFL's best artificial surface in both 2009 and 2010.
"The building itself has a lot of brick and Indiana limestone and a lot of exposed steel. It has a muscular feel about it and it has a texture and a personality that I think is sort of timeless. I've been to almost every NFL stadium. There is a lot of nice ones out there, but ours blends in with downtown and has sort of a timeless feel. It's very easy to get around."
4. The multi-purpose facility has seating for more than 67,000 fans. The stadium has hosted the 2012 Super Bowl, the NCAA Men's Basketball Tournament Final Four in 2010 and high school games.
"I think all the seats are good. Some just have different perspectives. Obviously, if you're high in the end zones it's easy to see the holes opening up on running plays and the pass coverage. We have some field suites that are literally down on the field, and people absolutely love them because they can't get closer to the action than that. There is a number of places you can see the game from well. There is also a plaza area where you can overlook the field on one side and the other side is the window."
5. The stadium has 160 concession stands with all the usual stadium food, along with some unique items.
"The breaded tenderloin sandwiches are something people lean toward as kind of a local favorite. They also have healthy areas, too, with gluten-free items and salads."