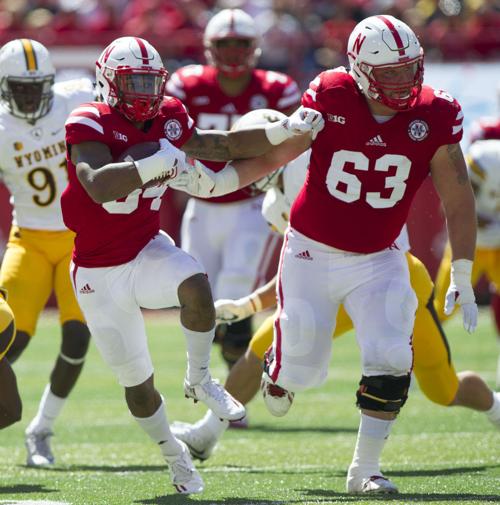 Tanner Farmer was back practicing with the Nebraska wrestling team this winter for a second stint, and says he'll keep doing so as long as he's at Nebraska, now as something of a two-sport Husker.
He's convinced it's his background as a state champion wrestler, and the time he spent training with the Husker wrestling team one year ago, that helped him become a starter at right guard with the Nebraska football team in 2016, so he doesn't plan on abandoning that routine now.
"Wrestling, in my opinion, is the best thing for an offensive linemen," Farmer said last week. "There is also basketball, which is great, too. (Wrestling) really helps with my footwork. It really helps with my foot speed, my balance, my flexibility. It just all-round helps me. It's the best thing for me. If it wasn't for wrestling, I don't think I'd be a starter right now. That really helped me last year. It helped get me in the right mindset."
Farmer didn't wrestle any college matches this season, but he's got a pretty good reason for that as it relates to football. He checked in at 310 pounds after the football season, but would have to get down to 285 pounds to wrestle in matches. He didn't feel comfortable having to cut that much weight so quickly.
The previous season Farmer finished third in a wrestling meet at Hastings College with a 5-1 record that included one pin.
Even after the football season, football activities take priority over wrestling. Farmer practiced with the Huskers for about two months after returning from the bowl game, working with Husker wrestlers Collin Jensen and David Jensen.
Back at spring football now, Farmer says this is an important stretch for him. He didn't play a game in his first two years in the program, and then started 11 games last season as a sophomore.
Farmer feels like he's got competition at his position, where Boe Wilson is working behind him. And he also has hopes of being part of an improved offensive line.
"There is great competition," Farmer said. "Boe Wilson is a great player, and Jalin Barnett is a great player. They're keeping us going forward and getting better. It's guys like that that make a great football team, because they're pushing the 1s to be even better, too.
"I know Boe has great footwork, and he makes me realize how much I need to work on my footwork. I'm just a little bit bigger and stronger than he is. I want to have great footwork. I want to be the best I can be and do whatever I can do. He's helping me do that."
Along the line, Farmer works with fellow juniors Jerald Foster and Nick Gates. They've formed a bond already, Farmer said, with a chance to make something more out of the Husker O-line the next two seasons.
"I'm hoping we can be the best offensive line this school has ever seen, but obviously those are really big shoes to fill," Farmer said. "It's just a goal. We always want to be the best that we can be, and that's what we need to do."
Briefly
Following up on a Monday report, it's been confirmed Scott Booker does have a role on the Husker staff.
His job title is "special teams consultant," according to an NU official.
Any other specifics of that role haven't yet been said, but Booker did serve as a special teams coordinator for Notre Dame the last five years in addition to his duties coaching tight ends.
Be the first to know
Get local news delivered to your inbox!