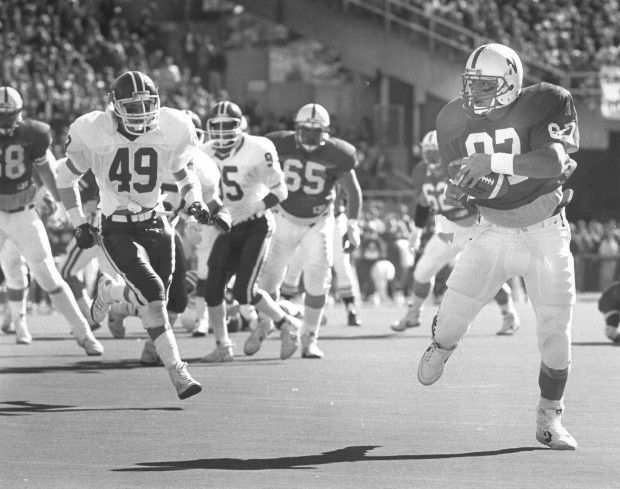 Announce your presence. Announce it immediately.
Todd Proffitt has always told the kids he's coached the importance of making a statement on the opening kickoff.
This time, though, he had one final pregame message to personally deliver to the son of one of his former Husker teammates.
"I want to tell you this right now," Proffitt told a young Josh Banderas, "I want you to go down there and I want you to blow somebody up. After the hit, you will see how the other team reacts. And guess what, that's a showstopper."
So the sixth-grader nodded. Then the sixth-grader ran faster down the field than all the others. Then ... smack!
"I kid you not, I will never forget this, he knocked the kid out. Knocked him out!" Proffitt said. "They had to come get the kid off the field. Now, obviously you don't want to see that, but I had just said to him, 'Make a statement. Always make a statement when you're doing something.'"
That statement loud enough for you, Coach?
A former Husker already saw the signs of a future Husker.
"I knew then," said Proffitt, a middle guard for Nebraska from 1983-85. "I told his dad, 'Bando, all this kid has to do is listen to people and he will be a stud.'"
Oh, they grow up so fast, don't they?
Here we are seven years later and young Josh is about to carry on a family tradition Saturday when Nebraska opens the football season against Wyoming.
The linebacker from Lincoln Southwest is expected to be among the true freshmen to see action.
He apparently still has a knack for strong opening statements.
This, of course, makes for an exciting week for Bandos of all ages.
"Already have the ankles taped up," Tom Banderas joked Monday, five days before living the thrill so many fathers in the state dream of experiencing.
Seeing his son run onto the field with that red "N" on his helmet, just as he did as a Nebraska tight end 26 years ago? Yeah, that's exhilarating.
But shocking? No, not that.
When Josh was younger, he and his dad would sometimes walk around Memorial Stadium, looking at the pictures of former Huskers.
Tom still remembers a line from Josh on one visit: "My picture's going to be up there."
And there was no reason to think it couldn't be.
Tom saw indications early on that his son had many of the necessary ingredients to be a Husker.
When crossing paths with Tom Osborne, the elder Banderas would tell his old coach he thought his son would wear the uniform one day.
Osborne's trademark dry wit followed.
"Well, I sure hope you're better than your dad," Osborne told Josh.
Being able to bounce ideas off a dad who had experienced playing football for Nebraska sure doesn't hurt.
As a kid, Josh had the chance to soak in all the Husker stories, meeting former stars such as Neil Smith, Broderick Thomas and Danny Noonan.
By the third grade, he'd sit on the couch watching tapes of his dad's Husker games.
It wasn't solely for entertainment purposes. He was already studying.
"We'd pause it, go back and watch plays again," Tom said.
This is why this happened. That is why that happened.
Football talk. It still happens each Sunday when Josh pops by the house to visit.
The physical gifts came with the genes. But the younger Banderas learned from his father that it'd take more than that.
Tom: "I think people get it misconstrued a little bit in that they just think athletic ability alone is what gets you where you want to go. The higher level you get, it becomes more the 6 inches between your ears."
That strong mental approach to the game is no doubt one of the reasons Husker coaches have felt comfortable working the true freshman at the demanding MIKE linebacker spot.
The aspects of that position can leave even a veteran's head spinning on occasion. Yet two weeks into fall camp, Bo Pelini paid a hefty compliment to the football smarts of Banderas when he said the position "hasn't been too big for him."
Sounded about right to Proffitt.
He recently shot his former player a text to see how things were going. An upbeat, determined response came back.
"Doing good, man. Just working hard. I don't want to be a kid who just comes and waits his time. I want to come and make a statement like you said."
Wherever it goes from here, Dad is going to be proud, whether his son plays a down this week.
Josh knows he's fortunate to have the scholarship opportunity, Tom says, and just wants to put in the work to show it was deserved.
For a father, it's a mixture of excitement and angst as gameday approaches.
Playing the game is a whole lot easier on the nerves than watching your kid from the stands.
"I kind of liken it if I got in a fistfight, hey, I want to be there. Hey, I'm in it, I'm in the action," Tom said. "But there'd be no way in the world I'd like to see my son in a fistfight."
Nervousness aside, life as a spectator will bring its rewards. Like seeing your son run out of the tunnel that first time.
If there are seasonal allergies that happen to hit the former Husker at that moment, all is excused.
"It's that childhood dream that thousands of Nebraska boys have every year, since they were X, Y, Z years old: 'We want to play for the Huskers,'" Tom said. "That's the goal, the dream, the one thing they want. For him to be able to accomplish that, that's certainly something special."
Be sure of this: That Sunday chat at the Banderas house will not be lacking in material.