In a half-season pockmarked by offensive inconsistency, the one thing Nebraska did each of the first three games is begin the game with possession and move the ball down the field quickly.
Entering Saturday's game against Illinois at Memorial Stadium, one year after the Illini nearly beat the Huskers thanks in part to four forced turnovers, the message heard over and over and over again was that Nebraska must protect the football. Must.
On this game's first snap, NU redshirt freshman quarterback Luke McCaffrey threw the ball sideways to Wan'Dale Robinson, the officiating crew ruled it went backward, Illinois recovered and punched in a touchdown three plays later.
Eighty-nine seconds into the game, Nebraska's one offensive advantage was gone. It's top-line key to the game fell squarely behind the eight ball. And it did not get better from there.
One week after its first victory of the season, Nebraska imploded instead of building on a foundation. The Huskers turned the ball over five times and failed to slow an Illini offense that entered the game averaging 17 points per game, resulting in an all-around putrid 41-23 loss to the Illini.
"We started the game off about the way we played the whole game," coach Scott Frost said afterward. "I did not see this coming. We talked all this week about what we needed to do to win and that after a good win for our program last week, we needed to double down on everything we've been doing — energy, practice habits, enthusiasm.
"I was embarrassed by our level of execution in all three phases."
There is no one direction in which to point the blame for this one.
Nebraska generated virtually no passing offense in the first half, gaining only 70 yards through the air on 7-of-18 passing by McCaffrey, along with two interceptions, three drops and several missed opportunities downfield.
NU got good rushing numbers from the quarterback position once again but did not establish any ability to push the line of scrimmage up front.
Defensively, Illinois' scoring drives covered 21 yards — after the turnover on the first play — and then featured marches of 75, 65, 89, 65 and 75 yards before the fourth quarter even began.
"I didn't think we had the juice that we had last week on defense," Frost said. "We didn't get as many hats to the ball on defense. We made mistakes over and over on offense."
If those weren't bad enough, when the defense did force a three-and-out to open the second half with the Huskers trailing 28-10 and looking for a spark, the return unit totally lost track of punter Blake Hayes, who recognized that nobody was paying attention and waltzed 14 yards for a first down despite looking entirely unsure of what to do with so much green grass in front of him.
Equally puzzling: What now is in front of Nebraska? A short week before a Black Friday trip to Iowa, but how does the program square such a promising outing against the Nittany Lions with such a deflating setback against the Illini?
"It was almost like our team thought we won one game, we're good," Frost said. "That's not how it works in this league, that's not how it works in life, that's not how it works in football."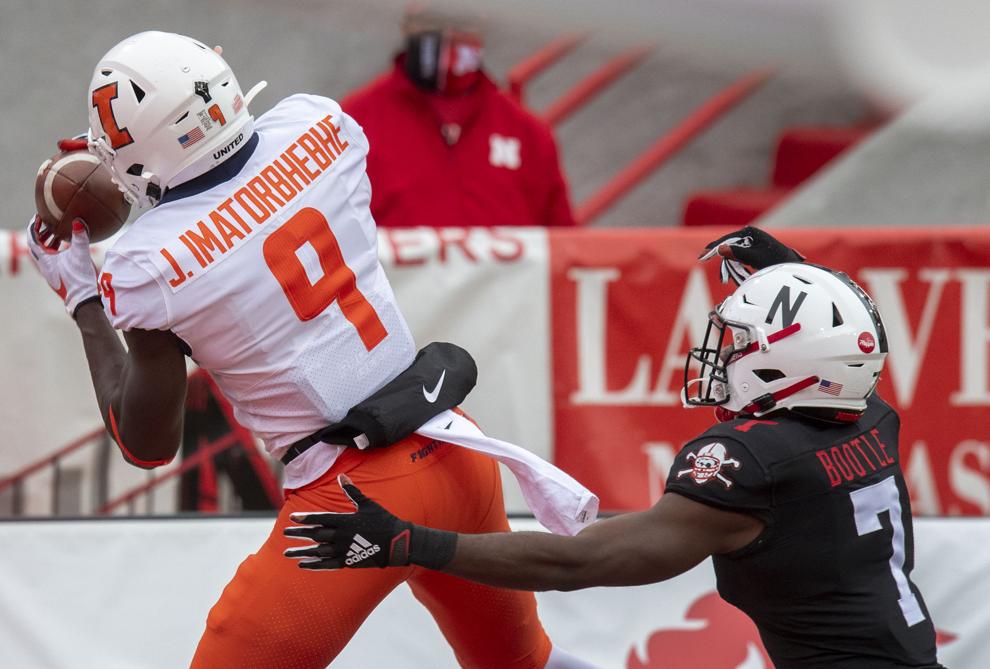 This one spelled trouble from the start. Nebraska responded to the first-play turnover with a touchdown drive of its own, but then Illinois went right down the field, 75 yards in nine plays, and scored again. Then the Illini went 65 in seven plays on their next trip. Seven more points.
Nebraska's offense, inconsistent at best and lifeless at worst over the opening three games, did not have close to the horsepower to keep pace. After a 71-yard, first-quarter scoring drive came an interception. Then a punt and a 10-play drive that ended in a field goal after a fourth-down touchdown run was wiped off the board by a holding penalty against center Cameron Jurgens. He was replaced at halftime by senior Matt Farniok. The rest of the first half featured a three-and-out and an interception.
"I think we had a decent game plan, but during the week we didn't execute those things in practice, and when you don't execute in practice, it's hard to execute in a game," junior tight end Austin Allen said.
For an idea of just how bad Nebraska was offensively in the first half, the first of McCaffrey's two interceptions was actually a better outcome than the alternative. On fourth-and-4 from the UI 42-yard line, Jurgens' snap sailed past McCaffrey high and to the right. He had to pick it up deep in the backfield, escape to his left and throw the ball down the field. Better a pick than a fumble, if you're looking for the faintest of silver linings.
The second one came as NU was trying to push the ball down the field late in the half. A ball down the right sideline for Levi Falck hung up in the air.
All in all, Nebraska had five turnovers and didn't force a single one, creating a monstrous gap in the category that was highlighted over and over again as one of the main ones that would determine the outcome between a Husker offense that's been prone to giving the ball away and an Illini defense that's been good at taking it.
"Coach (Tom) Osborne told us before every game that the team that's most physical is going to win, the team that plays better is going to win and the team that wins the turnover battle is going to win," Frost said. "We did that last week. We got beat physically today. We turned the ball over, and we certainly didn't win on special teams.
"We'll keep preaching that until the kids understand it."
Illinois put 28 first-half points on the board behind 290 yards of offense, then opened up the second half with an apparent three-and-out. The fake punt, though, jump-started what turned into a 16-play drive that not only led to three more points but also took nearly five extra minutes off the clock.
That set the tone for the rest of the half. Nursing a multi-score lead, Illinois' first three second-half possessions looked like this:
* 16 plays, 65 yards, 6:31 time of possession, three points.
* 10 plays, 75 yards, 4:17 TOP, seven points.
* 12 plays, 41 yards, 5:42 TOP, three points.
Overall, Illinois outgained Nebraska 490 yards to 392, running the ball 52 times for 282 yards (5.5 per carry) and four touchdowns. It also got a strong performance from quarterback Brandon Peters (18-of-25 for 205 yards and a touchdown, plus 36 rushing yards and another score) in his first game back since missing 21 days due to the Big Ten's COVID-19 protocol.
Both Mike Epstein and Chase Brown topped 100 yards rushing for Illinois, and the visitors converted 11 of 17 third-down tries.
"Nobody played good enough to win today," Frost said. "Right from the first snap of the game, nobody played good enough to win. I told the team we all have to look in the mirror on that."
Frost was adamant that he believes in this group, but that he and the coaching staff have to find a way to keep it from getting in its own way as the search for progress continues.
"I feel like we've come a long way, but it sure didn't feel like it today," Frost said. "We're going to get this fixed, but the results need to come. The results are going to come, this is what I told the players, when their expectations and their effort are aligned. I didn't think we had as much juice today. I didn't think we had as much enthusiasm.
"I would die to go back and play one more game at Memorial Stadium. Nobody had to tell me to be fired up to play. I'd give anything to go back and play one more time on that turf. I didn't see it coming, but felt like we were lackadaisical today. We acted like we won one game and we were going to be fine."