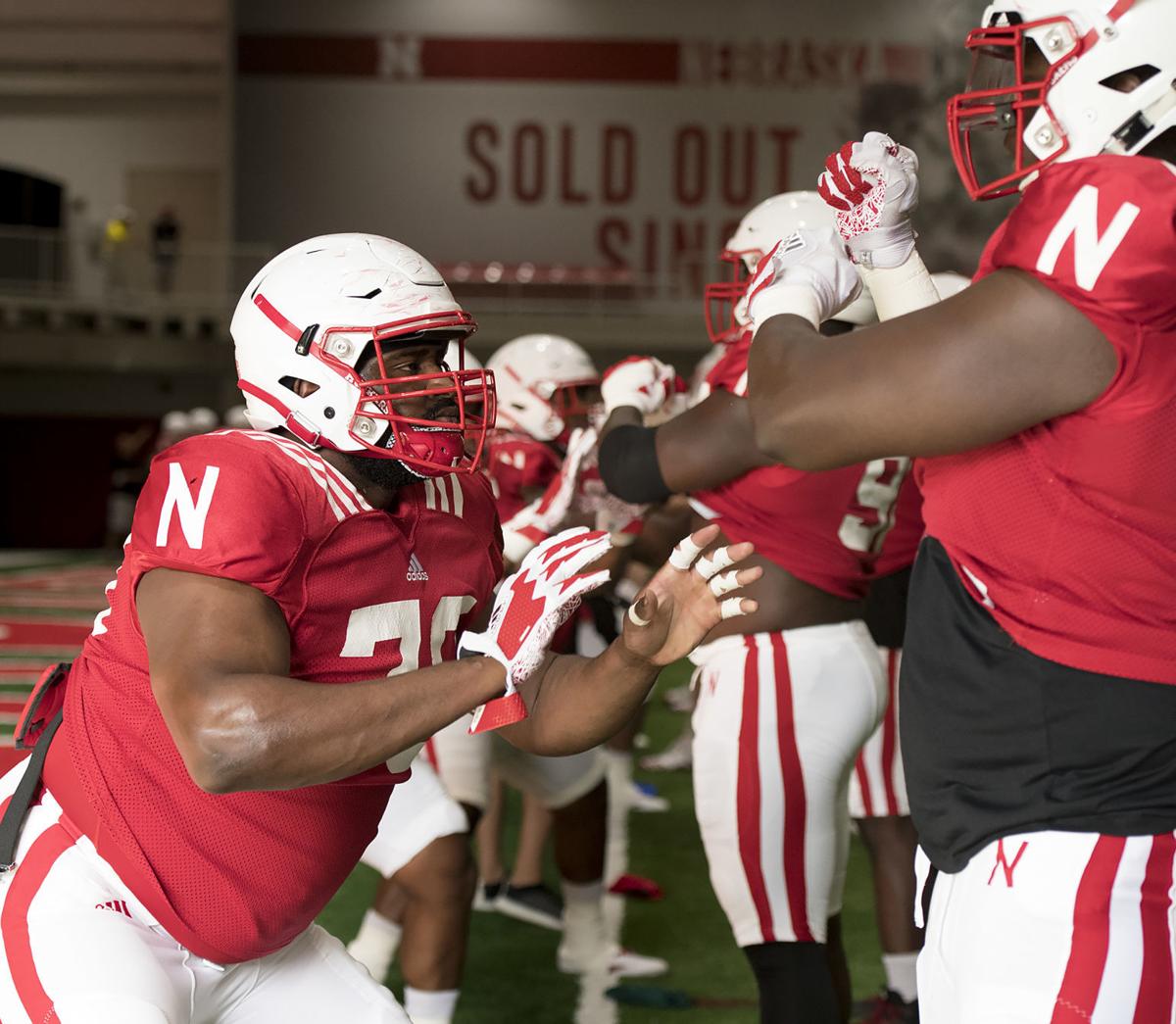 The goal for a good nose tackle, according to Nebraska defensive line coach Tony Tuioti, is to demand four hands on every snap.
Four hands means full attention from two offensive linemen, and two offensive linemen tied up in the middle means that the rest of your typical four-man rush is likely looking at one-on-one matchups. Four hands makes it more likely a linebacker is flowing freely toward the ball in run defense.
Four hands is a sign of respect.
"If he doesn't demand four hands, then the offense is telling you that you're not good enough to be double-teamed," Tuioti said Tuesday.
Since arriving at Nebraska in January, Darrion Daniels has demanded four hands. At 6-foot-4 and 340 pounds, he is the first true nose tackle the Huskers have had since switching to a 3-4 defensive system after the 2016 season.
It's not always flashy — the first three qualities Tuioti ascribed to a good nose tackle were strength, toughness and selflessness — and Daniels' numbers over 40 career games at Oklahoma State (64 tackles, 9½ for loss, two sacks) don't jump off the page.
The way the senior is talked about, however, draws plenty of attention. So, too, did the fact that he over the weekend was named one of the Huskers' four captains.
You have free articles remaining.
"When he was announced as a captain, I told him I was so proud of him because it's such a hard thing to do in a short period of time," Tuioti said. "But it just says a lot about him and how his teammates really appreciate the value he brings to the room. And not only to the defensive line room but to the overall team."
"The way he came in, to this team, coming and being a new guy, it's not always easy," added fellow senior Carlos Davis. "But he came in full force and he acted like he'd been a part of this thing for years. Everybody accepted it for that. He just came in and did what leaders do. They came in and lead, and he's been doing a great job."
Full force is an interesting way to describe it because, as Daniels tells it, he didn't arrive in Lincoln with designs of being a team leader or a spokesperson or a captain. It just happened naturally. He's not even exactly sure how.
"Coach (Scott) Frost doesn't have many rules, but one of them is 'Do the right thing,' and that's something I strive to do every minute of every day," Daniels said. "I try to do the right thing and work hard. I try to lead by example and just do what I'm supposed to do and bring as many people along as possible and just for that to be enough for everybody to vote for me, that was huge."
Daniels' roommate, Casey Rogers, a redshirt freshman defensive lineman, spoke with reverence last week, referring to Daniels as a "wise man" from whom he can soak up not only football experience but life experience. It was Rogers who told Daniels after the team voted that he was a sure bet.
"I believe he's going to be a captain on two different Power Five teams in two years," Frost said of Daniels, who traveled to Oklahoma State's road games last year even after suffering an injury that ended his season because the coaching staff valued his leadership. "He did a great job of coming in and not just doing things right himself but holding others to a standard he expected."
Indeed, both Davis brothers, each entering their fifth year in Lincoln, are quick to say that the new guy is the voice for the group. They, of course, are willing contributors, but Daniels moved to the forefront, right in the middle, more quickly than almost anybody could have predicted.
Daniels demands four hands from opposing offenses and, in his own unassuming way, sets the standard for his own teammates, too. That's the kind of thing that isn't always easy to find. And is almost unheard of from a graduate transfer.
"It's rare. It's very rare," Tuioti said. "I haven't seen it before, but Darrion is special."