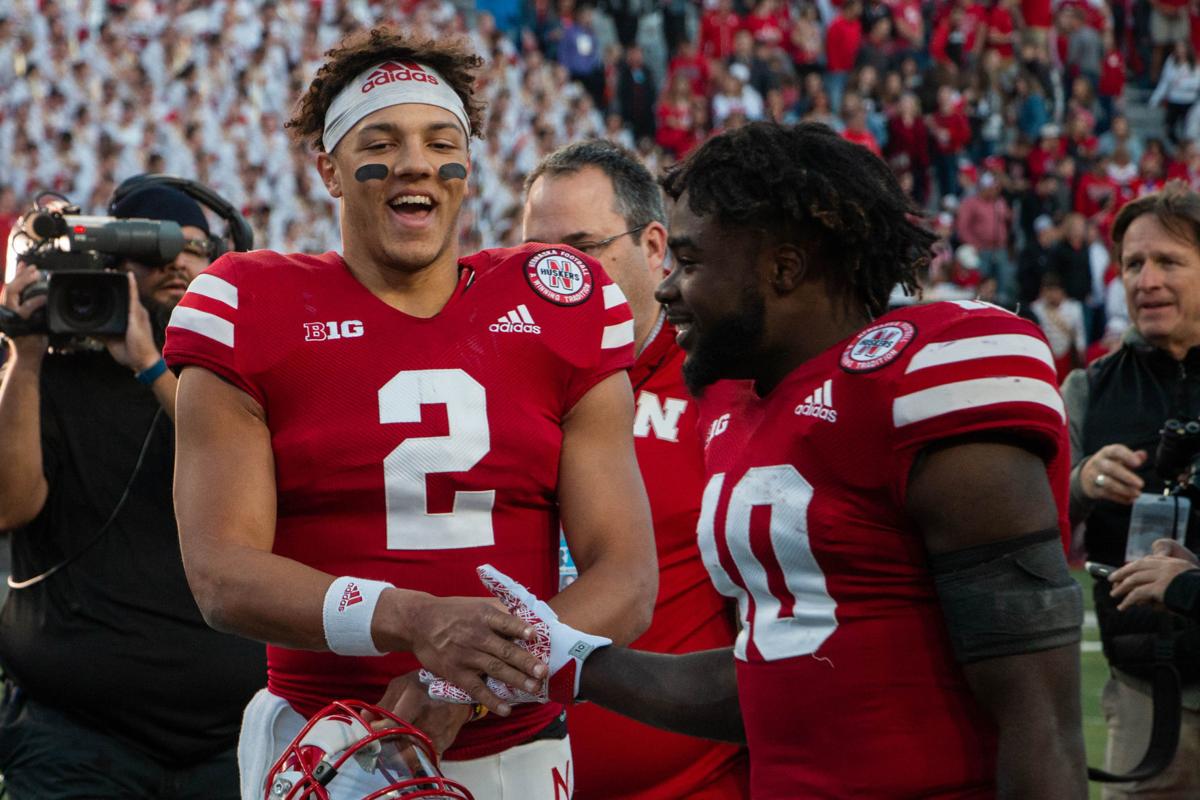 1. Let's just get to the best news of the day right off the bat.
Nebraska outside linebackers coach Jovan Dewitt tweeted on Monday morning that he's excited to get back out on the road recruiting early this week.
Hopefully the good news just keeps coming for Dewitt and his family. Salute.
2. Never far from the conversation about JD Spielman, it seems, is injury.
The junior Nebraska wide receiver has been wildly productive in his first two collegiate seasons — 121 catches, 1,648 receiving yards, 10 receiving touchdowns and two return scores — and he's been able, mostly, to keep himself on the field.
Spielman missed the final game of the 2017 season against Iowa — he suffered a mid-October shoulder injury but played through it until an aggravation against Penn State late in the year — and the final two games in 2018 with a high ankle sprain — but that's only what's risen to the level of preventing him from playing.
Last fall, in particular, there seemed to be constant rumor and whisper about what the 5-foot-9, 180-pounder was facing injury-wise at any given moment. Even Frost's National Signing Day news conference in February, more than two months after the season ended and a month before spring ball started, ended with a question about Spielman's health.
Asked last week how many different things he's played through in the first half of his career, Spielman paused for a moment to consider the list.
"Quite a few, yeah," he said.
The pain doesn't represent the biggest challenge, though, he explained.
"I think the hardest thing for me at first was not practicing the whole week and then playing," he said. "You're behind everyone else when it comes to conditioning, you haven't taken any of the reps on the actual plays. At that point, you've just got to trust what you already know. The coaches have faith that I can miss the week, and they can still put me out there and that I can still make a play."
Not just anybody could handle that challenge, and Spielman said he took it as something that put even more responsibility on his shoulders.
"I know that conditioning, I might be a little bit behind someone else, but that means I just have to elevate other parts of my game to make up for it, whether that's that I just have to block even harder now for the running backs or just all the mental stuff," he said. "I have to make sure that I'm not missing any assignments. I already missed the week. I already did less work than everyone else that week. I just have to try to make up for it by compensating, focusing harder on other things within the game."
You have free articles remaining.
3. Spielman and quarterback Adrian Martinez hit it off quickly, according to the receiver. Not only are the pair a dynamic match on the field — not to mention cornerstone players for the Huskers moving forward — but they're close off the field, too.
"That's my little big brother right there," Spielman said. "He's taller than me and he weighs more than me, but at the same time, I'm the older guy in the group. That's my little brother to me. I've learned a lot from him and hopefully he can say the same back about me, that he's learned a lot from me so far. I'm just excited to see where this next year takes us."
4. The first of Nebraska's 21 expected scholarship arrivals began moving in Sunday and will hit the ground running this week.
That includes the two remaining in-state scholarship signees in linebacker Garrett Snodgrass (York) and defensive lineman Ethan Piper (Norfolk Catholic).
To call it a busy weekend for Piper is probably an understatement, considering he went to the state track meet, finished second in Class C in the shot put on Friday and second in the discus on Saturday, then transitioned immediately to college.
So grateful for the last 13 years as I've been challenged to grow, learn, compete & become the best version of myself. It's been an honor & privilege to wear a Knights uniform. I wouldn't be the man I am today without the love and support of so many. Thank you NC! #ForeverAKnight pic.twitter.com/1YG4HzrDTQ

— Ethan Piper (@epipe71) May 19, 2019
Though it's not official yet, it's worth revisiting what running backs coach Ryan Held had to say about the 5-foot-11, 220-pounder when he signed out of Garden City (Kansas) Community College back in January.
"He's a guy that's a strong, older back," Held said. "We lose Devine (Ozigbo) and (Mills) is a guy that gives us, really, a guy that can do it all in terms of size and he can run. We're excited about him because he's an older kid to kind of even out the room a little bit. Great kid, got a great personality, smart and we're excited to get him in the room and create as much competition as we can at the running back spot."
This weekend at a Rivals camp in St. Louis, HuskerOnline reported that Prochazka checked in at 6-foot-9 and 281 pounds with a 7-foot wingspan.
The offensive tackle is already drawing national interest, and that's only going to continue to intensify.