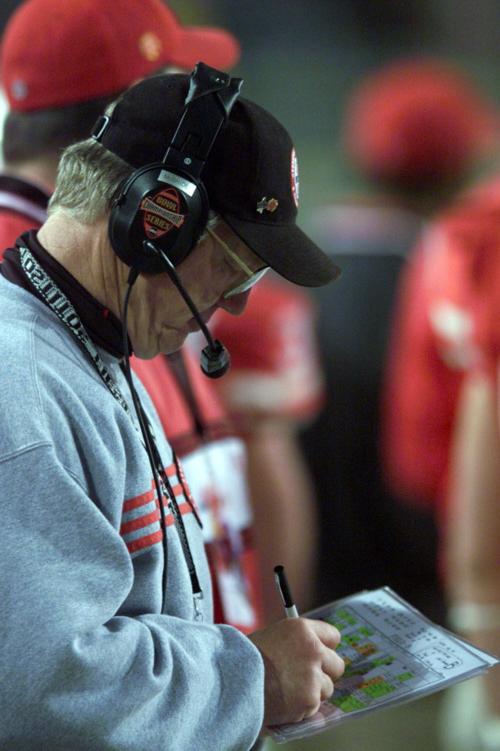 Let's take a drive down the road of life.
1. Charlie McBride design game plans to shut down the nation's top offenses.
Now the former Nebraska defensive coordinator will be put to a bigger test. He's about to be roasted.
The The Roast of Husker Great — Charlie McBride is set for Oct. 5 at A View on State (13467 State Street) in Omaha. Former Nebraska players and coaches will be on hand to roast McBride.
Guest speakers will include Tom Osborne, Danny Noonan, Jason Peter, Mike Knox, Marc Munford, Tony Veland and Chris and Chad Kelsey. They'll be on hand to share stories of McBride, who was Nebraska's defensive coordinator for 18 seasons.
Tickets can be purchased on Facebook at The Roast of Husker Great - Charlie McBride. Individual tickets are $50, and corporate table seating (10 seats) is available for $1,500 per table.
Ticket payments can also be mailed to St. Bernard Catholic Church, Attention: Rose Flores (3601 North 65th Street, Omaha, Neb., 68104).
All proceeds from the event benefit St. Bernard and St. Philip Neri grade schools for technology and tuition aid.
The event starts at 7 p.m.
2. Speaking of Charlie McBride defenses, one of the more disruptive figures during the McBride era was John Parrella.
The current Husker defensive line coach was part of three Big Eight title teams. He was a captain in 1992, and named the team's lifter of the year as a senior.
He was intense. Still is, says sophomore defensive lineman Khalil Davis.
"But that's what we want, that's what we came here for," Davis said. "He knows the position more than anybody."
Davis calls Parrella a father figure. The former NFL lineman also has held up the significance of the Blackshirts since returning to Nebraska as an assistant.
"We really didn't know at depth what it was about, and he kind of just reinforced that," Davis said. "One of the things he says all the time is, 'You become a Blackshirt way before you ever get the shirt. That's kind of the biggest part I took from that."
3. The Journal Star is releasing its high school football special section Sunday. It will be loaded with class breakdowns, capsules on more than 50 area high schools, and much more.
Something that stood out to me while seeing it all come together: The talent in Class B is as deep as it's been in a very long time.
Here is a small sample size:
TE/LB Cameron Jurgens, Beatrice, sr. (Nebraska)
DT/OT Masry Mapieu, York, sr. (Nebraska)
TE/DE Garrett Nelson, Scottsbluff, jr. (Nebraska)
You have free articles remaining.
QB/LB Zach Schlager, McCook, sr. (Colorado State)
RB/P/FS Austin Schultz, Norris, sr. (He'll play DI college baseball)
RB Moses Bryant, Elkhorn South, sr.
LB/FB Jake Archer, Omaha Skutt, sr.
S/WR Tyler Cast, York, sr.
RB/LB Simon Otte, York, sr.
OL/DL Bronson Titus, Holdrege, sr.
The high school football season begins Aug. 24.
4. Tim Miles has his first in-state high school recruit.
That leaves three open scholarships for Miles' next class.
You'd have to go back to 2001 when Nebraska last signed in-state players out of high school — Jason Dourisseau (Omaha Burke), Roy Enright (Omaha Burke) and Wes Wilkinson (Grand Island) for the 2002 class.
Heiman, a 6-foot-10, 197-pounder, told HuskerOnline.com that he would not be against redshirting his first year.
5. Alex Gordon continues to struggle at plate in Kansas City, and Ned Yost is hoping a break maybe gives the left-fielder some life heading into the final stretch of the season.
According to The Kansas City Star, the Royals manager plans to rest Gordon more, who is in the midst of some career-low numbers.
Gordon, a Lincoln Southeast graduate, is batting .197 with a .580 OPS (on base plus slugging percentage). He is 6-for-46 since July 23.
If we have learned anything about Gordon, it's don't count him out. His career was at a crossroads in 2010. The Royals sent him down to Omaha and Gordon was turned into an outfielder. A season later, he was receiving MVP votes.
Gordon did enter Tuesday night's game against St. Louis as defensive replacement in center field.
6. Let's stick to the theme of ex-Huskers in the majors.
Aaron Bummer made his sixth appearance Tuesday night for the Chicago White Sox. The left-handed reliever has struck out five batters and owns a 4.76 earned-run average.
On Tuesday, he recorded his career-first 'hold' in the team's 8-5 win against Houston.
Bummer was called up July 27.
"It's still pretty surreal to be in this locker room with all of these guys who have done so much in their careers but right now, it just kind of feels like baseball," Bummer told the Chicago Tribune earlier this month. "I've gotten into a routine and kind of gotten back to the way I want to do things."