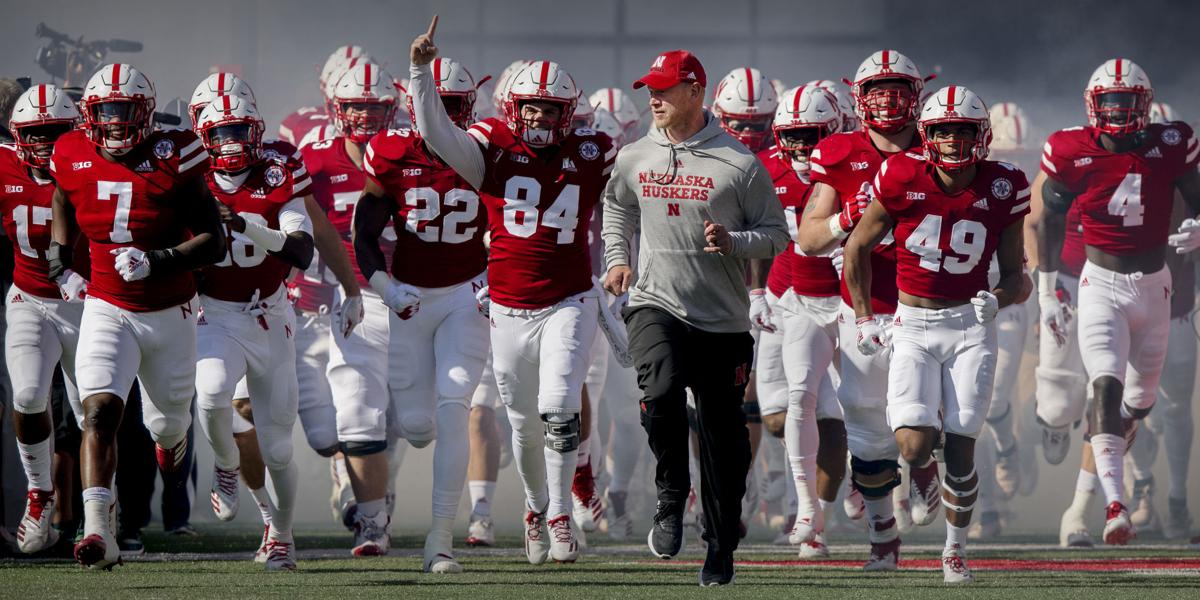 Let's take a midweek drive and think about a potential football season along the way.
1. Two questions on many in Big Ten country's mind this week: When is the Big Ten going to release a schedule and when is the league going to aim to start a season?
There are no clear answers on either, though resolution should come sooner rather than later considering the calendar flips to August on Saturday.
Let's focus, for a moment, on the question of when the Big Ten will start play. On Tuesday, Yahoo! Sports reported that the NCAA gave a blanket waiver for teams to play Week 0, or the weekend of Aug. 29. Most teams, including Nebraska, were originally slated to start Sept. 5 (Week 1).
Major conferences are now going to be spread across potentially up to four weekends, however. The Big 12 is planning to have at least some teams play Week 0, including Oklahoma. The Pac-12's plan, reported by the San Jose Mercury News, is aiming to begin Sept. 19 (Week 3). The ACC announced an 11-game schedule on Wednesday that begins Week 2. 
The ACC is not expected to present a scheduling model to presidents Wednesday, multiple people with knowledge of the situation tell @TheAthleticCFB. ADs hope for more discussions with the presidents, especially in light of MLB developments. Sept. 12 remains the target start date

— Matt Fortuna (@Matt_Fortuna) July 28, 2020
Multiple sources have indicated to the Journal Star this week that the Big Ten is more likely to move back, perhaps as far as Week 3, than it is to move up to Week 0. It is unclear, however, how close the league is to finalizing a plan. 
Conference coaches and administrators are meeting multiple times this week — as they have for much of the past four-plus months — including on Thursday.
Consensus among schools is going to be hard to come by, and it's fairly easy to see why. Nebraska, for example, has started each new phase of offseason on time, beginning with voluntary workouts on June 1, formal summer access July 13 and the two-week "minicamp" period on July 24. Obviously, things can change fast, but head coach Scott Frost has been saying for weeks that he thinks his team is on the front edge of programs around the country in terms of working through this offseason's challenges and getting prepared for a season.
The Huskers haven't veered from their charted course since then, meaning there's no reason to believe that sentiment has changed.
An early or on-time start means more flexibility in the schedule and perhaps extra bye weeks. That could be beneficial for health considerations and for maximizing the number of prime time television slots used. More off weeks could help facilitate Thursday or Friday games without putting teams on short weeks. For example, teams coming off a bye could play Thursday night in prime time, then have extra days to prepare for their next game the following Saturday. 
A Week 3 start, let's say, leaves 11 weeks to play 10 games before the originally slated Big Ten title game on Dec. 5 in Indianapolis. 
There's another side to the coin, of course. Just last week, Michigan State and Rutgers announced two-week pauses in their workouts due to positive tests, which essentially carry through to the normal preseason camp start on Aug. 7. Indiana did the same on July 17 and there's been no indication that they're back to work yet. For those schools, getting cleared to resume full activities and then preparing for game action by the end of August at this point might not be as palatable and might be unfeasible. 
Then, factor on top of that the decisions campuses are making regarding students on campus for the fall semester and the simple fact that university leadership and local health officials across the Big Ten assuredly have different levels of comfort with how and when to move forward, and it's easy to see how the start date conversation is a complicated one.
However, a decision's going to have to be made at some point soon, because whether the goal is Aug. 29, Sept. 19 or somewhere in between, time's ticking.
2. Ohio State gave a window into its thinking on fans for the fall. 
Earlier this week, OSU announced that it will cap Oho Stadium at 20% capacity, will not hold some of its normal pregame festivities and will have limited concessions available inside. In addition, masks will be required in the stadium.
With a capacity of more than 100,000, 20% checks in at a little more than 20,000 for the fall at Ohio State.
Bottom line: Almost everything regarding college football is going right down to the wire.
3. In discussing Nebraska's wide receiving corps Tuesday evening on the "Husker Sports Nightly" radio program, offensive coordinator and receivers coach Matt Lubick highlighted redshirt freshman Chris Hickman's versatility.
"He's a big-bodied guy that has great range and he's a good athlete, great frame," Lubick said. "It's an easy move for him from tight end to receiver because we kind of cross-train those guys. So the 'R', what he plays — and that's also what Wan'Dale (Robinson) plays — but there are sometimes where we can ask him to do things that a tight end does, that he already knows, but also split him out and play wideout. He was learning that even when he was with (tight ends coach Sean) Beckton. It's made the transition easier for him.
"We love having that in our offense. It makes us more versatile."
4. Lubick also talked about redshirt freshmen Jamie Nance and Demariyon Houston, who get lost in the receiver conversation sometimes between returning players like Robinson and NU's big group of 2020 newcomers.
"They're both eager to learn and they both want to get on the field, which is the first thing," Lubick said. "As a coach, you do your best to motivate guys, but if they're not motivated to get on the field and work hard, it's an uphill battle. So, they solved that one.
"They need reps. They both have tremendous speed, which we need on the field. I think they're getting more comfortable and more confident, and that comes with reps."
5. Let's revisit one note from defensive coordinator Erik Chinander on the radio last week regarding special teams.
In the conversation about an increased level of overall depth on the defensive side of the ball, the need for improved special teams play is never far behind.
"I think a lot of those guys last year that were redshirting should this year be competing for a starting job or to be a backup and a starter on all four special teams," Chinander said. "… Obviously, you've got some offensive guys that will compete for a starting job on special teams, too. But my feeling is, even if you are a starter on defense, you can be on a couple of special teams. If you're not, if you're a backup as a DB or linebacker, you should be a core four player (on special teams). Period."
The 140-plus participants were measured for height and weight, and most of them ran the 40-yard dash, did a pro agility drill and vertical jump test.
Here are a few key names:
* 6-foot-5.5, 222 pounds.
* 40-yard dash: 4.63 (No. 2 TE, No. 3 overall).
* Vertical jump: 37.5 (No. 1 TE, No. 7 overall).
* 40: 4.6 (No. 1 TE, No. 2 overall).
* Vertical: 32.5 (No. 4 TE).
* Pro agility: 4.3 (No. 1 TE).
* Vertical: 29.3 (No. 1 OL).
* Pro agility: 4.71 (T-3 OL).
Offensive lineman Isaac Zatescha (2021), Elkhorn South
* Vertical: 26.5 (No. 3 OL).
* Pro agility: 4.55 (No. 2 OL).
Be the first to know
Get local news delivered to your inbox!