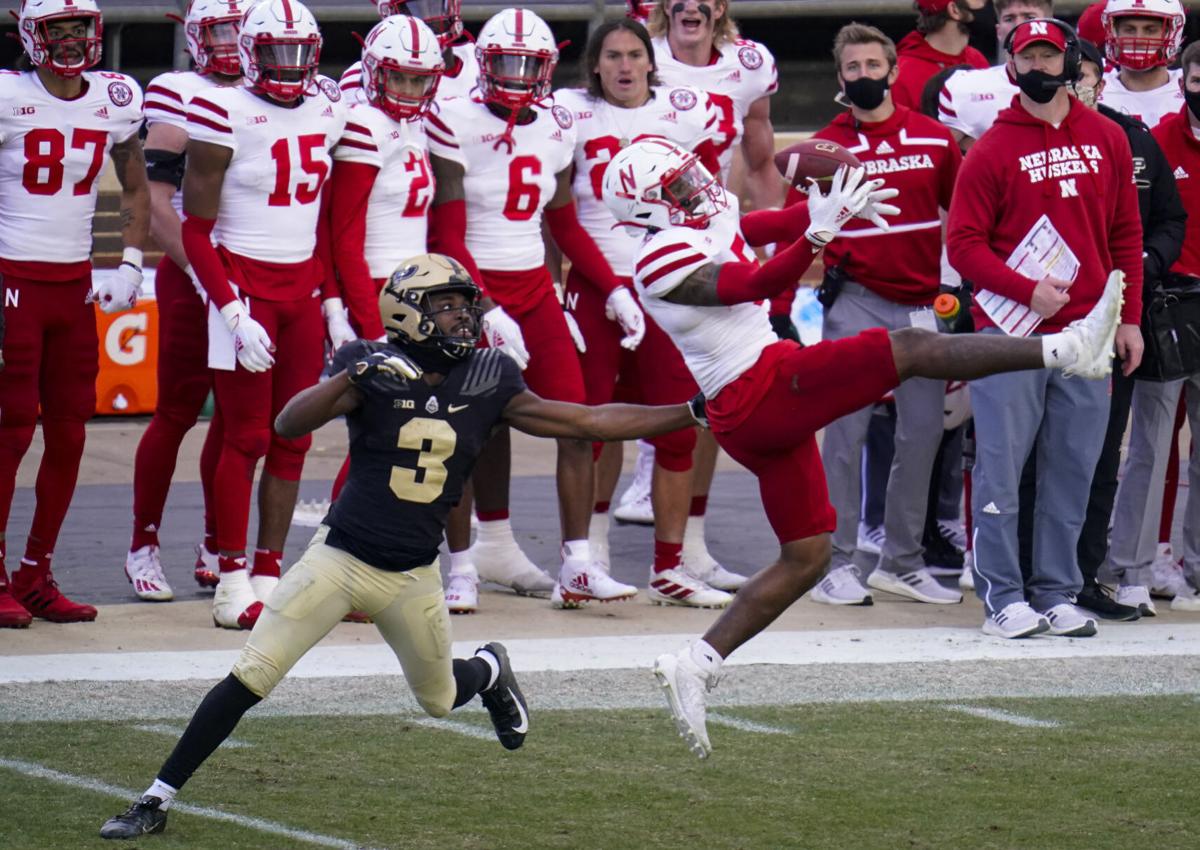 Let's take a midweek drive.
1. Nebraska's current position in 2022 recruiting — generally speaking, they're in on a ton of players but do not yet have a verbal pledge in the class — has been well-documented at this point.
So, too, has the feeling that the Huskers might see slow going until they can (hopefully) start bringing prospects to campus this summer.
One position where players have begun coming off the board at a quicker pace: quarterback.
In the past week, five-star Ty Simpson committed to Alabama, which in turn led to Clemson offering and landing a commitment from Cade Klubnik (Austin, Texas). Of the approximately 15 quarterbacks Nebraska has offered in the 2022 cycle, now six have verbally pledged to other schools.
A few others — Gavin Wimsatt (Owensboro, Kentucky), AJ Duffy (Bradenton, Florida) and, on Wednesday, Jacurri Brown (Valdosta, Georgia) — have released top groups that do not include NU.
That doesn't mean it's time to panic or anything for the Huskers.
On Wednesday night, Nebraska offered a new quarterback in Richard Torres out of San Antonio, Texas. Torres is listed at 6-foot-6 and 210 pounds and, based on his social media, it appears the Huskers are his first Power Five scholarship offer. 
There are also still several uncommitted quarterbacks that the Huskers have offers out to. That includes their more recently offered targets from this winter, Tayven Jackson (Greenwood, Indiana) and Conner Harrell (Alabaster, Alabama), and also players they've had offers out to for much longer, such as four-stars MJ Morris (Atlanta) and Steve Angeli (Oradell, New Jersey) and three-star A.J. Bianco (Honolulu).
As it often is in recruiting, the timing will be interesting. Quarterbacks tend to commit early and some certainly have this cycle, but this is also going to be a unique year in many ways. How many will wait until the summer to visit schools and how many will want to try to sort things out this spring?
Quarterback is always an important position to recruit, of course, and particularly so this year considering NU has just three scholarship quarterbacks currently on its roster. 
2. In a recent interview on the "Sports Nightly" radio program, Nebraska junior defensive back Cam Taylor-Britt said returning to school for a fourth season instead of jumping early to the NFL was an easy call and cited his own development path and also the chance to play another year with his current teammates.
"I wanted to stay and become a better person, player, teammate and just the best person I can be," Taylor-Britt said. "I believe this year gives me a lot more time to mature as a player and man and everything else I want to be, and that's why I came back."
3. The Montgomery, Alabama, native and 2020 second-team All-Big Ten corner, according to the league's coaches, said he's expecting stiff competition from his younger teammates.
The Husker secondary has three starters back — Taylor-Britt plus senior safeties Deontai Williams and Marquel Dismuke — but a wave of players will push for time. That includes a competition that's likely to include Braxton Clark, Quinton Newsome, Nadab Joseph and potentially freshmen Tamon Lynum and Marques Buford at corner and then Noa Pola-Gates, Myles Farmer, Isaac Gifford and perhaps Javin Wright behind the starters at safety.
"I tell the guys that nobody has a set spot, and I say that for myself (too), because you never know who can come in and everyone wants to come in and work and come in and take that spot," Taylor-Britt said. "I tell the young guys, I don't try to be cocky or anything, but I let them know the other side of the field is wide open, but this side here is not because I'm going to put in the work every day and I will not let that happen. I want you to put in the work to try to get there."
4. Buford told the Journal Star in January that he hoped the veterans in the secondary came back so he could learn from them and compete against them for playing time.
In a recent video posted on social media, the freshman and Texas native said he's enjoying that aspect of his college career so far.
"A few of my goals heading into spring ball are to, one, compete my butt off with everybody and try to make my teammates as great as possible as well as myself. And, also show what I've been working for up to this point to the coaching staff and try to do what I can to get my name out there on the team and hop on the field as soon as possible."
5. Tennessee is reportedly filling its final full-time assistant coaching spot with former Nebraska assistant and David City native Mike Ekeler.
The former Husker linebackers coach oversaw special teams at North Texas in 2020. Since a three-year stint at Nebraska (2008-10), Ekeler has been at Indiana (2011-12), USC (2013), Georgia (2014-15), North Texas (2016), North Carolina (2017-18), Kansas (2019), North Texas again in 2020 and now Tennessee. That's life as an assistant coach at the Division I level.
In Knoxville, he'll be part of Josh Heupel's first coaching staff and is likely to coach special teams and help out as part of the defensive staff.
6. One more from Taylor-Britt to send us off.
He described the way NU picked mini "teams" this winter that, according to the football program's social media accounts, appear to be taking part in a long-running competition spanning various events like bowling and dodgeball but also more serious matters.
"The coaches picked the captains, so there were two or three captains per team and we put the whole roster up on the board and basically drafted people," Taylor-Britt explained. "It's basically off of accountability and just to make sure someone's on their stuff. That's who you pick first is who you can count on and who's going to be in class, because everything matters.
"If somebody messes up on your team, your team has to suffer those consequences as well."