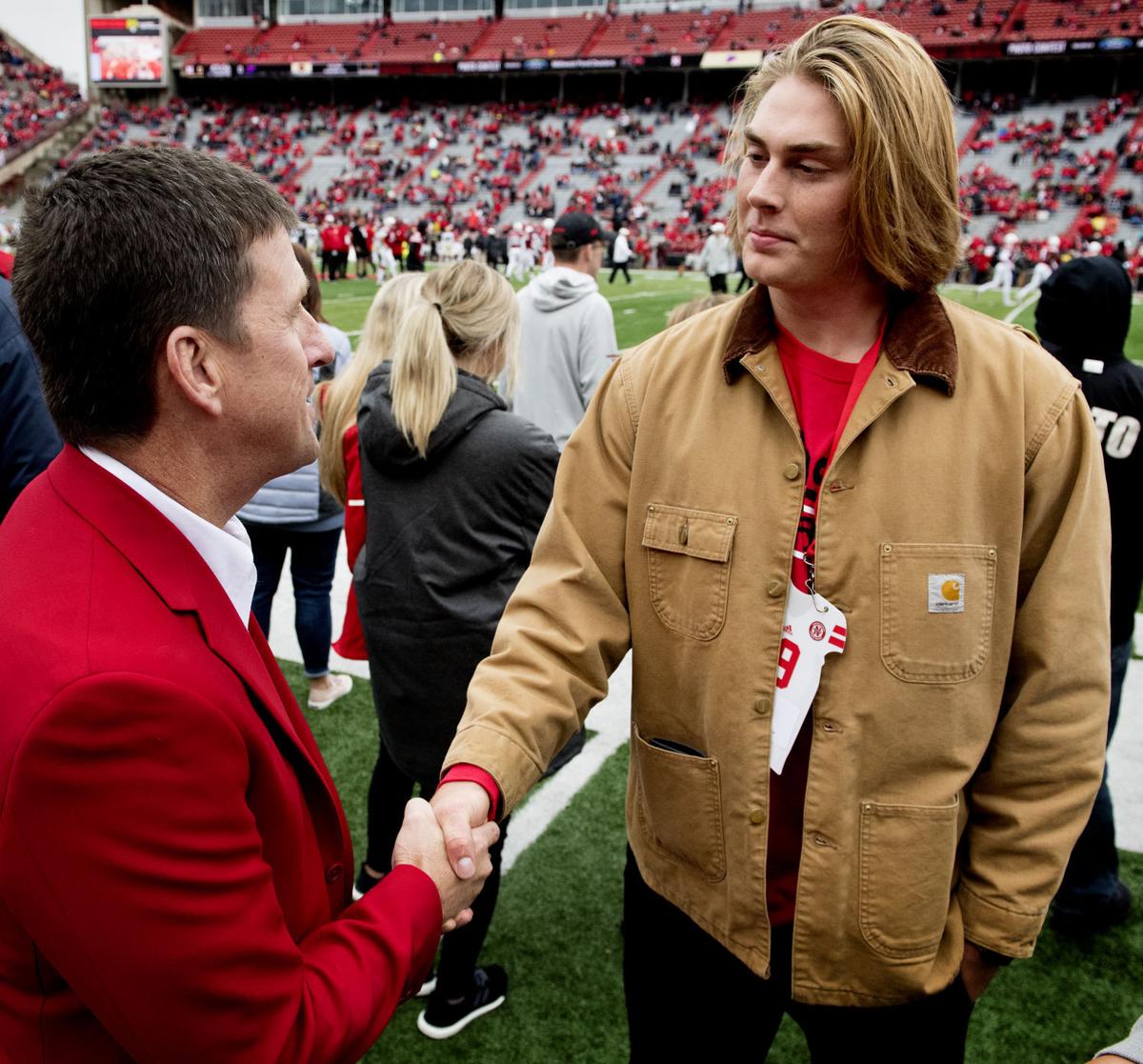 Let's take a drive and enjoy the sunshine.
1. An eight-week stretch of winter conditioning can be a bit of a grind, so Nebraska this year is working in a fun-but-competitive break on Wednesdays.
That's part of the reason the Huskers have split into the teams that the program has pushed on social media.
Junior defensive back Cam Taylor-Britt described the setup recently on the radio: Two or three captains per team drafted the rest of the roster. Performance matters, not only in the weight room and on Wednesday activities, but in the classroom, too.
So far, the activities include bowling, trivia, dodgeball and tug of war.
Redshirt freshman offensive lineman Brant Banks? He's on Team Fat Boys.
It doesn't take a rocket scientist to figure out Team Fat Boys' strongest event so far.
"Let me tell you, we destroyed people in tug of war," Banks said in a recent interview with the Journal Star. "It was awesome. I'm not going to lie, we haven't been too hot recently with the trivia and the bowling, but once we hit tug of war, we might be up there in the standings now."
The captains of the Fat Boys are outside linebacker Damian Jackson, guard Ethan Piper and wide receiver Levi Falck. Of the other 14 on the team, 12 are offensive or defensive linemen.
Banks said being a Fat Boy and competing against the likes of the Hot Boyz, Bacon & Eggs, Team Avengers and more has been a good part of the winter process.
"It's just something where every Wednesday we can go out and be together and come closer together as a team and bond together through competition or whatever it is," he said.
2. On a slightly more serious note, Banks, a 6-foot-7, 305-pounder from Houston, played on special teams in four games in 2020 and also saw some reserve time on the offensive line against Ohio State.
He's considered a key part of a growing stable of young tackles that also features Bryce Benhart and Turner Corcoran, among others.
He spent the 2020 season essentially as the No. 2 right tackle behind Benhart — Nebraska didn't actually publish a depth chart last fall — and has played some on the left side, too.
"I think it helped just getting hit in the games and trying to realize what it's all about," Banks said. "This winter, I'm just working on my body and trying to get bigger, stronger and faster just like everyone else so we can come out next year and win and accomplish everything we can as a team."
Banks was originally recruited out of Westbury Christian as a defensive lineman, but he switched sides before long and has become a player to watch going forward in Greg Austin's position group.
3. When Banks and his brother, Brig, went home to Texas after the football season ended, they had a traveling companion: NU freshman punter Daniel Cerni.
Cerni, who missed the 2020 season with a leg injury, is a Canberra, Australia, native and wasn't able to travel home due to COVID-19 restrictions. So, instead, he got to experience the Lone Star State with the Banks brothers.
"When we were down in Texas, we all got closer and he's a really great guy," Banks said. "Of course, he couldn't go home during the break and it was Christmas and so we brought him back with us so he could still kind of have a Christmas and not be alone.
"We went hunting and shot some guns, bought a little bit too many fireworks. He loved it."
4. Athlon Sports on Monday reported that the NCAA is moving toward adopting a one-time transfer waiver in April and also planning for some form of recruiting to be allowed after May 31.
Source: NCAA is moving forward with one-time transfers. D1 Council will vote on a waiver to allow one-time transfers for the upcoming year (2021-22) at their April meeting after the Final Four.

— Bryan Fischer (@BryanDFischer) March 8, 2021
Let's focus on the recruiting part of that for a moment.
If the NCAA institutes some kind of quiet period beginning June 1, it would mark the first time in nearly 15 months that recruits could take unofficial and official visits to college campuses.
Here's what Bryan Fischer wrote, in part: "Firmly on the table: things like football camps and a quiet period this summer."
Recruits have talked generally about wanting to take part in camps this summer, and Nebraska would likely try to put something together along the lines of the Friday Night Lights camps and linemen camps they've had in past years.
That, obviously, would be a big boost for all involved and would make for a very busy June in college football.
5. As far as the one-time transfer rule is concerned, it's been widely expected to happen for some time now, but the Division I Council tabled the proposal in January.
For Nebraska, the biggest immediate effect would be that USC transfer running back Markese Stepp would not need a waiver to be eligible to play in 2021. Same would go for any undergraduate transfer the Huskers might pursue with their two remaining scholarship spots for the 2021 cycle.
6. One more from Banks to close it out.
He entered 2020 with as many appearances for Fred Hoiberg's program (one) as for Frost's (some 2019 run against Maryland). Banks and Noah Vedral would have been the most talked-about storyline of NU's March 2020 loss to Indiana in the Big Ten Tournament had it not been for, well, everything that followed the game.
Even a COVID-19 scare and the arrival of a global pandemic, though, wasn't enough to get Banks off the hook for missing a layup. He got fouled on the play but missed both free throws after collecting a sweet feed from Vedral on a pick-and-roll.
"Oh, yeah," Banks said with a laugh. "I've been hearing about that for a year now."