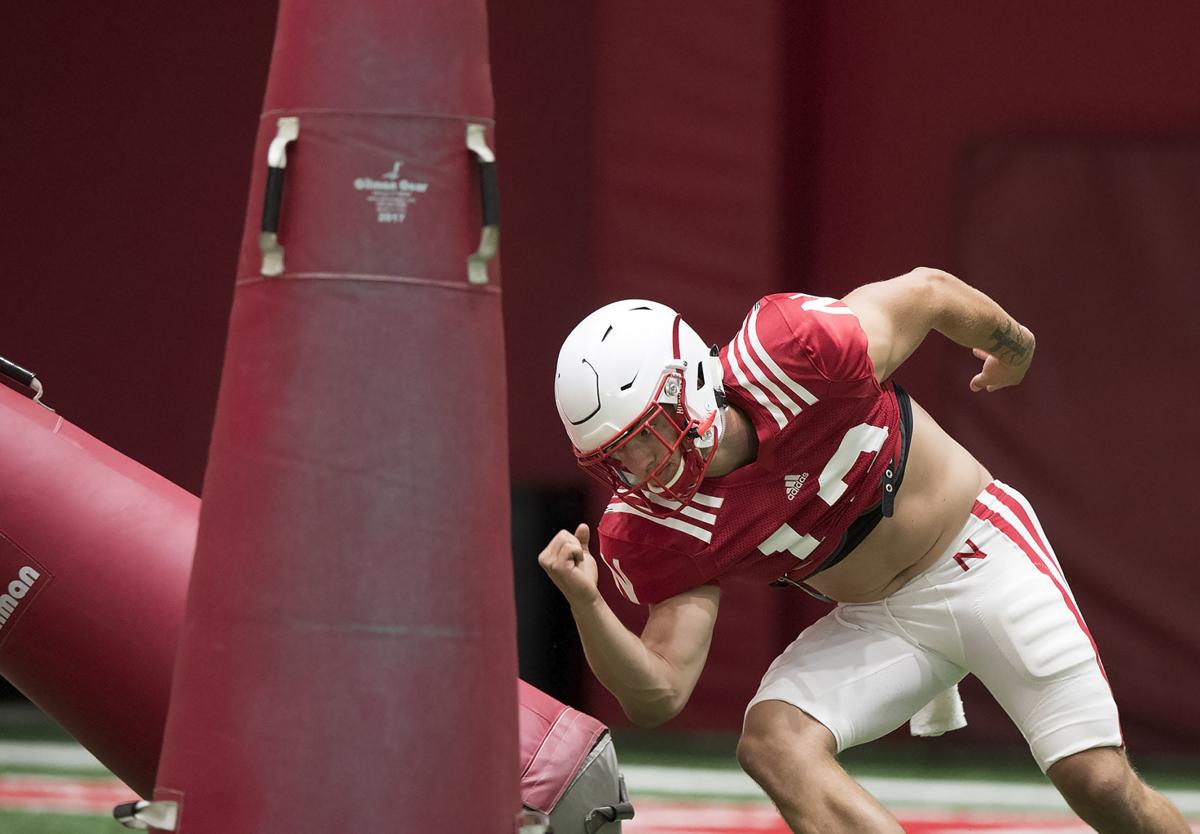 Many of Nebraska's newly picked Blackshirts met with reporters following Tuesday's football practice.
Junior outside linebacker JoJo Domann, who had a late start to fall camp due to an undisclosed injury, was wearing a white jersey.
Domann, however, isn't worried about the color of jersey he's wearing four days ahead of the season-opener against South Alabama. He's worried about getting back into football shape and staying healthy.
But make no mistake, Domann wants a black jersey at some point.
"Blackshirt, white shirt, yellow shirt, gray shirt, I got to prove myself every day, and that's kind of my mentality," said Domann, who spoke to reporters for the first time this season. "Obviously, I would like to get a Blackshirt, but it's just fuel on the fire. I've got to turn up my game a notch, turn up my dedication. That's how I took (not getting one Monday)."
More importantly, Domann is happy to be a full go at practice, and he said he's ready for South Alabama.
The 6-foot-1, 235-pound outside linebacker missed the first week of fall camp. He returned to Lincoln and continued to rehab his injury before slowly progressing into individual sessions and seven-on-seven drills.
"It's tested me for sure, but I've come up better for it," Domann said. "(I'm) just really focusing on our first game, focusing on the season and try not to think about my body and just play football again."
Domann is listed as co-starter at one of the outside spots with sophomore Caleb Tannor. Alex Davis, Tyrin Ferguson and Garrett Nelson are listed at the other outside spot.
Outside linebackers coach Jovan Dewitt said Domann and senior Tyrin Ferguson are neck-and-neck with Tannor and Davis.
Domann's size and versatility gives the Huskers a player they can line up at several spots on the field. After playing safety for part of last season, Domann is focusing on outside linebacker and the "big nickel" spot.
"I'm comfortable with it," Domann said of outside linebacker. "I want to make plays within the system. There's one thing to know the system, there's another you've got excel in the system, so I'm trying to excel and trying to make plays for us on Saturdays."
Be the first to know
Get local news delivered to your inbox!