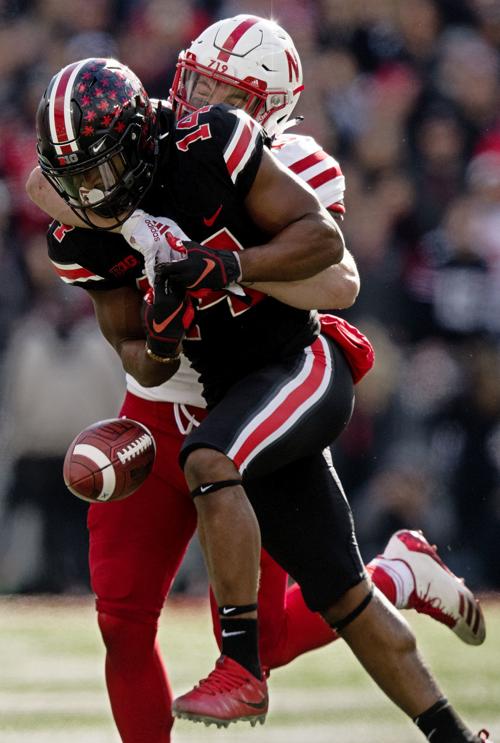 JoJo Domann prides himself on making exclamation-point plays. He wants to carry that sort of mentality and energy to a football field.
The Nebraska sophomore outside linebacker made a play he may never forget Saturday at Ohio State.
The Huskers were in zone-pressure mode on a second-and-6 in the second quarter, but Domann disguised it well. He was aligned in man coverage over the slot receiver and stayed square to his man until the ball was snapped. He clearly fooled the tight end, who released into his route because he didn't anticipate the rush.
"I just came free," Domann told reporters Monday in Lincoln. "They didn't see me. The line blocked down. I just had to make a play."
Domann bolted off the edge and tackled quarterback Dwayne Haskins hard enough that he fumbled in the pocket. Defensive lineman Carlos Davis recovered and 10 plays later, Nebraska scored a touchdown to pull the score to 16-14 in what became a 36-31 loss at Ohio Stadium.
"I mean, I was licking my lips when I saw no one was coming out to block me," Domann said. "It was a matter of getting there and getting the ball out."
He was intent on dislodging the ball.
"Looking back on the film, I could've really just taken it from him and ran," Domann said. "But I like hitting people." 
Domann's explosiveness and versatility have made an impression on Nebraska's first-year coaching staff. The 6-foot-1, 225-pound Colorado native had been listed exclusively at safety on the depth chart until the week of the Oct. 27 win against Bethune-Cookman, when he suddenly shared an "or" designation with outside linebacker Alex Davis as backups behind starter Tyrin Ferguson, who has been fighting nagging ailments.
Nebraska head coach Scott Frost said the change was not a position move, but rather a way for the team to add depth at linebacker. The outside linebacker and nickel spots are interchangeable in NU's defense.
Domann just wants to contribute, particularly after missing four games early in the season with an undisclosed injury.
"Like I've said many times, I'm a football player," he said. "I'm not just a safety. I'm not just a cover guy. I like to be able to do every aspect of the game."
He picks the brain of senior captain Luke Gifford, who began his career as a safety before moving to outside linebacker.
"He's taken me underneath his wing," said Domann, who's twice undergone ACL surgeries since arriving on campus in 2016.
"JoJo can play safety, he can play outside backer, but when he got his chance he went out there and made some plays," Frost said Monday. "And not just a tackle here and there, he made some game-changing plays. Man, we've been waiting for more guys to step up and do that.
"He's been through a lot," the coach added. "He had some bad luck this year. He had little nagging things that kept him off the practice field and kept him from getting his chance earlier. Life doesn't give you that many chances and when you get them you have to take advantage of them. Given his chance he's done a great job so expect to see him on the field a bunch.
"I told JoJo the best thing that he did on Saturday, he just made plays."
One was particularly memorable.
"It was a long time coming, man," he said. "I pray for times like that. When it came up, the man upstairs delivered. I'm just going to keep on doing what's asked of me and keep on trying to make plays."