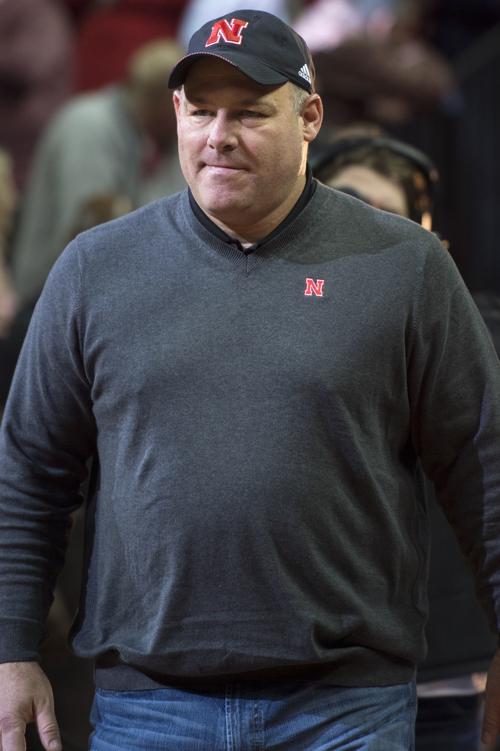 A familiar face is returning to Lincoln.
Nebraska is hiring Mike Dawson, who coached the Husker defensive line in 2018, to fill the assistant coach vacancy that opened when Jovan Dewitt left for North Carolina earlier this month, the school announced Thursday morning. 
Dawson will be NU's outside linebackers coach this time around, but the announcement made no mention of him also carrying the special teams coordinator tag, so that role appears still to be determined. 
A source told the Journal Star earlier in the week that NU's staff had interviewed at least one person who could join the football department in a non-coaching role — an analyst or quality control coach — that could include some special teams duties. 
Among the people being considered for the job, a source tells the Journal Star, is Kansas State director of football operations Sean Snyder, the son of former KSU head coach Bill Snyder. Sean Snyder has extensive experience coaching special teams in Manhattan, Kansas. 
Dawson, meanwhile, left in February 2019 after one season at NU to take a job coaching outside linebackers for the New York Giants, but was back in the job market after Pat Shurmur was fired late last month.
"I am excited to rejoin Coach Frost and the rest of the Nebraska staff in Lincoln," Dawson said in a university news release. "The opportunity to coach at a school with Nebraska's football tradition and commitment is special. I am fired up to represent the N, and sell Husker Football and the University of Nebraska to young men around the country.
"Our family fell in love with Nebraska during our one year here. The passion of the fans and the culture Coach (Scott) Frost has brought is extraordinary. We look forward to making it home again."
Dawson drew rave reviews from NU's defensive line during his one year of work, but couldn't pass up the opportunity to return to the NFL — he had worked for the Philadelphia Eagles earlier in his career — not only because of the level of competition but also because he was nearing the tenure qualification for the league's retirement and pension plan.
"I'm psyched to be back and working with the Cornhuskers again," Dawson told the "Sports Nightly" radio program, adding that he kept close tabs on NU through the 2019 season. 
Now, though, he's returning to Lincoln and to Frost, with whom he worked three years in total between Central Florida and Nebraska.
"I am thrilled to bring Mike Dawson back to Nebraska to re-join our coaching staff," Frost said in a release. "Coach Dawson has a great history with our coaching staff and brings all of the attributes we look for in an assistant coach. He is a man of great character, has outstanding defensive acumen and knowledge of our defensive system, is a proven teacher and recruiter and relates well to his players."
Dawson has extensive experience coaching linebackers, too. In addition to his year with the Giants, he coached linebackers at New Hampshire in the early 2000s and at Akron from 2006-08. He also coordinated special teams at Boston College from 2009-11. 
Dawson said he thinks the transition from defensive line to outside linebackers will be a seamless one. 
"I think in this type of defense, the d-line and the outside linebackers have to be able to work together," Dawson said. "You talk about running your line games or stunts or blitz patterns, they have to be on the same page. Sometimes the d-line can become the edge of the defense or the outside 'backers can become defensive linemen, so there's a lot of crossover that way." 
Dawson is set to make $325,000 in his first year on the job, but will see it jump to $500,000 on March 1, 2021. The salary is set to increase again, to $550,000, on Jan. 1, 2022. 
He is also due a $100,000 retention bonus if he's still at at the school through April 30, 2022, which is the final day of his contract. 
Dawson made $475,000 as the Huskers' defensive line coach in 2018. 
Held, NU's running backs coach, added the title of recruiting coordinator along with a $100,000 raise that takes his annual salary to $400,000. Fisher, meanwhile, received a $125,000 raise to $450,000 after Ole Miss head coach Lane Kiffin tried to lure him away. 
Offensive line coach Greg Austin, meanwhile, was was named Nebraska's run game coordinator in addition to his positional duties. 
Those three extensions run through Dec. 31, 2021, while Dawson's new deal runs through April 30, 2022. 
Nebraska football 2020 assistant coach salary information
| Name | Position | 2020 salary |
| --- | --- | --- |
| Erik Chinander | Defensive coordinator | $800,000 |
| Matt Lubick | Offensive coordinator/WRs | $500,000 |
| Greg Austin | Offensive line/run game cood. | $500,000 |
| Travis Fisher | Defensive backs | $450,000 |
| Sean Beckton | Tight ends | $400,000 |
| Ryan Held | Running backs/recruiting cood. | $400,000 |
| Mario Verduzco | Quarterbacks | $375,000 |
| Tony Tuioti | Defensive line | $375,000 |
| Mike Dawson | Outside LBs | $325,000 |
| Barrett Ruud | Inside LBs | $225,000 |
| Zach Duval | Strength & conditioning | $400,000 |
| Total | | $4,750,000 |
Be the first to know
Get local news delivered to your inbox!