Nebraska opens spring football March 4 and is set for a five-week session before the Red-White Spring Game on April 13 at Memorial Stadium. In the days before spring ball starts, the Journal Star is previewing each position group. We continue with receivers.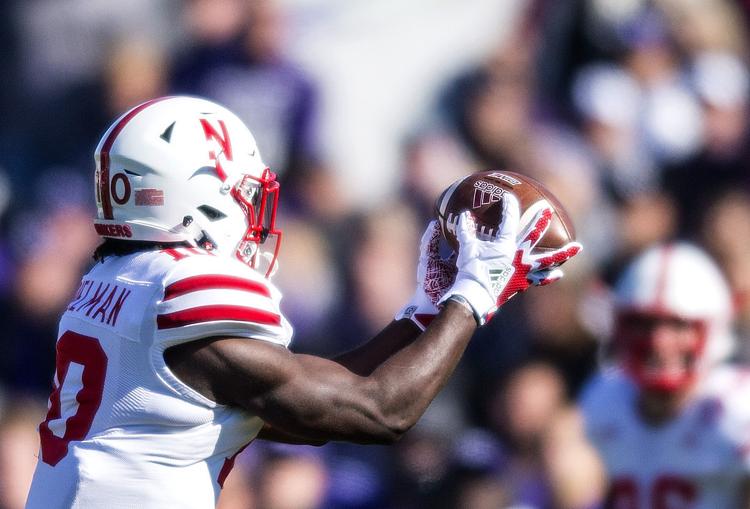 Departed players: Stanley Morgan, Bryan Reimers, Justin McGriff.
Returning players: JD Spielman, Kade Warner, Mike Williams, Jaron Woodyard, Jaevon McQuitty, Andre Hunt, Jack Stoll, Kurt Rafdal, Austin Allen, Katerian Legrone.
Incoming players: Wandale Robinson, Darien Chase, Jamie Nance, Demariyon Houston, Chris Hickman.
Walk-ons to watch: Wyatt Liewer, Bennett Folkers.
You have free articles remaining.
Keep reading for FREE!
Enjoy more articles by signing up or logging in. No credit card required.
2018 stats: Spielman (10 starts) 66 catches for 818 yards and eight touchdowns; Stoll (12 starts) 21-245-3; Warner (seven) 17-95; Williams (two) 12-122; Rafdal 4-67; Allen 2-54; Woodyard 1-10.
Overview: Nebraska obviously must move forward without gifted wide receiver Stanley Morgan, who produced team-leading totals of 70 catches for 1,004 yards last season. He was the team's best vertical threat. That part won't be easy to replicate.
Meanwhile, Spielman, a 5-foot-9, 185-pound junior, apparently is recovered from a high-ankle sprain that sidelined him for the final two games last season. In fact, Spielman was close to being ready for the season-ending Iowa game, Nebraska coach Scott Frost said earlier this month.
Spielman could be leaned on heavily in Morgan's absence.
"Hopefully some of these young kids we brought in can help fill the gap, and there are some guys already on campus I'm expecting to make huge jumps this year," Frost said. "A lot of times in the first year in a system, some kids don't quite flourish and they make a huge jump in year two. But there are a bunch of guys already on the roster — from McQuitty to Woody (Woodyard) to Mike (Williams) to Andre Hunt, even some walk-ons like Wyatt and Folkers. There are a bunch of guys who I think could take a step forward and help us."
He's looking for guys to fill spots in all those three- and four-receiver sets. Along those lines, Robinson, a true freshman from Frankfort, Kentucky, will no doubt get a long look from coaches this spring. The 5-9, 175-pound Robinson, an early enrollee, totaled 8,582 yards from scrimmage with 118 touchdowns during an illustrious high school career.