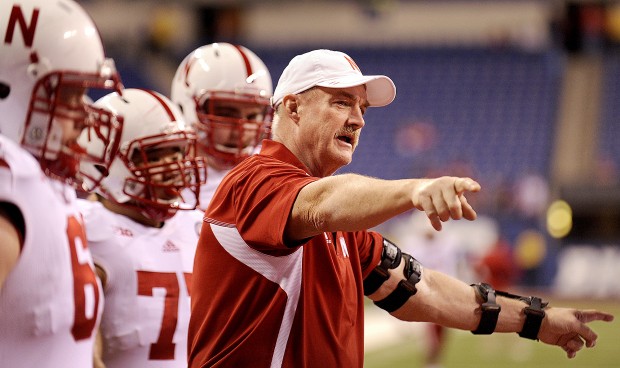 Barney Cotton's coaching duties will undergo a slight change, according to Nebraska head football coach Bo Pelini.
For the past five seasons, Cotton has been Nebraska's offensive line coach. Although Cotton will continue to have a role with the O-line, along with John Garrison, his primary duties are now to coordinate the run game and work with tight ends.
Asked Friday about speculation that the move was a demotion, Pelini said: "That's ludicrous."
Nebraska essentially used such a system when preparing for the Capital One Bowl, according to both Pelini and Cotton.
"The only difference right now is probably the initial corrections or installments," Cotton said. "I'll be with the tight ends and John will be with the line. And then we'll come together and do it like we've always done the past two years."
Pelini said the tweak to the coaching assignments will also enable Cotton to have more time to "help Tim (Beck) even more."
"There's been speculation out there. It's not like I'm doing anything that much different," Pelini said. "The guy (Cotton) is a really important part of the staff, a big piece of the puzzle.
"He had a lot of things on his plate. When you're a big-picture guy, kind of a coordinator-type, he needs me to do what I have to do to free up some of his time. People don't understand how the work week goes and how the work day goes."
Pelini put heavy emphasis on the fact Cotton will continue to have involvement with the offensive line. "He has a lot of offensive line expertise, and we're going to use it," Pelini said.
But Garrison will meet with the offensive linemen by himself on a more regular basis, Pelini said. Garrison has spent the past two seasons as Nebraska's assistant offensive line coach.
One thing not getting tweaked is Cotton's title as associate head coach.
"Barney is second-in-command to Tim," Pelini said.
A former offensive coordinator at Nebraska and Iowa State, Cotton moved to the press box this past season on gamedays, sitting alongside Beck.
Beck said during the bowl week in Orlando, Fla., that he was the one who wanted that move.
"He's been a coordinator and he's got good eyes and can see the defense," Beck said then.
Cotton, however, called Beck "the ultimate boss" in the offensive room.
"Tim and I have a great working relationship," Cotton said. "We have a great offensive staff. People will look at this two different ways. To be honest with you, it's not that much of a change from where we've been the last two years anyway, other than I'll be more involved in some tight end individual periods and things like that.
"But our tight ends really like being involved with the offensive line. When (the tight ends) met with the offensive line getting ready for the bowl game, a number of them would come up and say, 'Boy, it's great to be meeting with the offensive line because we get to see the big picture better.'"
Cotton will coach the tight ends with help from new graduate assistant Kyle Brey.
The name is a familiar coaching name. His father, Mike Brey, is the head basketball coach at Notre Dame.
A 2010 graduate of Buffalo, where he played fullback and tight end, Kyle Brey spent the past two years at Kansas working as a quality control coach for offense.