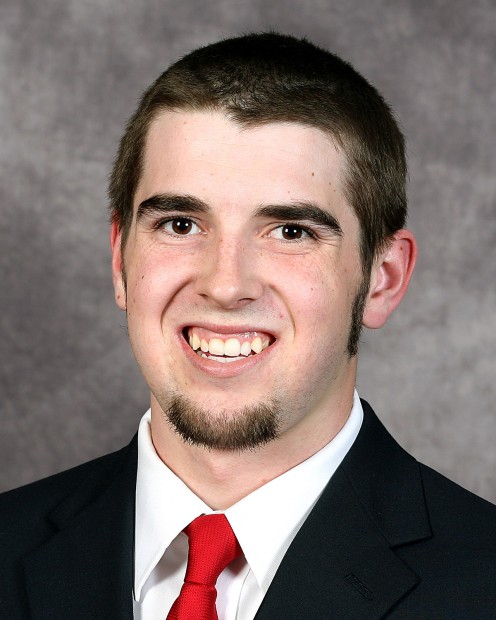 Nebraska junior linebacker Blake Lawrence said his status for the Spring Game is "up in the air" after he suffered a concussion last week — his third concussion in the last 12 months.
"They're just taking all of the precautionary procedures right now to make sure that everything's going to be fine," Lawrence said.
When asked if he was concerned about his career, Lawrence said he'd be fine.
"There's not too much to comment on until I see a neurophysician and just go through the process," said Lawrence, who was scheduled to visit a doctor Saturday.
Lawrence, who missed time earlier this spring with a sprained ankle, collided with right guard Jacob Hickman early in Wednesday's practice.
"He pulled around," Lawrence said, "and we kind of knocked heads."
He hasn't practiced since.
"It's made them be pretty cautious with what I'm doing," he said.
Lawrence said he also suffered a concussion last spring, and a second one last fall during the Kansas State game — one of two starts he made last last season.
A 6-foot-3, 220-pound WILL linebacker, Lawrence had 21 tackles last season, including 12 in the last three games.
Nebraska used a draft format last year in which several players served as captains to choose teams for the Spring Game. Same deal this year?
"You know, I don't know that," Husker coach Bo Pelini said Saturday. "We're going to split up the teams evenly. It's going to be a little more of a true game this year. We're working on that as we speak. You got to look at the numbers, that's the biggest key, and where we are injury-wise as we head into this final week. There's a lot of things that play into that."
Helu's spring could be over
Pelini seemed to think junior I-back Roy Helu probably wouldn't return to the field from a hamstring injury suffered a week ago.
"We're in no hurry right now with Roy," Pelini said. "He's not a guy that pulls (a hamstring) real easy and it's just not the time of year to rush him back. He had a phenomenal spring when he was going. He had a great winter. More importantly than finishing this spring, we want him to be healthy as soon as he can so he can get back into his training and the offseason work. I really foresee just holding him until spring's out."
Hickman also sat out Saturday's practice. Pelini said he pulled an oblique muscle, "nothing serious."
Pelini was pleased with his team's effort Saturday.
"It was good, a good, physical practice," Pelini said. "I thought we practiced well yesterday. Came back today, we made some errors, but the effort was good, the enthusiasm was good."
Pelini said the team mixed in a lot of "live" work, including red-zone and goal-line drills.
Members of the Touchdown Club were allowed to watch the practice. There were at least 300 on hand, with one official estimating as many as 750.
Freshman safety impresses
Pelini said he likes what he's seeing from redshirt freshman P.J. Smith at safety.
"P.J.'s had a good spring. He's getting better. He's very instinctive. He's tough. We're real happy with where he is right now," Pelini said of the 6-foot-2, 205-pounder from River Ridge, La.
Can a young guy like Smith provide a push to a senior like Larry Asante?
"Absolutely," Pelini said. "He has the potential to be a factor. And Courtney Osborne is getting better. I like our safety position right now. I think we're getting better. We understand the defense better, the techniques better. … The consistency is not where I'd want it to be but the potential is there to be very good."