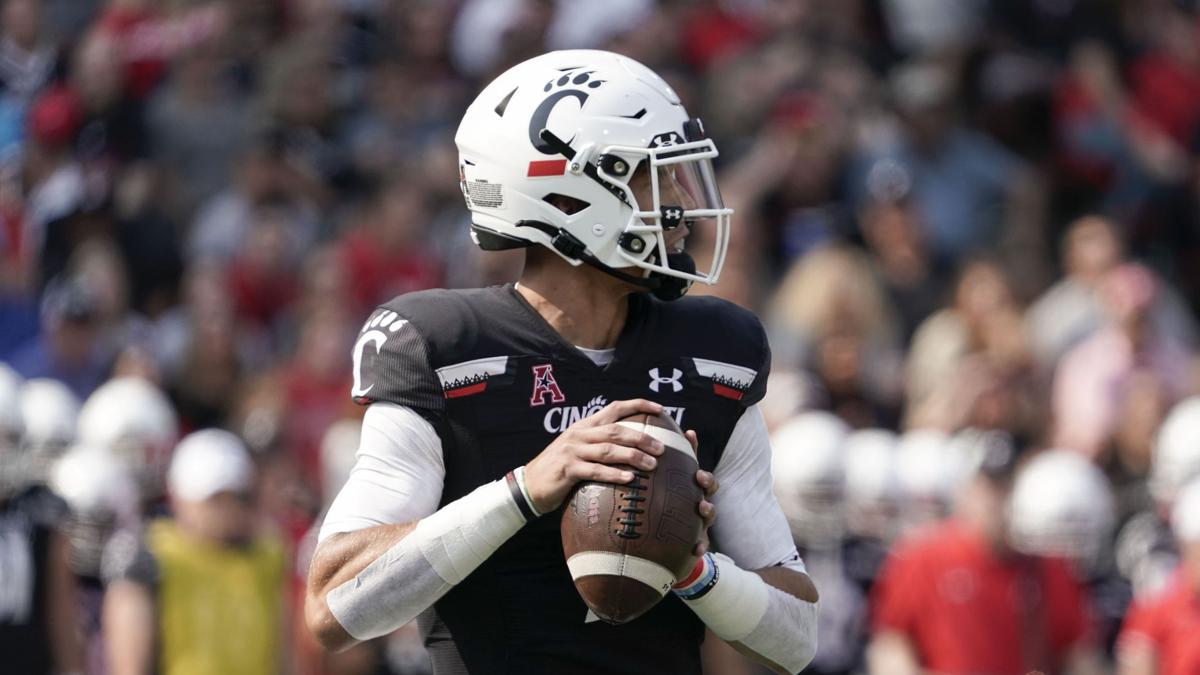 Make sure the remote control has good batteries. Here is your TV guide to the weekend in college football:
(Besides the Huskers, of course)
No. 7 Cincinnati at No. 9 Notre Dame: This could be an early College Football Playoff elimination game. The Irish must stop Cincy QB Desmond Ridder (748 passing yards).
No. 8 Arkansas at No. 2 Georgia: Arkansas (4-0) was 3-7 last year and winless in league play in 2018 and 2019. Man, does that seem so long ago now.
No. 14 Michigan at Wisconsin: Are the Wolverines a contender in the East? Is Wisconsin a pretender in the West? Both questions could be answered Saturday.
6:30 p.m., Virginia at Miami, ESPN
6:30 p.m., Houston at Tulsa, ESPN
7 p.m., Iowa at Maryland, FS1
8 p.m., BYU at Utah State, CBSN
11 a.m., Arkansas at Georgia, ESPN
11 a.m., Michigan at Wisconsin, Fox
11 a.m., Tennessee at Missouri, SEC
11 a.m., Charlotte at Illinois, BTN
11 a.m., Pittsburgh at Georgia Tech, ACC
11 a.m., Duke at North Carolina, ESPN2
11 a.m., Minnesota at Purdue, BTN
11 a.m., Texas at TCU, ABC
11 a.m., Memphis at Temple, ESPNU
11 a.m., Western Michigan at Buffalo, CBSN
1 p.m., USC at Colorado, PAC12
1:30 p.m., Cincinnati at Notre Dame, NBC
2:30 p.m., Mississippi at Alabama, CBS
2:30 p.m., Oregon at Stanford, ABC
2:30 p.m., Oklahoma at Kansas State, Fox
2:30 p.m., Ohio State at Rutgers, BTN
2:30 p.m., Troy at South Carolina, SEC
2:30 p.m., Syracuse at Florida State, ACC
2:30 p.m., Texas Tech at West Virginia, ESPN2
2:30 p.m., UCF at Navy, CBSN
2:30 p.m., Nevada at Boise State, FS1
3 p.m., South Florida at SMU, ESPNU
4:30 p.m., Washington State at California, PAC12
5:30 p.m., Air Force at New Mexico, FS2
6 p.m., Mississippi State at Texas A&M, SEC
6 p.m., Baylor at Oklahoma State, ESPN2
6 p.m., Liberty at UAB, CBSN
6 p.m., Kansas at Iowa State, FS1
6:30 p.m., Indiana at Penn State, ABC
6:30 p.m., Western Kentucky at Michigan State, FS1
6:30 p.m., Boston College at Clemson, ACC
6:30 p.m., UConn at Vanderbilt, ESPNU
6:30 p.m., Northwestern at Nebraska, BTN
8 p.m., Auburn at LSU, ESPN
8 p.m., Washington at Oregon State, PAC12
9:30 p.m., Arizona State at UCLA, FS1
10 p.m., Fresno State at Hawaii, CBSN