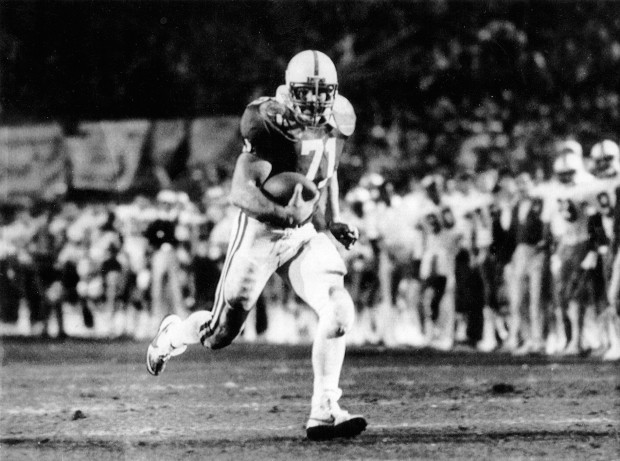 The star: Dean Steinkuhler
The outcome: Miami 31, Huskers 30
The story: OK, so maybe it was the second-gutsiest call of the night by Tom Osborne.
Certainly No. 1 remains going for two when a PAT kick probably would have delivered Nebraska a national championship with a tie against the Hurricanes.
But having your quarterback intentionally fumble the snap so an offensive guard can pick it up and do his best Jim Brown impersonation?
That takes courage, especially when you're down 17-0, as the Huskers were in the 1984 Orange Bowl.
Yet that's the play Osborne dialed up in the second quarter, facing third-and-5 from the Miami 19-yard line.
Turner Gill intentionally left the ball on the ground. Right guard Dean Steinkuhler nimbly swept in to collect it and took off around left end.
The sleight of hand was performed so masterfully that the NBC cameras lost track of the ball. By the time cameras caught up with Steinkuhler, he was knocking over the pylon for a touchdown.
"Now we're going to see how it happened, because I don't know," announcer Don Criqui said as the replay was about to be shown.
Though the play had been used before (Nebraska did it vs. Oklahoma in 1979 and in the 1980 Cotton Bowl), the fact it was pulled off in the national championship game highlighted it like never before.
Various lists through the years have included it among the great plays in college football history. Really, how can one not enjoy the sight of a big man running with the football toward glory?
Alas, there must always be a contrarian.
"We did force them to resort to the f------ fumblerooski," former Miami coach Howard Schnellenberger said in an interview a few years ago, calling it an immoral and unsportsmanlike play. "I told them before the game if (they) have to run the fumblerooski, come to the sidelines and party because they have given up their right of manhood."
Call it what you will. Sour grapes might apply. The play sparked Nebraska to 17 straight points, putting the Huskers in position for the late-game dramatics that followed.
"We had worked on it all year in practice, once or twice a week in practice, but had never tried to use it," Steinkuhler once told ABC Sports. "When the play came in from the sideline, I was kind of shocked, but I just said, 'Here we go.'"
Osborne used the play again in 1992 against Colorado. It worked then, too. Will Shields carried the ball for a first down. It was the last time fans would see it from the Huskers. The play was outlawed by the NCAA the following season.
But the tape is still out there: Big Dean stepping on the gas. An offensive lineman bound for the end zone in a national championship game, too fast for Hurricanes and cameramen alike.