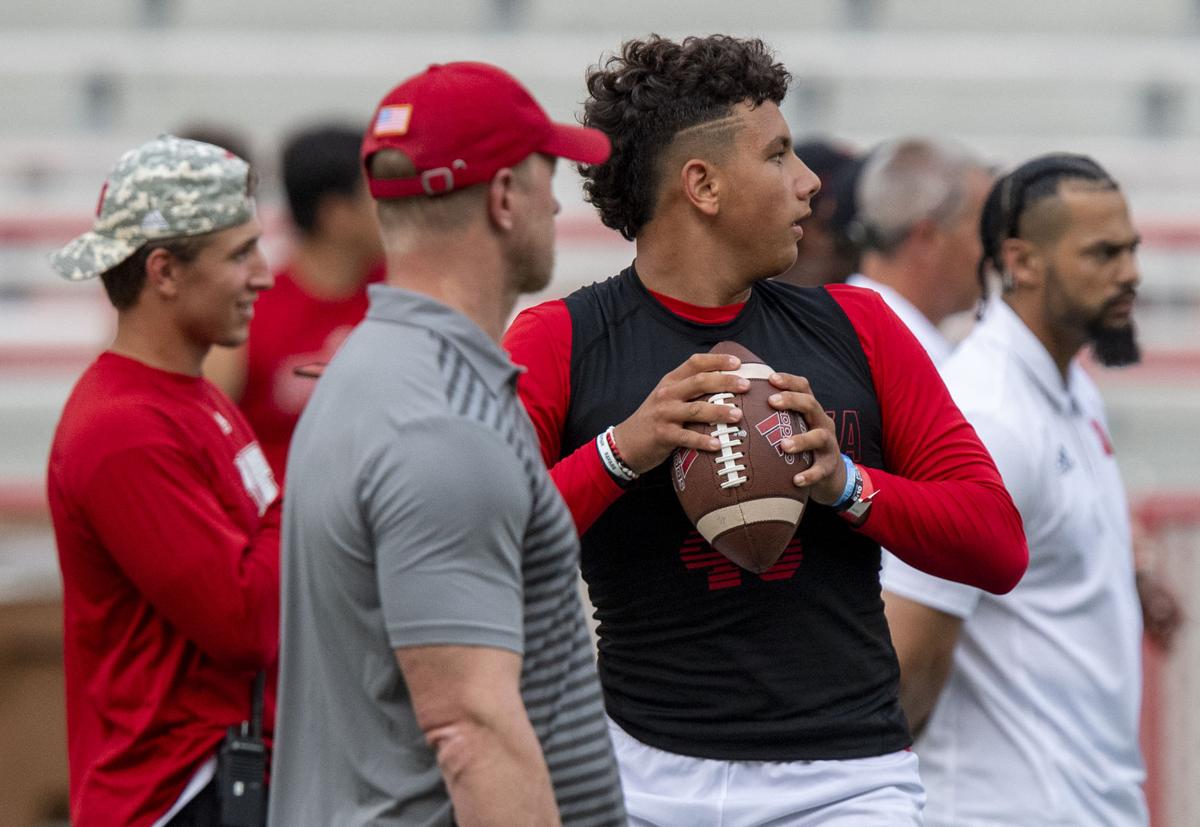 Nebraska has easily its busiest recruiting weekend of the year so far, with one official visitor set to come to Lincoln, several already committed members of the 2022 class and a host of priority-type prospects from the 2023 and 2024 cycles.
The lone official visitor is outside linebacker Kaeo Akana, a Hawaii native who's currently verbally committed to Boise State and took an official visit there earlier this month.
Akana is listed at 6-foot-3 and 205 pounds.
He's the first uncommitted player to take an official visit to Nebraska over the first month of the season. The only other so far was committed receiver Victor Jones for the Fordham game.
NU was originally set to host three-star defensive back London Hall on an official visit this weekend, but that is no longer happening and it was not immediately clear if or when the visit might be rescheduled.
The Huskers are actually hosting a different 2022 defensive back on an unofficial visit, Alejandro Colbert (Missouri City, Texas). NU hasn't yet offered the 6-0, 170-pound defensive back, but the three-star prospect picked up several Power Five conference offers earlier in his recruitment. 
One other player who was originally slated to take an unofficial visit this week but instead will be in town for the Michigan game next weekend is 2023 quarterback Reese Mooney (Denham Springs, Louisiana). Mooney, NU's top quarterback target for the cycle, suffered a broken foot recently and is just getting a cast this week, so he pushed back his trip to Lincoln to get used to getting around on crutches before making the long trip.
The Huskers are hosting several of their committed 2022 players, including Lincoln Southeast standout Jake Appleget, Columbus linebacker Ernest Hausmann and tight end Chase Androff (Lakeville, Minnesota), along with 2023 Lincoln Southeast offensive lineman Gunnar Gottula.
Here's a look at some of the other key unofficial attendees:
The legacy quarterback
Yes, 2024 quarterback Dylan Raiola (Burleson, Texas) is making his way back to campus for the second time this year. The coveted signal-caller was on campus for a workout in June and now is coming back with his dad, former Husker offensive line great Dominic Raiola, to see a game.
Dylan Raiola's recruitment has only continued to take off. On Saturday, he picked up an offer from Texas, adding that to a growing collection that also includes Georgia, Nebraska, Florida State, Baylor and TCU, and interest from Clemson and Alabama.
Raiola put on quite a show during his Friday Night Lights appearance at Memorial Stadium back in June and early on is ranked the No. 45 player (and No. 3 quarterback) in the country for the 2024 class, according to 247Sports.
Another 2024 prospect who's been around campus a lot and is set to return is defensive back Mario Buford, the younger brother of Nebraska freshman defensive back Marques Buford, Jr. The younger brother already has offers from schools like Oregon and Mississippi State, in addition to Nebraska.
Class of 2023
DL Maverick Noonan (Elkhorn South): Noonan is a legacy recruit and is having a big junior season for the Storm. He's been a regular around campus and will be in town for the game Saturday night. He's a consensus three-star prospect and has offers from around the Big Ten and around the country, from Michigan State to Arizona State, Missouri, Iowa State and more. 
OLB Teitum Tuioti (Lincoln Southeast): The son of Nebraska defensive line coach Tony Tuioti knows his way around the program well, obviously, and will be on hand again as an unofficial visitor. Tuioti, interestingly, spent a good chunk of time this summer with the next player on the list.
OLB Tausili Akana (Lehi, Utah): The native of Hawaii is now playing high school ball in Utah, and he's quite a player. Akana is considered the No. 26 player nationally by 247Sports and the No. 2 linebacker in the country. He also happens to be the younger brother of Nebraska volleyball player Keonilei Akana.
Tausili is listed at 6-4 and 225, and has offers from just about everybody in the country.
DL Andrew Depaepe (Bettendorf, Iowa): A four-star defensive lineman who's listed at 6-5 and 230, and has a big group of Big Ten suitors in addition to Washington, Missouri, Iowa State and others.
OL/DL Charles Jagusah (Rock Island, Illinois): A four-star player by the 247Sports Composite who is listed at 6-6 and 308 pounds, and could play either side of the ball in college. He's got offers from several schools including Michigan, Minnesota, Iowa and Illinois in the Big Ten.
S Watts McBride (Cedar Rapids, Iowa): Earned an offer from Nebraska after a strong camp this summer and is getting back to campus to see a game.
Other 2023s that either have Nebraska offers or substantial Power Five interest: athlete Alex Mota (Marion, Iowa), tight end Kai Black (Urbandale, Iowa), defensive tackle David Borchers (Eldridge, Iowa) and offensive lineman Cannon Leonard (Gilman, Illinois). 
Some in-state guys to watch: Victor Isele (Grand Island) and receiver Malachi Coleman (Lincoln East), receiver Beni Ngoyi (Lincoln High) along with 2022 athlete Vince Genatone (North Platte).