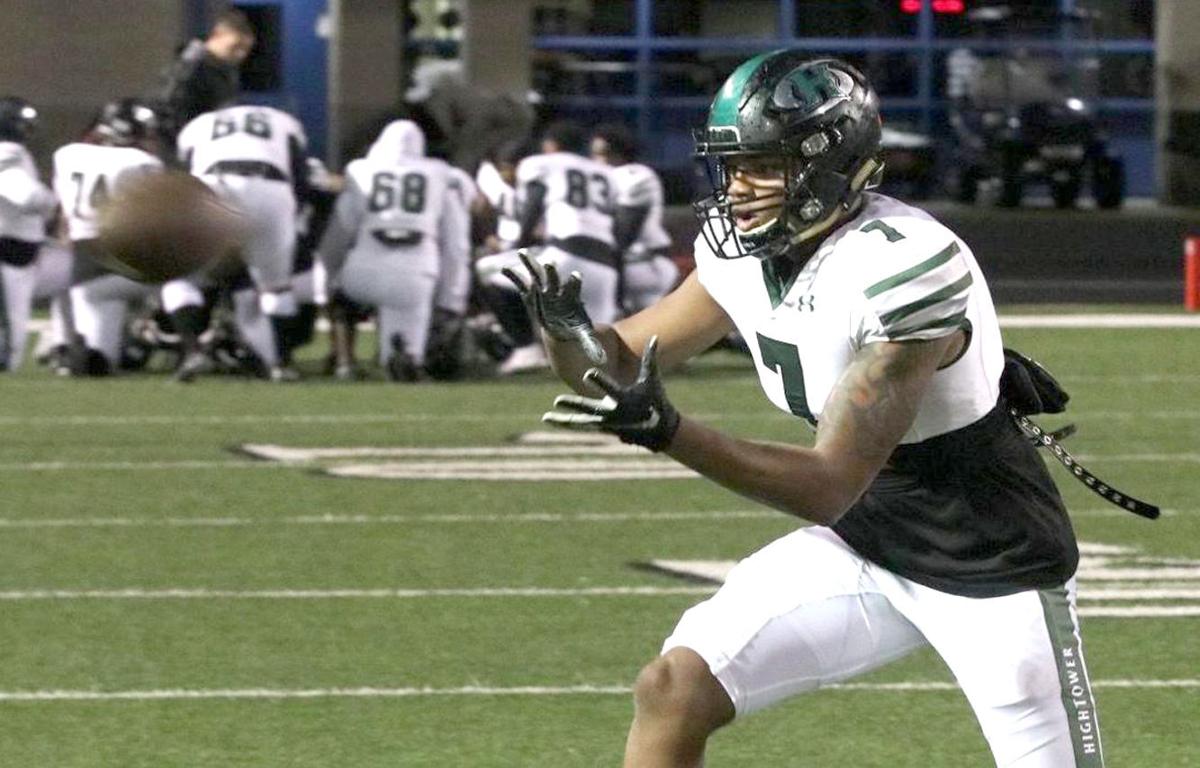 There's a little bit of a different feel on Independence Day this year, given the ongoing coronavirus pandemic.
Nebraska football still managed to enjoy some July 4 fireworks.
The excitement came courtesy of four-star wide receiver Latrell Neville out of Missouri City, Texas, who verbally pledged to the Huskers on Saturday afternoon, making public what had grown clear in recent weeks: The big receiver and Nebraska feel like they're a good match for each other.
"The fact that they're one of the few that recruited me through everything and they never gave up on me, I really appreciate that," Neville told the Journal Star. "I feel like they've made me a priority. They made me feel special and they've really just done a terrific job recruiting me."
Nebraska has made a point of recruiting bigger virtually across the board, and Neville is 6-foot-3 and 190 pounds. The receiver had already become a key target for NU and offensive coordinator/wide receivers coach Matt Lubick before he backed off a verbal commitment to Virginia Tech on June 6, and the Huskers' status in his recruitment quickly solidified.
Neville said that NU has recruited him since his freshman season. He hears regularly from coach Scott Frost. Offensive line coach Greg Austin is a Houston native and lived near Neville's neighborhood. But Lubick's addition to the staff still served as a turning point.
"Once Coach Lubick got there, things really got better with their chances because Coach Lubick was recruiting me when he was still at Washington (in 2018), so I knew him from there," Neville said. "When he got to Nebraska, things really picked up from that point. I'm really happy he ended up there.
"As a coach, he's an outstanding guy, no question about it. As a guy, he's really a father figure-type guy. He really got to know me, we bonded real well. We talk literally every day and he really built a relationship with my uncle, too. He's a family-type guy and I feel really comfortable with him talking about whatever."
Neville's addition to NU's 2021 class gives Lubick and Nebraska an intriguing pair of pass-catchers, as the big receiver joins another 6-3 target in Shawn Hardy II (Kingsland, Georgia), who jumped on board in May.
Neville transferred to Hightower High before his junior season and put up relatively modest numbers at the greater Houston-area school, finishing with 30 catches for 276 yards and a pair of touchdowns, but expectations are high for his senior season. As a sophomore at Fort Bend Willowridge — also in the Houston area — Neville had 315 receiving yards and six touchdowns on just 17 catches (18.5 yards per catch) and averaged 8.4 yards on 21 carries in addition to some kick return duties.
"The progression I've seen and him being able to understand his body because being a wide receiver is an art," Hightower wide receivers coach and former NFL tight end Michael Carter said. "Route-running is a craft and something you continue to work on year after year after year. The progress he's made in just one year's time is really mind-blowing. ...
"I'm extremely excited to see what he can do his senior year."
Neville is considered a four-star prospect by Rivals and a three-star by 247Sports and the 247Sports composite system.
"I think the strength of his game, No. 1, is ball skills," Hightower coach Joseph Sam told the Journal Star. "Obviously, he has prototypical size and strength and speed. I think ball skills and he's also got the intangible of making the game fun and strong work ethic. … He's got a drive about him like he wants to be great. The other thing he's starting to grow that leadership quality, as well. I would say those are his biggest strengths outside of, obviously, he's 6-4 and 190."
That's a package Nebraska is betting big on even though some teams fell off in terms of recruiting him, likely due to the modest junior-season production. He has been recruited by just about everybody in the country at one time or another and has more than 40 scholarship offers to his name.
"Some of those schools that he had great relationships with fell off of him and that hurt. I think he learned a very valuable lesson," Carter said. "When it comes to Nebraska football, Coach Lubick and Coach Frost, they have stuck with him and they continue to recruit him and tell him that they think he can be a big part of Nebraska's offense and the direction that they're going in."
"I just feel like (Nebraska) believed in me when nobody else did," Neville said. "I had over 50 offers and even though it's cool to have 50 offers, you only get to go to one school. I think when people hear that I have 50 offers, they think, 'Oh, the kid's phone is probably blowing up all the time,' but in reality, it's five or six schools that really kept in touch with me."
Neville is the 11th known member of the Huskers' 2021 recruiting class and joins Hardy, running back Gabe Ervin (Buford, Georgia) and quarterback Heinrich Haarberg (Kearney Catholic) as offensive skill position players in the group so far.
"Nebraska is a great fit for Latrell," Sam said. "Nebraska is a program on the rise. Kind of watching them, they just don't have … they're looking for guys like Latrell, game-breakers that can help turn that program around."
Neville plans on being an early enrollee and said that even if Texas had to move its high school football season to the spring due to the coronavirus pandemic, he would still plan on enrolling at NU in January.
Nebraska won't likely completely close the door on taking another wide receiver, but given that the 2021 class is expected to be smaller in numbers than the past two cycles and that NU has seven freshmen and redshirt freshmen pass-catchers already on the roster, the bulk of the remaining class will come from other positions.
| Name | Position | Hometown (School) | Stars |
| --- | --- | --- | --- |
| Marques Buford | DB | Oakdale, Conn. (St. Thomas More) | *** |
| Koby Bretz | DB | Omaha (Westside) | *** |
| James Carnie | TE | Norris | *** |
| Gabe Ervin | RB | Buford, Ga. | *** |
| Thomas Fidone | TE | Council Bluffs, Iowa (Lewis Central) | **** |
| Mikai Gbayor | LB | Irvington, New Jersey | *** |
| Kamonte Grimes | WR | Naples, Fa. (Palmetto Ridge) | *** |
| Heinrich Haarberg | QB | Kearney (Catholic) | *** |
| Shawn Hardy II | WR | Kingsland, Ga. (Camden County) | *** |
| Wynden Ho'ohuli | OLB | Mililani, Hawaii. | **** |
| Randolph Kpai | ILB | Sioux Falls, S.D. (Washington) | **** |
| Chris Kolarevic | LB | Traverse City, Mich. (Northern Iowa) | |
| Henry Lutovsky | OL | Mt. Pleasant, Iowa | *** |
| Seth Malcom | ILB | Tabor, Iowa (Fremont-Mills) | *** |
| Latrell Neville | WR | Missouri City, Texas (Hightower) | **** |
| Teddy Prochazka | OT | Elkhorn (South) | **** |
| A.J. Rollins | TE | Creighton Prep | *** |
| Markese Stepp | RB | Indianapolis (Cathedral) | |
| Samori Toure | WR | Portland (Oregon Westview) | ** |
| Jailen Weaver | DE | Antioch, Calif. | *** |
| Malik Williams | DB | Buford, Ga. | *** |
| Branson Yager | OT | Grantsville, Utah | *** |