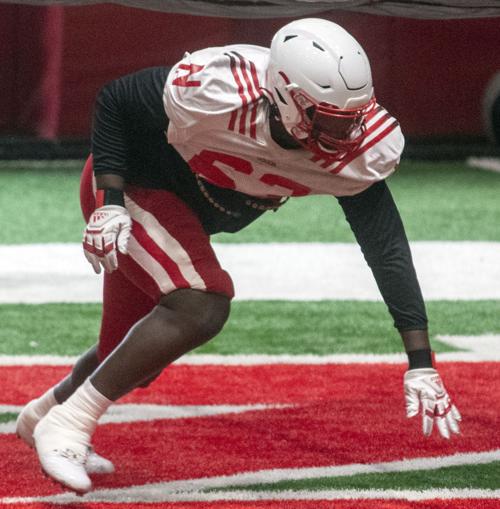 Never say never, but it doesn't take much sorting through potential depth charts on Nebraska's defense to get the sense that playing time is going to be hard to come by if you're a Husker freshman.
There are technically three classes with freshmen eligibility due to the NCAA granting everybody an extra year, so while a bunch of third-year redshirt freshmen like Ty Robinson, Nick Henrich and others will have big roles, the actual newcomers have a steep climb to try to find their way onto the field in 2021.
Even still, with the return of some scheduling normalcy, the rule allowing freshmen to appear in four games while retaining a redshirt returns to the conversation this fall.
"It's college football, so you never want to say, 'Oh, this guy is coming in and he's going to be our guy,' because you don't know. You don't want to say, 'This guy is going to redshirt' because you don't know," NU defensive coordinator Erik Chinander said Monday. "I've been impressed with some of the freshmen we have so far, and if one of them is good enough to play, whether that's rotationally or in the starting lineup, I'm all for it.
"With those four games they can play, I definitely think we need to play some to play, especially on special teams, but I'm not opposed to some of those guys getting some reps and competing for a starting job right now."
Not being opposed to it and it actually happening are two different things, of course, but a quick refresher on the freshmen defenders can't hurt.
NU has three defensive backs in Malik Williams, Marques Buford and Koby Bretz. Buford was the only mid-year enrollee of that group, but he missed all of spring with an injury.
At linebacker, Seth Malcom and Randolph Kpai have been in the program since January, while Mikai Gbayor and Wynden Ho'ohuli arrived this summer.
"We're excited to finally get (Ho'ohuli) here and get him on campus and get a chance to start working with him," outside linebackers coach Mike Dawson said during a radio interview last week. "He's probably a guy that's a four-position guy that could play either of the outside or either of the inside spots for you. He's got a great frame and to be able to go ahead and get him with (head strength coach) Zach (Duval) this summer and then see what he can do when we're out there this fall."
Up front, Ru'Quan Buckley arrived in January and Jailen Weaver this summer. Both are physically imposing young players considering Buckley is 6-foot-5 and 290 and Weaver is listed at 6-8 and 320.
"If you look at those two, it was Jailen's birthday (on Sunday), so he just turned 18," Chinander said. "When you look at him and 'Ru,' they don't look like 18-year-olds. They look like grown men. Now, you've got to remember they're still 18-year-olds and they have a long ways to go and they have to learn the game and they have to learn how to do things, but just their sheer ability and their sheer size is pretty impressive, so I think that's very promising as you move down into the future."
Chinander said Weaver is starting off his career as an interior lineman, learning both nose and defensive tackle.
Tuesday was Nebraska's first day off so far in camp after four straight, and the young players are getting thrown right into the all-day grind of August.
"I think the main thing I see globally across the team, not just offense, not just defense, not just special teams is the willingness to do things right by everybody. That starts at the top," Chinander said. "Those freshmen right now, they're getting a little baptism by fire and they don't know any other way. They know those old guys do things right, they know those old guys demand that they do things right and it's rubbing off on them. That's the biggest thing I see through four practices so far."
Watch now: Check out replays of Erik Chinander, others discussing the Huskers' defense
Watch now: Erik Chinander on Husker defense, and roster's 'willingness to do things right'
Watch now: Chris Kolarevic has 'a feel' for the playbook, feels 'good' about progression with Huskers
Watch now: OLB coach Mike Dawson on being straightforward with players