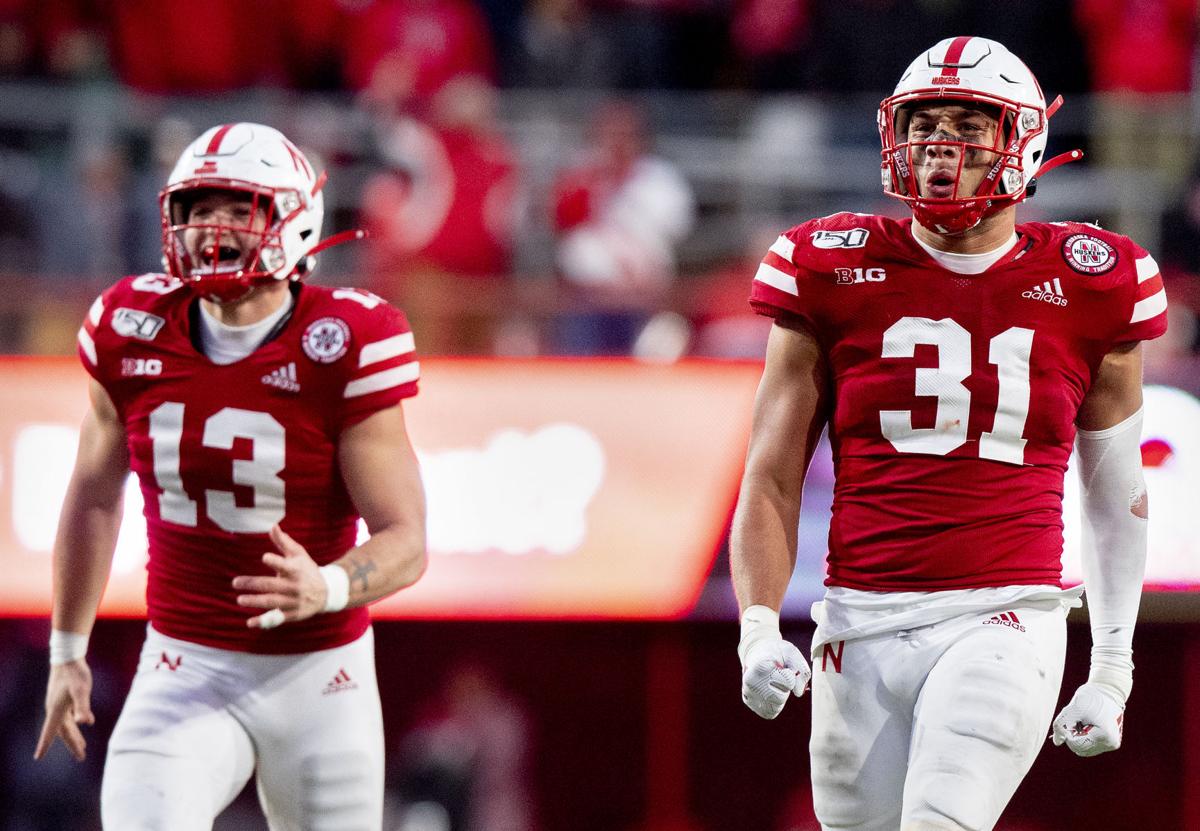 An incoming youth movement on defense is among the many storylines Nebraska football fans hope to be able to follow this fall.
For as much as the Huskers have added size and length to the roster, though, the question is just how many underclassmen will crack NU's starting lineup or grab major rotational roles. 
Take the secondary, for example, where a trio of seniors, and junior Cam Taylor-Britt, represent a veteran starting point. At inside linebacker? Seniors Will Honas and Collin Miller have the most playing time (by far) and are considered the favorites to start for position coach Barrett Ruud. Outside and on the defensive line? Much less certain outside of — you guessed it — a pair of seniors in JoJo Domann and Ben Stille, respectively.
That's seven seniors that all are poised to either start or have major roles, making the 2020 Blackshirts a fairly veteran unit even though there will be some fresh blood, too. 
On Monday night, defensive coordinator Erik Chinander lauded the senior group's leadership through an odd offseason during an appearance on the "Husker Sports Nightly" radio show and also used words like "depth" and "competition" that get to the idea that the youngsters are going to be expected to help, even if it's not a full takeover just yet. 
"I like that first group (in the secondary) because that first group has really shown a willingness to not only help themselves learn the rest of the defense but also help that young group behind them," Chinander said. "They're willing to hand that torch over. They're not going to give that torch up easily, but they're trying to groom those guys." 
That is what the third-year coordinator hopes is happening at every level of the defense, though there is going to be more reliance on less experienced players up front simply due to the fact that all three of 2019's starters are off to the NFL. 
Take inside linebacker, though, where Honas and Miller are now each entering their third year in this system. 
"I really like where Will and Collin have elevated their games to," Chinander said. "Those guys have really developed themselves over the past couple of years with just their knowledge of football as well as their body and their leadership potential, so I like where they're at as the first group of inside linebackers. 
"But, with that being said, those guys have a lot of work cut out for themselves to not only get that first spot but keep that first spot. You have guys like (redshirt freshman) Nick Henrich and (sophomore walk-on) Luke Reimer right on their tails and then a host of other guys competing for the jobs, too." 
Chinander also mentioned junior college transfer Eteva Mauga-Clements and freshman Keyshawn Greene and said he hoped to be "five or six deep there." 
He struck a similar tone about the outside linebackers and defensive linemen, though in both of those cases it's at this point more satisfied about having options rather than knowing exactly what to expect. 
Overall, Chinander said, he likes the depth better than he has so far. Time will tell exactly how much NU has defensively, especially if the Big Ten goes forward with a 10-game, league-only schedule. 
"I think we all know that this league is super-physical, good competition week in and week out, and I think you're going to need a good rotation whether it's through injury or just getting fresh bodies in there," Chinander said.
"I think we've finally got to the point where we can roll some of these guys through and keep everybody fresh." 
Be the first to know
Get local news delivered to your inbox!