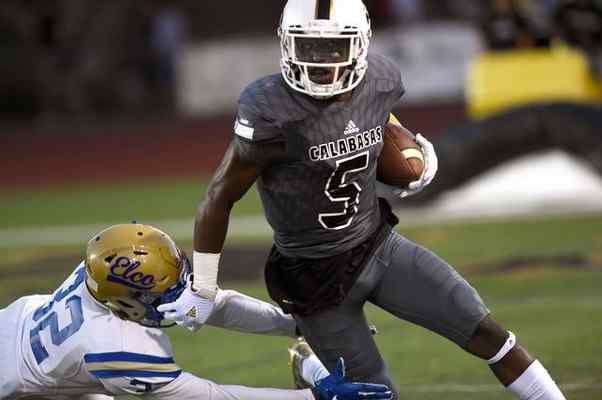 You know, San Antonio has been pretty good to Husker football. Down there amid the River Walk revelry in the land where Popovich treads, that's the place Nebraska last claimed its last two conference titles back in (deep gulp heard across the room) 1997 and 1999, and NU has since won three bowl games in the Alamodome.
The Huskers could win something else there this weekend: a hard-fought recruiting battle or two. Or more? Well. …
When the U.S. Army All-American Bowl kicks off Saturday at noon (televised by NBC), Nebraska fans have serious reason to pay attention. Four recruits who have listed the Huskers as one of their finalists are planning to announce their college choices.
With 14 recruits on board four weeks from signing day, the Huskers are looking for a big push into the final month, coming into the weekend with a class ranked 26th by Scout, 39th by Rivals and 41st by 247Sports.
If those numbers don't knock anyone off their chair, they are still subject to potential dramatic shifting, especially if the Huskers reel in a five-star prospect Saturday.
One five-star participating in the all-star game and who NU will have to wait on a final decision from until signing day is wide receiver Joseph Lewis, who has long liked the Huskers in the recruiting process but is also from Los Angeles and clearly also drawn to the nearby USC program on a hot streak.
Lewis has said before he might like to get away from the noise of his hometown. "But as it gets closer to the time to make a decision, I think more about staying closer to home," he told the Rivals USC site, TrojanSports.com, this week. "I grew up a USC fan and I have an opportunity to go to the school I've dreamed of playing at since the Reggie Bush days."
While Husker fans chew on that line, they can take good hope that some good news is just around the corner, perhaps particularly in the case of another wide receiver from Los Angeles, Jamire Calvin, who many analysts believe is tilted Nebraska's way.
The answer comes soon. Let's look at the four NU targets to keep an eye on from that game down south:
Jamire Calvin, WR, Cathedral High School (Los Angeles): If Calvin doesn't pick Nebraska, everyone was wrong. There are 20 "Crystal Ball" predictions from 247Sports on where he's going and all have him heading to Lincoln.
Calvin is a four-star receiver who is 5-foot-9 and 175 pounds. He has a really good offer list, and had his short list besides NU narrowed down to Notre Dame, Alabama and Washington State, although things got a little bit more interesting when new coaching staffs at Oregon and Texas offered him recently, too.
Still, this one looks good for Nebraska in a class that already has commitments at wide receiver from expected early enrollees Javevon McQuitty and Keyshawn Johnson Jr.
Chuck Filiaga, OT, Aledo High School (Aledo, Texas): Nebraska is trying to hit a home run recruiting the offensive tackle spot for the second straight recruiting class, trying to back up last year's signing of Matt Farniok.
Filiaga is massive. He's 6-6, 335 pounds. When you're that big and have good feet, all the big boys look your way. Filiaga is also considering Michigan and Oklahoma as finalists. Pundits are guessing he picks the Wolverines. He did, however, visit Nebraska late in the game, checking out Lincoln the second week of December.
Filiaga is rated No. 98 overall in the 247Sports composite rankings, so you can see how his commitment would quickly favorably skew NU's team ranking.
Darnay Holmes, ATH, Calabasas High School (Calabasas, California): Part of the Calabasas crew, a lot of West Coast analysts have long thought Holmes a UCLA lean. Now there are more pundits jumping on the idea he might pick Ohio State. But don't dismiss Nebraska here. It would surprise people, and Holmes has done a good job of not giving too much away, but the five-star receiver/corner has visited the campus seven or eight times.
His godfather is Keyshawn Johnson Sr., two of his teammates are already committed to Nebraska, and he has good connections with NU assistants Keith Williams, Donte Williams and Brian Stewart. Make no mistake, some in the Husker fan base would react more happily over a Holmes commitment than they would have for a Husker bowl win.
Foster Sarell, OT, Graham-Kapowsin High School (Graham, Washington): If Nebraska gets a commitment here, it's based on years of hard work, and would include beating out the likes of home-state school Washington, as well as Stanford. Going by the ratings, it would also be Nebraska's biggest commitment in, well, ever. Sarrell is rated No. 2 overall of all recruits in the 2017 class by the 247Sports composite.
He is 6-5, 315 pounds and at a position of need for the Big Red. And while some might be quick to assume NU has no chance at beating out those West Coast schools for a West Coast kid, give Husker O-line coach Mike Cavanaugh his due. All accounts are that Cavanaugh has built a really strong relationship with the prospect. Enough to have him make a Husker fan base lose its collective minds? Well … we wait.