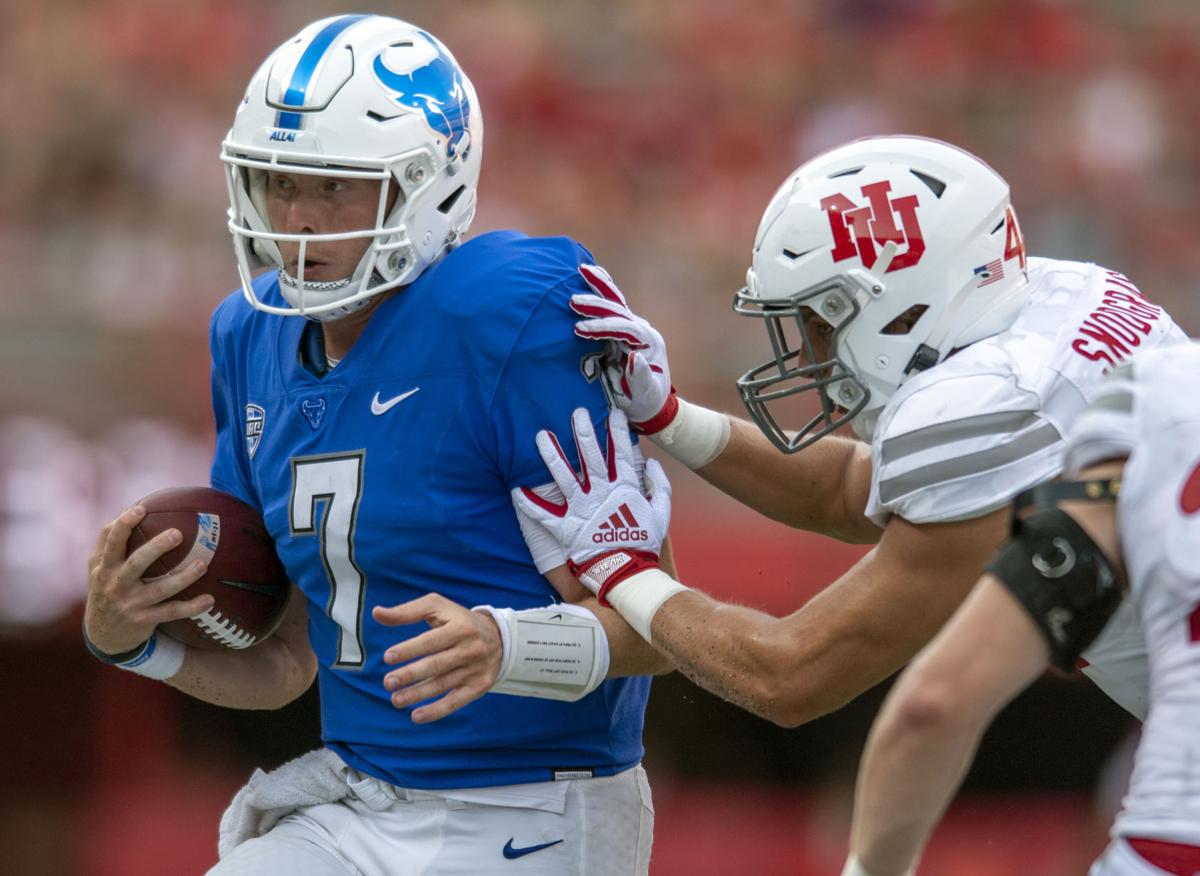 Buffalo was close to where it wanted to be, with the ball trailing Nebraska just 14-3 late in the third quarter.
Then, on the first play of the fourth quarter, disaster struck. Bulls quarterback Kyle Vantrease's pass was picked off by Nebraska linebacker Luke Reimer, who rumbled down the sideline to the Buffalo 1-yard-line. Gabe Ervin's touchdown on the next play put Nebraska up 21-3.
"Going into the fourth quarter having possession of the ball, we very, very much were right in the middle of the game, which was what we planned and prepared for our team all week," Buffalo coach Maurice Linguist said. "And in the fourth quarter, we didn't make enough plays to get get it done."
Nebraska sealed the win with Adrian Martinez's second 68-yard touchdown pass to Samori Toure with 5:58 remaining in the game, one of the big plays that made a huge difference in the game.
"Adrian Martinez, he's a great player," Linguist said. "He makes plays on the left with his legs and his legs and on top with his arm. (On the Martinez run) they went to an empty set. We decided to pressure We had an unblocked guy who had an opportunity to get him down and he came up a little short. That's part of the game, you're not going to have every single play go your way."
Down 21-3, the Bulls, who had 312 yards rushing last week in a win over Wagner, were forced to abandon the running game. Vantrease threw of his career high 50 passes in the final 15 minutes, completing 11 but failing to get Buffalo into the end zone.
"I'm going to do whatever is asked of me," Vantrease said. "If they need me to throw it 100 times, I'll throw it 100 times. If they need me to hand the ball off 100 times, I'll hand it off 100 times. We've got to do whatever we can to win the game and today, we didn't do that. You know, numbers and stats, it's all talk, except for that last one at the end of the game. On that, we obviously didn't come out on top."
The Bulls defense gave up 516 yards to Nebraska, which didn't do anything that Buffalo hadn't prepared for, said linebacker James Patterson.
"Those two plays that happened the first half we shot ourselves in the foot," Patterson said of the Martinez run and first big play to Toure. "We just got a little too excited when we got to the point of attack. We could have made that play."
The Saturday afternoon heat didn't have much of an impact on the game, said both Linguist and Patterson — "you really didn't notice it after a moment because you're playing ball ... trying to make those plays," Patterson said.
Nor did playing in front of 85,000 Husker fans negatively impact the Bulls. In fact, running back Kevin Marks said, the opposite was true.
"For me, it was exciting," Marks said. "I was ready for this stage. We played hard, played tough, played physical, showed what kind of team we are .. all the younger guys got to see this kind of atmosphere, which is good. They didn't get to see that last year, the COVID year. So it was good, good for our team."
Reach the writer at 402-473-7244 or kwolgamott@journalstar.com. On Twitter @KentWolgamott