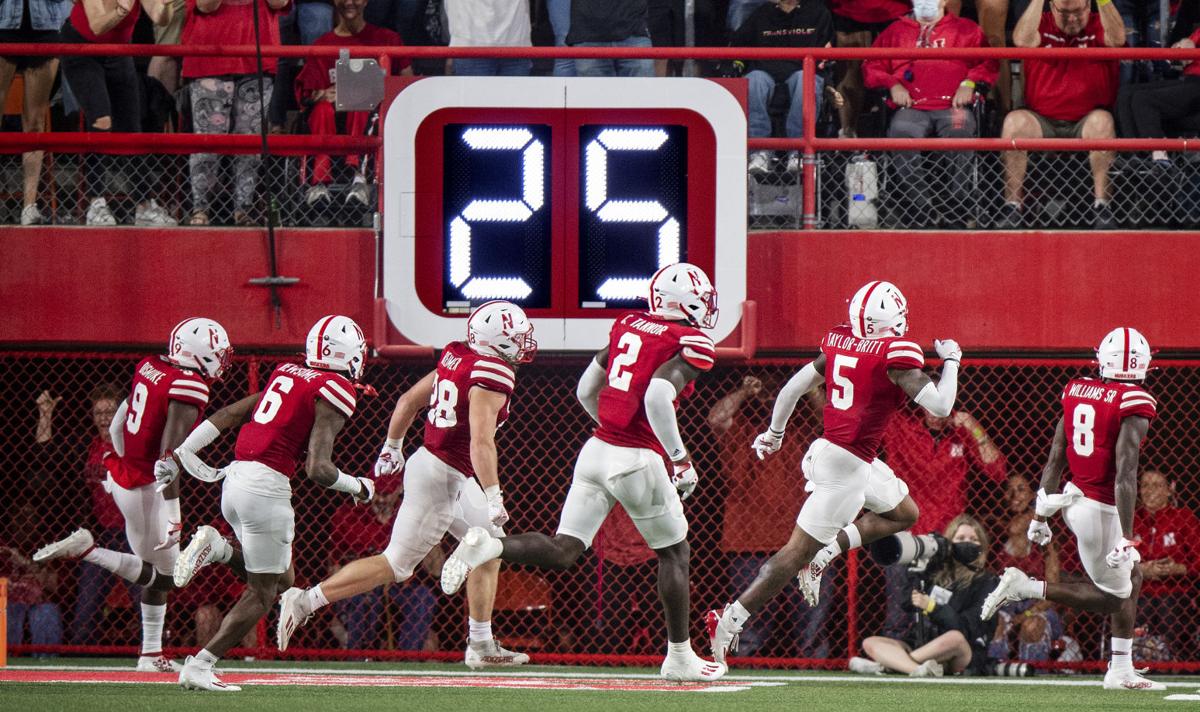 The Blackshirts have exceeded expectations at times this season but haven't often made a game-changing play.
The Nebraska defense got a monster turnover in a monster moment, intercepting Michigan QB Cade McNamara in the final minute of the third quarter. On a third-and-10 play, McNamara threw into double coverage and safety Deontai Williams intercepted the pass.
One play later, Nebraska scored for a 22-19 lead. And just like that, Michigan trailed in a game for the first time all season.
Nebraska was the first team to pick off McNamara this season in more than 120 attempts.
But No. 9 Michigan used a big fourth quarter, including forcing a turnover with 1:39 remaining, to win 32-29 at Memorial Stadium
Williams' third-quarter interception was just the eighth turnover forced by the Blackshirts this year — six interceptions and two fumbles — and easily the biggest.
"That was the turning point of the game," Husker defensive linemen Damion Daniels said. "That's where the momentum shifted, right there. We did something with it. That's one thing we got to keep working on coming up is (forcing) turnovers. Getting the ball back to the offense and letting them do their thing."
Williams, a senior from Jacksonville, Florida, is among the Big Ten leaders with three interceptions this season.
After the interception and quick score, Nebraska led 22-19, and the defense had given Nebraska the chance to beat a ranked team.
But on its next three drives, Michigan got a touchdown and two field goals.
First, Michigan had a 10-play, 75-yard drive to regain a 26-22 lead.
Then the Wolverines had another scoring drive that included converting a third-and-9 play with a 12-yard reception by tight end Erick All to the Husker 12-yard line. Jake Moody made a 31-yard field goal to tie the game at 29.
After Michigan forced and recovered an Adrian Martinez fumble, the Blackshirts tried to make a final stand. On third down, Luke Reimer got a tackle for a 7-yard loss to make a field-goal attempt a little tougher. But Moody made the 39-yarder for the win with 1:24 left.
Michigan's offense ran 81 plays, while Nebraska ran 60.
The defense was in a tough spot having to be on the field for 34 minutes, but Husker defensive tackle Ty Robinson said that wasn't an excuse.
"We're right there. It's just those little details that we just need to focus on and help ourselves with those — guys missing tackles and missing assignments," Robinson said. "Guys on offense not doing what they're supposed to do. We're out there for most of the day. I get tired, too, but it's no excuse. My job is to go out there and perform to get the ball back for the offense.
"We're so close. I'm sick and tired of hearing, 'We're so close.' But, gosh darn it, we're close. I feel like it isn't this game, it's definitely going to be the next game."
Reimer, the sophomore linebacker, didn't think fatigue was a major factor why Michigan scored 13 points in the final quarter.
"They just got us. They're a good team," Reimer said. "They're going to get theirs. We just have to do a better job of not letting them drive down the field on us and getting points on us."
After the Martinez fumble, the Husker defense held Michigan to a field goal, which got the ball back to Nebraska for one last chance to tie or win with 80 seconds left.
"(After) any sudden change we say, 'Put out the fire,'" Robinson said. "We went out there and put out the fire the best we could and get the offense the ball so we can go score."
The Nebraska defense held Michigan scoreless in the first quarter. Robinson had a 13-yard sack in the first quarter to end a Michigan drive. It was Robinson's first sack at Nebraska.
Linebacker Nick Henrich had a career-high 15 tackles for NU.