It wasn't pressure, exactly, that Nebraska's defense felt heading into Saturday's Red-White Spring Game at Memorial Stadium. Pressure is for October and November. For real fourth quarters and one-possession games and make-or-break third downs.
Certainly, though, guys like Mohamed Barry and Khalil Davis felt, well, something, when they took the field in front of 85,000-plus.
Their group's been maligned for two years and plenty of reason for skepticism remains. It's just a spring game, but after weeks of talk about how the Blackshirts have made real strides and considering the confidence which seems to be budding with the current group, laying an egg on the last day of spring ball would have at least been a little disheartening.
"We just came out to show everybody what we've been doing and what we've been working on all spring," said Davis, one of five seniors on the NU defensive line. "Hopefully they loved it."
His head coach, at the very least, appreciated what he saw from Erik Chinander's group Saturday and, more importantly, over the past six weeks.
"I wouldn't say it surprised me how well the defense did. I was pleased. Maybe more pleased than I had expected to be," Frost said. "They got a lot better. They played freer. They ran around a lot better. I think almost position by position, I saw improvement."
Rarely do entire units transform overnight, and that's not the expectation for Nebraska's defense. The group made improvements production-wise almost across the board from 2017 to 2018 and still finished No. 88 in the nation at 31.2 points per game allowed and No. 75 in yards per play allowed (5.81). In the areas that NU's players and coaches consider critical, though, they believe the progress is real.
"We're just a smarter football team and a smarter defense and that's going to pay us dividends this season," Barry said.
"The teams I've played on that were really good had a lot of leaders in older guys, but on this defense there's leadership all around," Oklahoma State graduate transfer defensive lineman Darrion Daniels added. "We've got a lot of young guys holding a lot of older guys accountable and the same vice-versa. I feel like there's a really good balance of everybody keeping everybody right."
You have free articles remaining.
Now comes the critical next phase for a group that believes it's on the right track but knows it has much further to go. The players will finish their semester over the coming weeks, have some down time in May and report back to begin summer conditioning and summer classes around Memorial Day.
"The thing now is we have to play fast and we have to play consistently, just like that, every time we hit the field," Barry said. "We have to come out on the field thinking that we want to be the best defense in the Big Ten. That's where it's at now. We've got so much better throughout the spring and we know we can be a great defense and now every time we hit that field, we have to feel that way.
"When it comes to the first game here, we have to show that. That's what's really the goal."
There are caveats and considerations all over the place. NU must find depth and production at linebacker. The secondary, even with a pair of cornerbacks to feel good about, has questions still to be sorted out. The defensive line is long on experience but has never had one of its players earn all-conference recognition.
Add to that Frost's sentiment Saturday that the offense is almost always behind the defense in his experience this time of year.
But confidence seemingly can't hurt, and Barry certainly isn't short of it as he leads the Blackshirts into a critical three-and-a-half months before preseason camp starts.
"It's the Big Ten and it's Nebraska, the defensive records we have here are basically untouchable," he said. "There's a lot of great defenders that came through here and when the light is off the Blackshirts a little bit, that makes you energized and ready to prove that, hey, this is a defensive program.
"That's what we're trying to do come the season."
QUARTERBACKS
What we knew going in: Sophomore Adrian Martinez clearly is the starter. In fact, Scott Frost on Saturday said Martinez "is clearly a top player in the entire country." No argument here.
Saturday's star: Noah Vedral, who was 13-for-19 passing for 144 yards while guiding the Red team after Martinez left the game for good early in the second quarter. "You know, if we had to play again today he'd be number two," Frost said of Vedral, a sophomore from Wahoo. "But like I said, every position competition is going to stay open through fall. The other guys have done good things, too, so nobody's safe in their position until we hit the first game." Vedral, though, looks like he'll be tough to overtake.
Saturday intrigue: Fans wanted to get a good look at incoming freshman Luke McCaffrey. Although he struggled with his passing — 3-for-13 for 14 yards and an interception — he flashed speed in the run game and seemed to have good command of the offense. Keep in mind, he took snaps on both teams and played with lower-unit players.
Question for the offseason: Can anyone push Vedral for the No. 2 job? Andrew Bunch, a junior walk-on, didn't have great passing numbers Saturday, but he shows poise and has a strong grasp of the system.
RUNNING BACKS
What we knew going in: The Huskers were severely limited at the position this spring given Maurice Washington's absence while his legal proceedings play out in California and the summer arrival of three more scholarship backs.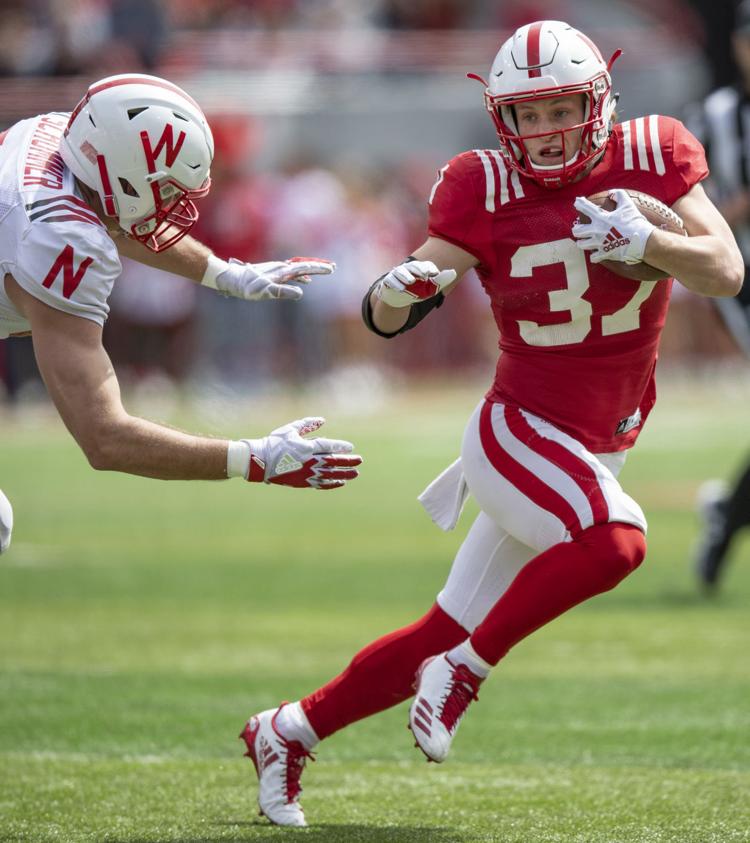 Saturday's star: Let's split the award between White team backs Jaylin Bradley and Miles Jones. Bradley had 12 carries for 57 yards and added three catches for 13, while Jones had three catches for 44 and 12 more on the ground. Keep in mind that those 126 yards of offense came against the Red defense, which featured most of the players who will contend for roles on the two-deep.
Saturday intrigue: Redshirt freshman walk-on Brody Belt earned praise all through spring for his work with the top offense, so many were curious to see how he'd handle the Red-White Spring Game. He acquitted himself well, finishing with 53 rushing yards (4.1 per carry) and two catches for 19.
Question for the offseason: The questions are twofold and as simple as they are critical to NU's offensive success: What impact does eventual resolution in Washington's legal situation have on his playing time and how fast can the trio of Dedrick Mills, Rahmir Johnson and Ronald Thompkins get up to speed once they arrive on campus?
WIDE RECEIVERS/TIGHT ENDS
What we knew going in: This was going to be a day to see how the depth looked behind NU's stars on the outside, and it turned out that way. Seventeen players caught at least one pass. Jaron Woodyard and Wyatt Liewer scored touchdowns. Nebraska needs some guys to step up here, and several players made their case Saturday.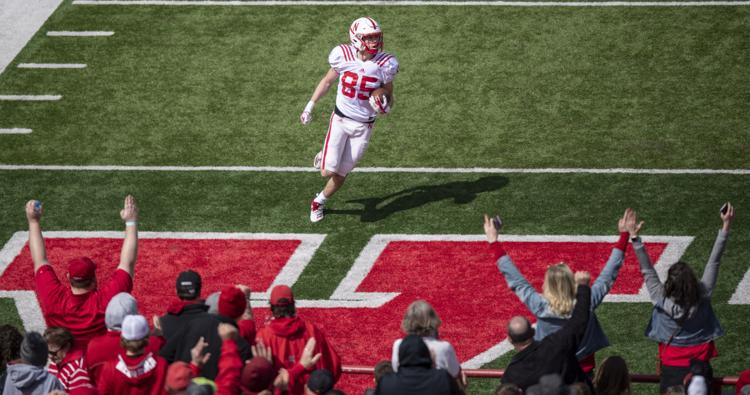 Saturday's star: Kade Warner had the day's longest play, catching a 57-yarder from Adrian Martinez on the game's opening drive to wake up the crowd. The one regular from last season who played in this year's spring game showed he could make an explosive play when called upon, even if it was against his own teammates.
Saturday intrigue: Aurora sophomore Austin Allen showed he could be a valuable tight end weapon along with Jack Stoll, who sat out. Allen made a nice grab on a corner route for a 30-yard gain, and also caught a 24-yarder. That 6-foot-8 frame is going to present some issues to opposing defenses.
Question for the offseason: How quickly can Nebraska's stars return to full health? JD Spielman and Wan'Dale Robinson will undoubtedly play huge roles in this offense come the fall. Nebraska needs them fully healthy and ready to roll.
OFFENSIVE LINE
What we knew going in: That Nebraska has to replace two starters in Tanner Farmer and Jerald Foster, and one of the leading candidates to replace Farmer at center is Cameron Jurgens, a redshirt freshman who has never played O-line at the high school or college level.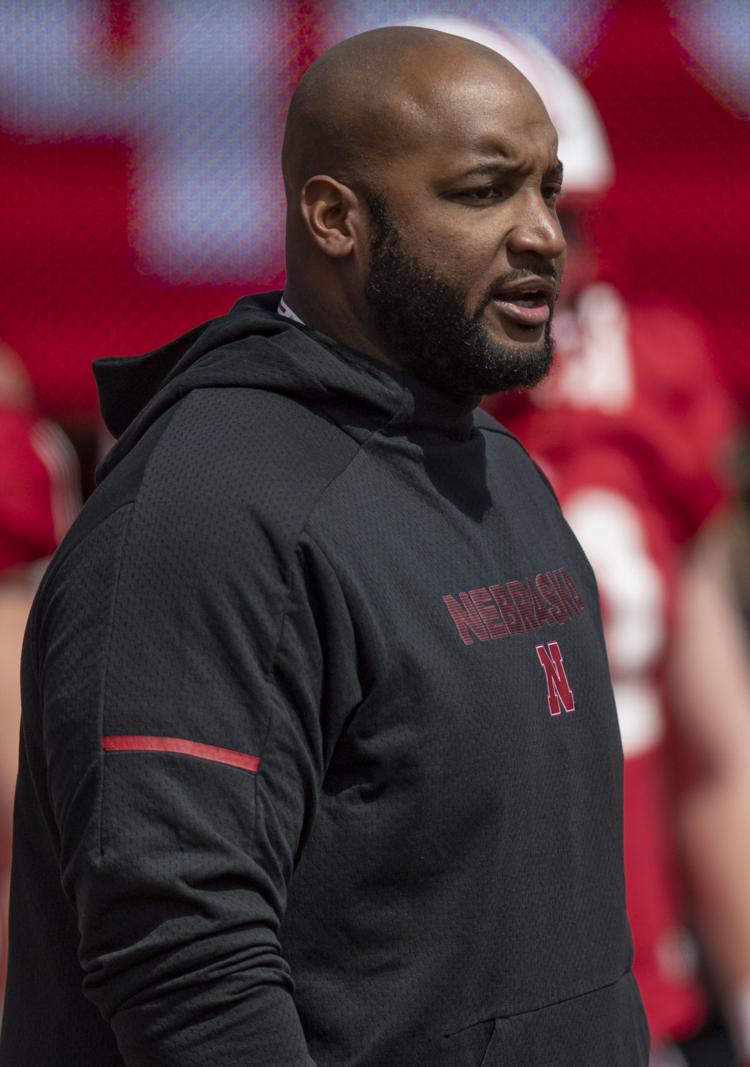 Saturday's star: Brenden Jaimes. Anytime you don't notice the left tackle is a good day — even if the QB isn't allowed to be sacked due to spring game rules. Redshirt freshman walk-on center AJ Forbes also got a lot of playing time with the top O-line.
Saturday intrigue: This was the first chance for fans to see Jurgens, in what would be an impressive story if he can go from tight end to starting center in less than a year, and then help the Huskers be better on the line.
Question for the offseason: The offensive line had some rough moments Saturday, with penalties and giving up "sacks." Scott Frost says the gap between the 1s and the 2s on the O-line is too big, so can they close it? This summer, freshman Bryce Benhart will join the group as one of the best line recruits in the country. Can he quickly become one of the 1s or the 2s?
DEFENSIVE LINE
What we knew going in: It's the most veteran group on the roster and was widely considered the most improved position group over the course of the spring.
Saturday's star: Reserve defensive lineman and former Navy SEAL Damian Jackson had two sacks for the White Team, including a fourth-down stop of Adrian Martinez early on when he came unblocked through the right side of Red's interior offensive line.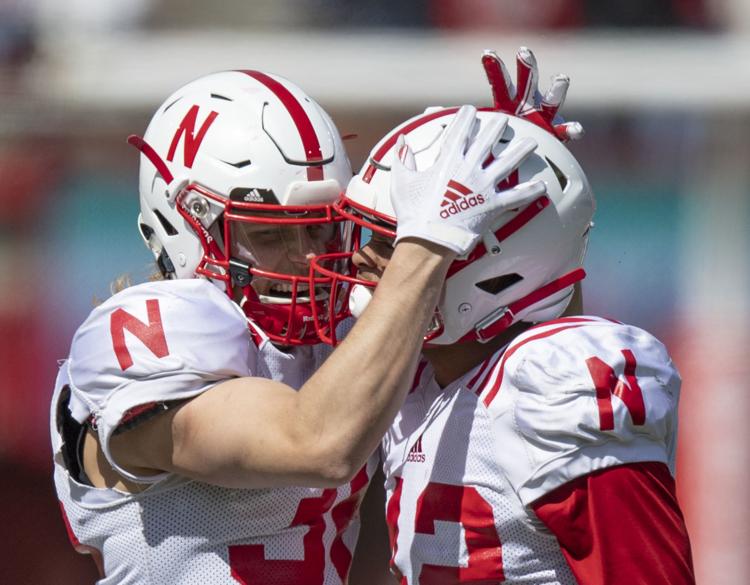 Saturday intrigue: Everybody who's talked about the defensive line this spring has noted the impact graduate transfer Darrion Daniels has had since arriving from Oklahoma State this winter. He backed it up Saturday with consistent play on the Huskers' interior.
Question for the offseason: Do the Huskers add anybody else? Junior college prospect Jahkeem Green was on hand as an official visitor this weekend. Then, can the disruption that the group caused this spring carry over when the rubber hits the road this fall? NU needs it to.
LINEBACKERS
What we knew going in: We knew the Huskers were thin at inside linebacker and that a trio of redshirt freshman walk-ons would see heavy playing time given that junior Will Honas is still rehabbing an October knee injury and Nick Henrich had shoulder surgery this week.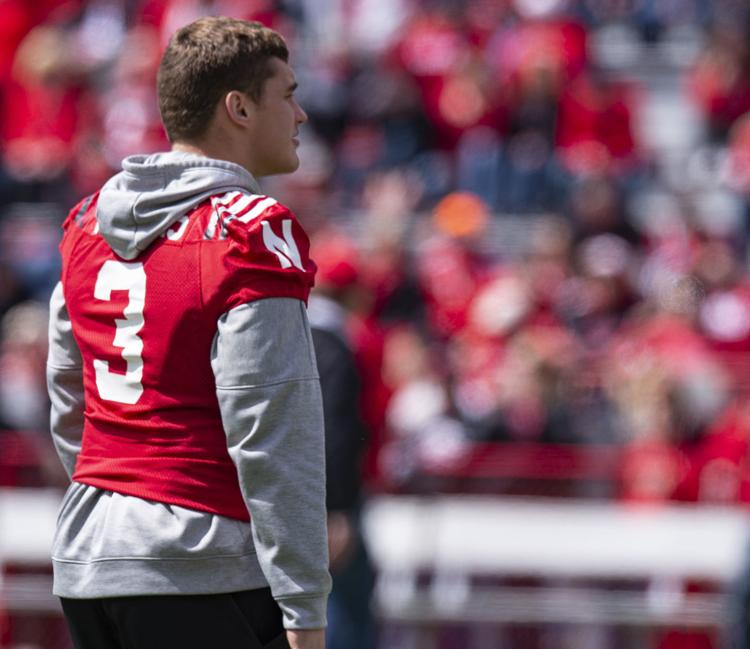 Saturday's star: Senior inside linebacker and captain candidate Mohamed Barry finished with six tackles and a sack, but it was this post-scrimmage thought that earns him the nod as the day's star: "I have to make critical plays for my team. I have to make those plays that are going to win us big games and put us in Indianapolis in December. That's what matters. That's the player I have to be each and every game. That's the pressure I put on myself and that's what counts."
Saturday's intrigue: Senior outside linebacker Alex Davis earned praise throughout the spring for improved pass-rush and aggressiveness. He was credited with a sack on Saturday and played extensively in the first half with the top group.
Question for the offseason: Where does a consistent pass rush come from? Can either of last year's high-profile additions — Breon Dixon and Caleb Tannor — make a big impact in 2019?
DEFENSIVE BACKS
What we knew going in: Lamar Jackson, Dicaprio Bootle and Cam Taylor are clearly the top three cornerbacks, but there is a bit more to clear up at safety. Make no mistake, though, defensive backs coach Travis Fisher feels good about the talent in the safety group, which is led by junior Deontai Williams.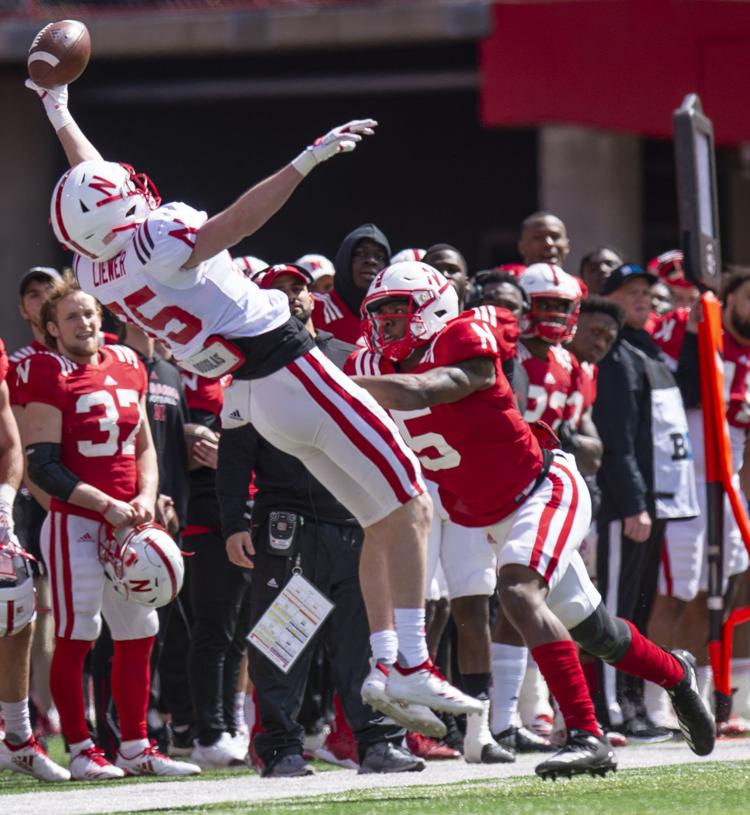 Saturday's star: Junior safety Marquel Dismuke, who intercepted an Andrew Bunch pass and returned it to the White team's 18-yard line. Martinez capitalized with a 21-yard touchdown pass to Jaron Woodyard. Dismuke finishes the spring season in prime position to win a starting job alongside Williams. 
Saturday's intrigue: Bootle, a junior, put a scare into the crowd (and probably his team) when he was attended to on the field by medical staff. But he walked off the field under his own power and apparently wasn't seriously injured.
Question for the offseason: Fisher really likes the incoming freshmen defensive backs: Myles Farmer, Quinton Newsome, Noa Pola-Gates and Javin Wright. Can any of them get themselves ready to play prominent roles for the defense in 2019?
SPECIAL TEAMS
What we knew going in: Sophomore Barret Pickering, who made 14 of 18 field goals last year, has a strong hold on place-kicking duties. Punting duties belonged to Lincoln Southwest grad Isaac Armstrong during the second half of last season, but former starter Caleb Lightbourn is hoping to make a push, and Michigan State transfer William Przystup could be in the mix if he's immediately eligible.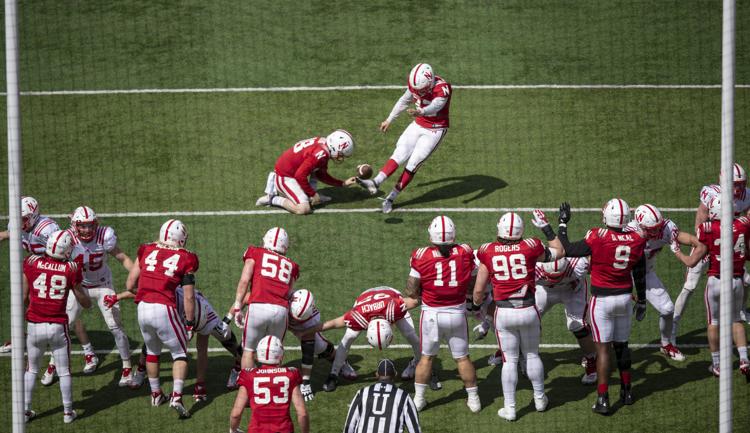 Saturday's star: Pickering knocked three field goals down the pipes during the first half, including a 45-yarder into the wind to end the second quarter. The Birmingham, Alabama, native had plenty of charge in all three.
Saturday's intrigue: Sophomore Cam Taylor, who did a little bit of everything on the football field in high school, was in as punt returner, though he didn't he return any.
Question for the offseason: What big names can we expect to hear when it comes to the return game? Wan'Dale Robinson, JD Spielman and Maurice Washington are likely to factor into the fall camp conversation, and they didn't suit up Saturday.