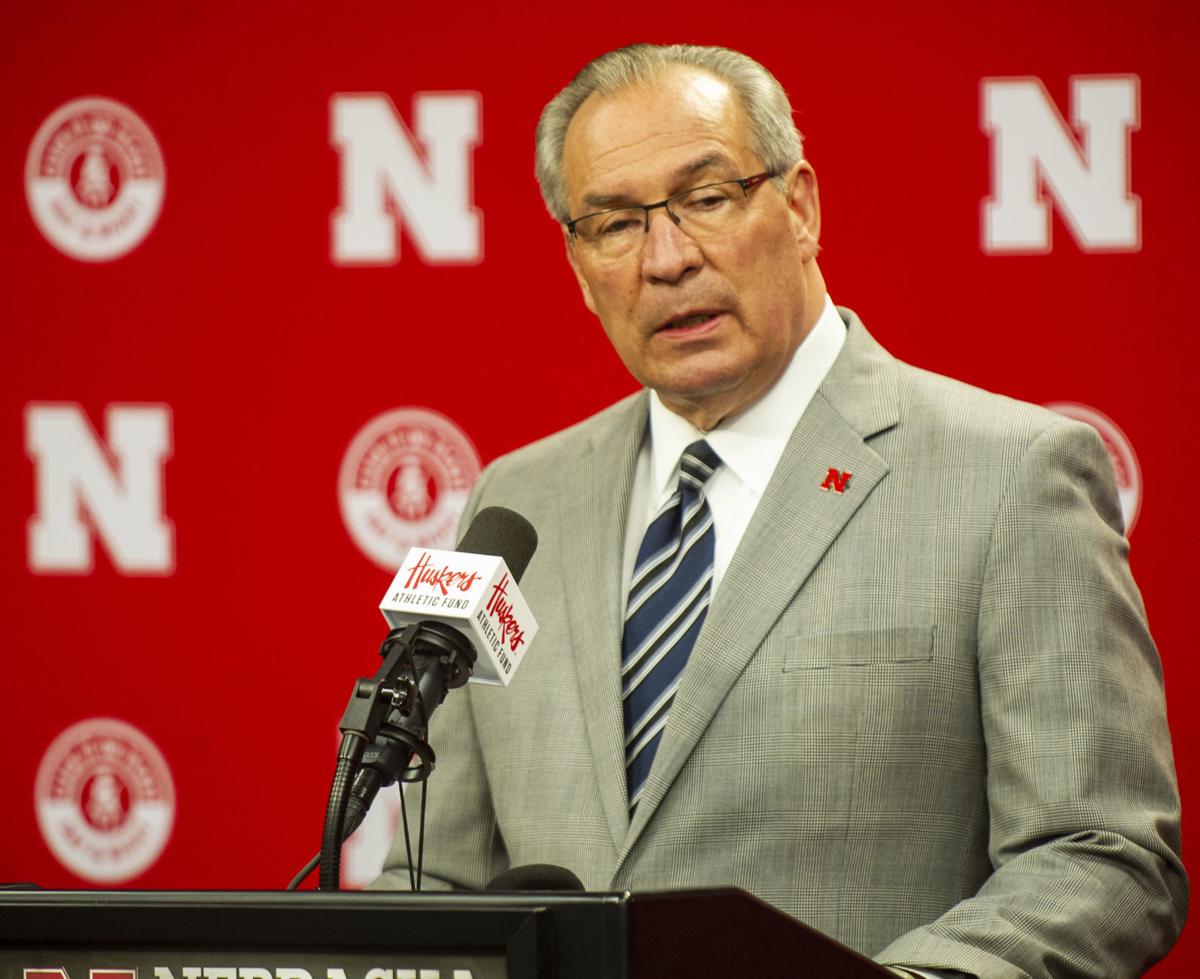 CHICAGO -- Several college football prognosticators predict Nebraska will win the Big Ten West Division this season and finish in the national top 25.
In a sense, the Huskers are being handed respect considering they've finished 4-8 in back-to-back seasons, including last year in Scott Frost's first go-round as the program's head coach.
Bring on the hype, Nebraska athletic director Bill Moos told reporters Thursday during Big Ten Media Days.
"I think Scott has his people under control and they're going to play within themselves," Moos said. "But the hype is good. Nebraska's definitely on our way back in the sport of football, and I'm looking for a real big year."
Why does Moos embrace the hype and high expectations?
"The hype is good because this is Nebraska. We've got a brand, and we need to get it dusted off and back where it belongs," he said. "Year 2, maybe that's not quite there yet. Three, it sounds a little bit better. But you heard Scott talk about the fact we really don't have very many seniors on offense. So keep an eye on this program.
"I can't say eight, nine, 10 wins. I don't know. But I do know last year we got progressively better each week, and I think we'll just carry that on to the season."
Moos was asked if he had a number in mind that would characterize a successful season.
You have free articles remaining.
"We really need to get to six (wins)," he said. "We need to get into the postseason and get all those extra practices and get that recognition in college football. I know at Oregon when we started to build, we went six (wins), seven, eight, nine, 10 -- it just kind of worked out that way and the momentum just carried it.
"The same at Washington State once we got things cleaned up there. We won four (last year). I'd like to get six, and who knows? It's a tough conference and we're in a tough division."
Told of Moos' comments, Frost said, "I'm not sure any of us would be happy with six. But I'm not worried about the number right now. I'm worried about getting better. And we are better. I want our kids to have expectations; we're just not going to talk about them much as a program. But I don't want to have another Christmas at home, until I retire."
Moos said that in his conversations with Frost that "he tells it like it is. I think we've got some depth concerns still. But we've got a great deal talent (and) we're in excellent shape. Our players look more like football players now and that's due to a year and a half with this strength and conditioning crew.
"Of course, it's a tough conference. But I like our schedule the way it lays out. You have to take them one at a time and try to build up some momentum. I think we have every chance to do that."
Meanwhile, Moos said new hires Garrett Klassy (senior deputy athletic director for external operations) and John Johnson (senior deputy AD and chief of staff) "are two of the best in the business."
Johnson will be Moos' liaison to the Husker men's basketball program, although head coach Fred Hoiberg reports directly to Moos, as does Frost.
"They will complement the very good senior administrators that we already have," said Moos, indicating that major changes may be over.
"What Garrett and John bring is knowledge of the bigger picture," Moos said. "They've been to Alabama and Wisconsin and Washington State. That's really going to help us as we grow the program."