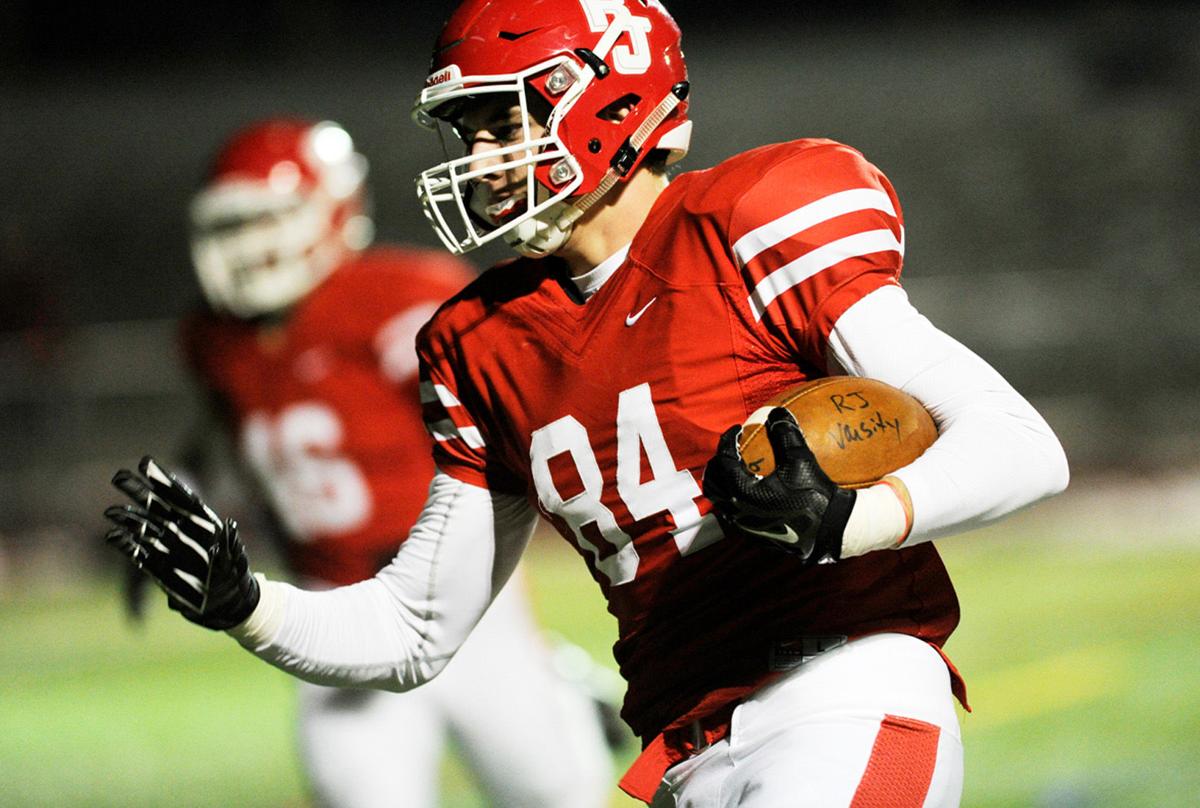 Before they got to Lincoln, the 2020 Huskers were slinging passes, accumulating touchdowns, breaking records and winning state titles. This fall, we highlight some Huskers who shined bright under Friday night lights.
Jack Stoll
Year and position: Senior tight end.
High school: Regis Jesuit (Aurora, Colorado).
Of note: Stoll, who had offers from Texas, Colorado, Colorado State, Air Force, among others, was the third-ranked prospect out of Colorado during his recruiting cycle, according to Rivals and ESPN. He was the nation's No. 9 tight end prospect by ESPN.
Expanding his game
Stoll established himself as one of the country's top tight end prospects prior to his final prep season, but a new head coach with a new offensive scheme allowed Stoll to expand his offensive skills.
"We run more of what Nebraska runs right now," said Regis Jesuit coach Danny Filleman, who arrived before Stoll's senior season. "He took to it because he had a lot different role than he did with the previous offense. Now he's split out, he's catching the ball, he's blocking more in space.
"He was kind of a sponge and soaked it all in."
Stoll caught 32 passes for 434 yards and six touchdowns for Filleman, collecting second-team all-state honors in the process.
Whether it was short passes, isolation routes or screen plays, coaches made sure to utilize Stoll.
"We could throw the ball up to him, we ran behind him," Filleman said. "He was that kid that the other teams definitely knew who he was, and as coaches, we knew he was one of our guys, a big factor for us. We tried to find different ways to get him the ball."
First impression
Filleman, upon arriving at Regis Jesuit, said he was impressed with how coachable Stoll, a high-profile prospect, was.
"That was the one thing I noticed about him where we were coaching him up how to run different routes," he said. "He was really receptive to a little bit of change, work on what he needed to work on to make himself better."
Whiteout finish
Regis Jesuit finished 10-2 in 2014 and 9-3 in 2015, reaching the Class 5A state quarterfinals in each season.
Stoll's final high school game was played in a blizzard — a defeat to Columbine.
"There was barely any snow (at the start of the game), by the end of the game there was 6 or 8 inches of snow on the field," Filleman said. "It was wild."
Keeping tabs
Prior to the pandemic, it was quite common for Filleman to receive a phone call from Stoll when the tight end was back home.
"He'll call me up (and say), 'Hey, can I get in the weight room?'" the coach said. "I always loved having guys from college come back. We'll open the weight room for them, chat with them for a bit."