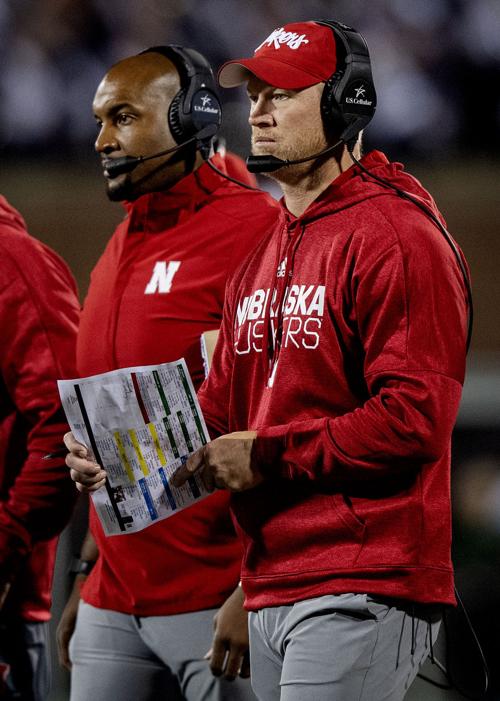 Greg Austin might just be a fan of the movie "Spinal Tap."
When asked Thursday evening on the "Sports Nightly" radio program to gauge his excitement level for the 2020 season to kick off Saturday, the Nebraska offensive line coach and run game coordinator said on a scale of 1-10, "I'd put myself at about 11." 
"I'm excited to be playing football," he continued. "… I've really taken an inventory of how much I love the game, how much I love being around the boys, coaching and developing guys, just that team and camaraderie." 
Some brief notes from Austin's hour on the radio: 
* Austin confirmed what has been widely expected: Bryce Benhart will start at right tackle for the Huskers against Ohio State. It will be the first career start for the 6-foot-9, 315-pound redshirt freshman from Lakeville, Minnesota. 
* Austin continued to have high praise for four-star true freshman left tackle Turner Corcoran. 
The Lawrence, Kansas, native is the No. 2 left tackle behind Brenden Jaimes, but Austin said, "You're going to see Turner Corcoran play this year," and perhaps even Saturday against Ohio State. 
"He's doing a pretty dang good job," Austin said. "He's been turning heads ever since he's been here. Not just on the field, but just his maturity off the field." 
Other backups at the tackle position include redshirt freshman Brant Banks, senior Christian Gaylord and junior Matt Sichterman. 
* It's clear Austin and NU like what they're getting out of senior captain Matt Farniok after moving him from right tackle to right guard. 
"We wanted to move him before now, but we just didn't have the depth to do it," Austin said. "He's done a good job down there, has continually gotten better." 
Even better than that: Farniok now plays squarely between a sophomore center in Cam Jurgens and Benhart to his right. That wisdom and experience between a couple of young players, Austin thinks, will pay off on a snap-to-snap basis. 
"He's a guy that puts a lot of comfort and confidence in Bryce Benhart, the guy who plays next to him at right tackle," Austin said. "And Cam loves having him there." 
* Senior Boe Wilson is Nebraska's starting left guard, but Austin said NU will "take care of" the veteran after he battled injuries through much of 2019 and saw his overall play slip because of it. 
"Boe knows that, we're going to try to take care of him and make sure that he's not getting all the reps that wore him down last year," Austin said. 
* One note of critical importance: A caller asked Austin how the pregame meal would work because of the coronavirus pandemic and the risk associated with it. 
"You're asking me a question that's a little out of my wheelhouse, but what I do know is we're going to eat. I know that," Austin said.  
The linemen will be happy to hear it. 
What the Huskers are saying as gameday approaches
Watch now: Here's what Husker players and coaches are saying as opening kickoff looms
Watch now: Vokolek says team will use TEs 'pretty significantly'
Watch now: Mills of being in Lincoln, "I love being here... being here makes me happy"
Watch now: Dawson says his OLB group doesn't 'have time to be young'
Watch now: Held pegs Thompson as No. 2 RB, praises position's depth
Watch now: Chinander identifies six-man rotation at OLB