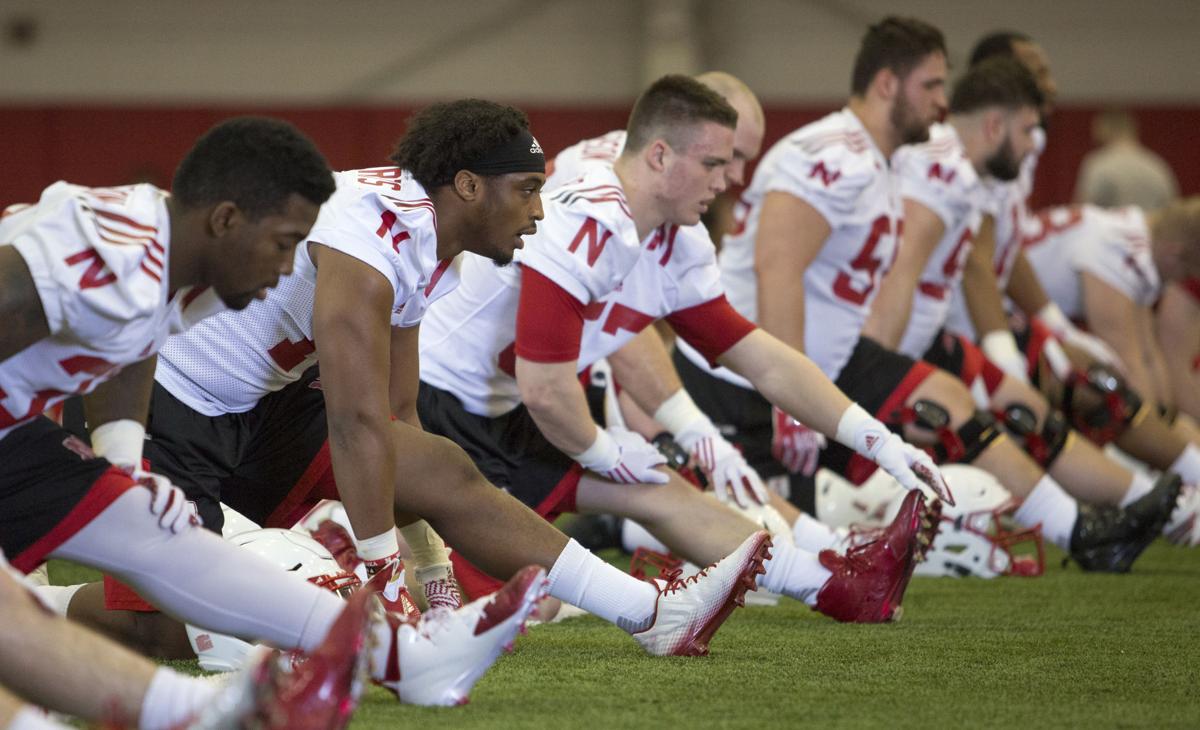 You are a person on the go. It's understood if you have not made it a top priority in recent weeks to know if Boe Wilson is working at right guard or left guard, or if Dedrick Young is an inside or outside linebacker.
You know new Husker defensive coordinator Bob Diaco has great hair and energy, but beyond that, there are so many names to get straight when it comes to Husker football. Sometimes all the info collides together.
Consider then what follows a spring halftime summary of sorts. It's a humble attempt to refresh on what knowledge has been picked up after six practices and what warrants monitoring when Nebraska steps on the field again this Tuesday.
What seems clear, from Spring Game ticket sales that have already exceeded 55,000, is that the Nebraska fan base has a keen interest in figuring out clues about this team.
So, let's review, fellow Sherlocks.
Wide receiver
What we think we know: There seems clarity in naming Nebraska's top three wide receivers. Stanley Morgan and De'Mornay Pierson-El, yes, of course they're two of them. What maybe wasn't as obvious is the rise of Reimers — Bryan Reimers, Lincoln East grad. If the 6-foot-5, 215-pound Reimers can become that next walk-on receiver to become reliable (like a Todd Peterson or Brandon Reilly, to name a couple), NU's situation at the position is better than some on the outside will think.
What needs to be learned: Between Keyan Williams and JD Spielman, who is ready to be the bigger playmaker out of the slot? Both are unproven in games but are going to have to make plays. They're capable.
Coach Mike Riley was candid in saying depth at the position isn't fully developed yet. Any concern here can go away if a couple of walk-ons such as Conor Young and Gabe Rahn rise up, and if one or two of the true freshmen (Jaevon McQuitty, Keyshawn Johnson Jr. or summer arrival Tyjon Lindsey) can be immediate-impact guys.
Don't sleep on McQuitty. He can't take contact this spring due to a winter shoulder surgery but he looks fluid running routes.
Quotable: Wide receivers coach Keith Williams now expects Reimers to finish even the difficult plays. "When I was a freshman or so, you could not make a tough play and he didn't say anything," Reimers said. "And then when you start making those plays, it's just like an expectation that he has. I started doing that, and now every time I drop a tough ball, it counts as a regular drop for me."
Secondary
What we think we know: That this position group should be a strength for this team. Riley has said that. We've already learned that safeties coach Bob Elliott thinks junior safety Aaron Williams is one of the smartest players he's coached. This position group also gave us the most noteworthy headline of the spring, with senior Joshua Kalu getting a look at safety after spending his previous time at NU as a corner or nickel back. Whether that becomes permanent will be one of the things to watch closest these next few weeks.
What needs to be learned: If Kalu fits at safety, is sophomore Lamar Jackson ready to take off and fly at the corner spot opposite Chris Jones? While pondering that, it's worth noting cornerbacks coach Donté Williams also expects Eric Lee to get snaps in his third year. A wild card to watch is redshirt freshman Dicaprio Bootle, who has earned some good reviews and has been seeing reps with the second defense.
At safety, sophomore JoJo Domann is coming. Coaches like him. He's going to be hard not to give snaps at some point. Too early to say exactly how those safety spots, which includes guys who have started like Antonio Reed and Kieron Williams, get sorted out.
Quotable: "Right now, if we have 14 teams in this conference, we're No. 14," Williams said of NU's secondary. "But when that first game happens, we're going to be No. 1."
Running backs
What we think we know: Riley says there is indeed some separation at the position but didn't want to say who is in the lead. A good bet is it's sophomore Tre Bryant, who from the looks of things put in a lot of winter work to get his body ready. And, yes, Mikale Wilbon is getting a good look from position coach Reggie Davis, and the junior, a self-described perfectionist, is not beating himself up over every mistake. A clear mind can go a long ways.
What needs to be learned: What role does junior Devine Ozigbo carve out? Certainly the back who has more Husker carries to his name than anyone is in this conversation, too. And while there should be caution in running too far with a flattering line Riley said about walk-on Wyatt Mazour (a Danny Woodhead comparison!), don't just necessarily write it off as a feel-good spring tale, either. No one in that room has done enough yet to keep all options from being on the table.
Quotable: Offensive coordinator Danny Langsdorf thinks added durability is a key trait the backs must show."I think playing in the Big Ten, it will wear on you a bit," he said. "The young guys, I wouldn't say they hit a lull at all, but I think it's a long season, it's a lot of work and I think that they just have to be energized and come ready to play every day."
Linebackers
What we think we know: Chris Weber might be as important as anyone on this defense in 2017 as the top strong-side inside linebacker. He needs to be a run stopper and a quarterback of sorts for Diaco out there. And while there will be talk about young guys who could rise up and take away jobs, that's always easier said than done.
You have free articles remaining.
Senior Marcus Newby's ability to wear multiple hats will be key at that field-side outside backer spot, and junior Dedrick Young seems to have a second wind working as an inside backer. Sure, youth needs to climb. But don't overcomplicate it either. These three veterans probably need to be good for the Blackshirts to be good. 
What needs to be learned: Third-year sophomore Alex Davis' transition from a 4-3 defensive end to a 3-4 boundary-side linebacker is critical for this defense. It's a work in progress, but the good news is Davis is one of those pieces of clay you can mold. "I'm still learning the game," he said of the change. "It's not a setback." Guys who could be on the brink of something seem to include junior Luke Gifford and sophomore Mohamed Barry. But as Gifford said, it's time to show it more than say it.
Quotable: "Downhill" is a word that keeps coming up. "As practices go on and we keep having padded practices," said linebackers coach Trent Bray, "we have to keep developing that physical attitude day in and day out where it's just a reaction to get downhill."
Tight end
What we think we know: Senior Tyler Hoppes is the top tight end, and sophomore Matt Snyder is probably the second guy. Hoppes seems to have really good hands and he'd be a good Husker to buy stock in with these new quarterbacks. Blocking is a major focus of his. That part of the game is something this group still has to prove it can consistently perform in.
What needs to be learned: Can Nebraska comfortably go three or four deep at this position by the fall? Connor Ketter is an unheralded senior walk-on NU coaches really hope can be ready to help in the fall after a back injury. Second-year scholarship guys Jack Stoll and David Engelhaupt are also in a key year of development. The verdict remains unknown on this position, but a couple of young guys proving they are ready could also set up the Huskers well for the next two or three years.
Quotable: "It's kind of a different mindset when you're kind of the guy and taking the first-string reps," Hoppes said. "You know you have to be there to prove yourself."
Defensive line
What we think we know: The top options at the D-end spots seem clear enough — Carlos Davis working the short side and Freedom Akinmoladun working the field side. Just because Davis has a different position title in a 3-4 scheme, Riley notes many of his responsibilities are the same as he had in Mark Banker's 4-3 defense. So Carlos Davis, who probably has the highest ceiling of anyone on that D-line, shouldn't have to take a major step back before taking two forward.
What needs to be learned: Whether Mick Stoltenberg and/or Khalil Davis are ready to handle everything asked of them at that nose tackle spot can't be fully known until the games start. It's also fair to ask the question about depth at the D-end spots. Peyton Newell has shown some promise backing up Carlos Davis. It also is key for DaiShon Neal, who is working behind Akinmoladun, to have a strong offseason. Some good young talent is on the way, but D-line is not an easy place to immediately jump into the deep end.
Quotable: "He just kind of preaches that effort is the ultimate eraser," Stoltenberg said of Diaco's message. "If you screw something up, your assignment is 100 percent correct if you throw in some really fired-up effort and fly with the ball and do the right thing there."
Offensive line
What we think we know: You rarely write any depth chart info in pen in March, but it's hard to see anyone but Nick Gates and Jerald Foster owning the spots on the left side. Elsewhere, there is reason to be upbeat about redshirt freshmen Boe Wilson at right guard and John Raridon at center. But it's also been shown that they aren't going to just rip jobs away without a serious fight. Wilson is pushing hard, but Tanner Farmer has been mostly working with the top group at right guard. And third-year sophomore Michael Decker has been a positive story of spring so far, working with the top group at center.
What needs to be learned: Can David Knevel lock down that right tackle spot and take off in his senior year? He's been getting the looks with the top group at all the practices the media has witnessed. At this moment, Wilson, Raridon and Cole Conrad seem closest to the top guys. Can NU coaches feel confident about at least eight or nine linemen walking out of this spring? It's a more likely possibility than the past two years, at least.
Quotable: "He needed to have a great year in the weight room this winter and I think he's done that," offensive line coach Mike Cavanaugh said of Knevel.
What we think we know: If you had to predict one Husker as a first-team all-conference player, kicker Drew Brown should be your first name. He's got that type of ability. Don't take a leg like that for granted. We also know punter Caleb Lightbourn is getting daily practice instructions from Diaco, who has coached punters in the past. Lightbourn has a strong leg. He looks like a linebacker. Consistency is the word with him. NU needs to take a leap off the trampoline in net punting after ranking 123rd last year.
What we need to learn: Coaching duties are split up among the assistants for NU's special teams, but the Huskers did just hire former Notre Dame coach Scott Booker to be a special teams consultant. That's not a full-time coaching position, but it'll be worth checking to see the specific responsibilities Booker carries.
Quotable: "It's guys like myself and others who have played a significant amount of games in a Nebraska uniform, it's our job to kind of teach the younger guys how it needs to be done and how to win games," Brown said.
Quarterbacks
What we think we know: Tanner Lee and Patrick O'Brien have thrown fewer incompletions and interceptions (save for the last practice before break) than we have seen in the past. We also know, despite some quotes from within the program that make you think Lee will be hard to beat out, that Riley is in no hurry to announce a starter. He probably won't say at spring's end. He even brought up how he handled a QB competition at Oregon State in 2014 where he didn't name the starter until the week of the opener.
What we need to learn: The completion percentage is expected to rise, but we'll have to see if NU can take the top off a defense in the passing game. The QBs are still growing with the personnel around them and the departure of speedy deep threats like receivers Brandon Reilly and Alonzo Moore shouldn't just be batted away. Whether Nebraska can keep its "sacks allowed" stat low (NU was 14th last year, giving up 1.15 a game) is also fair to ponder with less mobile quarterbacks.
Quotable: "I want to be as close to perfect as possible every day," Lee said. "And make every throw and every read and every play call — just so everyone can feel comfortable with me in the huddle. That's important to me."