Casey Thompson surveyed his offense from the sideline with a helmet in his left hand and a stoic stare on his face.
Thompson, who completed 14 of 20 passes for 129 yards and a touchdown during Saturday's 49-14 loss against Oklahoma, wasn't injured, though he may have been bruised after taking four sacks. 
No, the Huskers removed their starter because the game was out of hand. And because, as interim coach Mickey Joseph said later, "We needed to get Chubba (Purdy) some reps."
It felt ironic watching the Sooners beat Thompson at Memorial Stadium on Saturday considering he could've swapped teams.
In January, The Athletic reported that he was considering Nebraska, Missouri, Indiana, Auburn and, ironically, Oklahoma, whose coach, Brent Venables, conceded last week he considered Thompson. He could've stayed at Texas, too.
Four games into the season, each of those schools look better than the one he chose.
All five of those teams (including Texas) have beaten an FBS team. Nebraska hasn't.
Three of the five — Texas, Oklahoma and Indiana — boast defenses ranked in the top 40 in opponent points per play. Nebraska's ranks 91st against a schedule that includes Georgia Southern, North Dakota and Northwestern. NU fired defensive coordinator Erik Chinander on Sunday as a result.
None of Thompson's other options employ interim head coaches, either. 
He could be starting for any of them right now — even Texas, which lost starting quarterback Quinn Ewers to a shoulder sprain against Alabama last week.
How would Thompson have looked leading the Longhorns in a tight battle with top-ranked Alabama last week? How would he look dissecting Nebraska's secondary as a Sooner? How would Auburn have looked against Penn State with Thompson under center instead of TJ Finley, who committed two turnovers during Auburn's 41-12 loss?
Thompson chose Nebraska with the intention of reviving a dormant football power (and, perhaps, pocketing some NIL money). Four games in, Nebraska's defense has yet to hold an FBS team under 528 yards. Its receiving corps has one player — Trey Palmer — who has four receptions in every game. And its offensive line allowed four sacks and several more hits while Thompson played Saturday.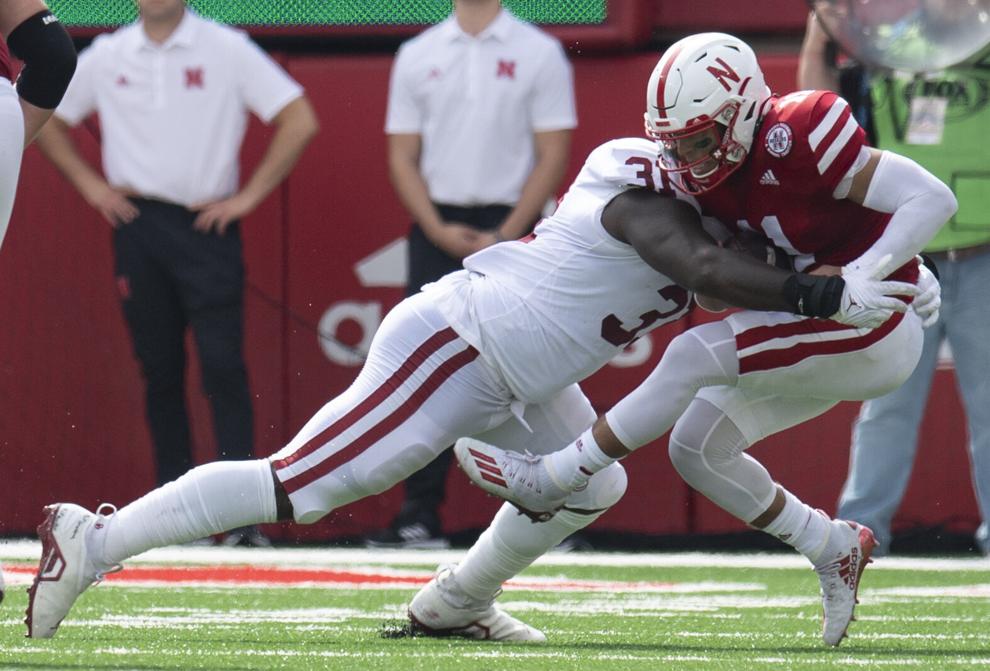 NU took him out in part because it didn't want him to get hurt while window dressing a 35-point loss.
Thompson, for his part, has played well amid tumultuous circumstances.
He's completed 65% of his passes and thrown for 995 yards. He's accounted for nine touchdowns to three turnovers. He finished Saturday's game, a decidedly bad one for NU's offense, with a quarterback rating of 140.7.
But when evaluating Thompson's performance afterward, coach Mickey Joseph didn't care for numbers.
"Nobody played very good with a score like that," Joseph said. "So I would say that he didn't play very well."
Oklahoma might not be the last team to post a similar score against Nebraska. The Husker defense, now being led by Bill Busch after Chinander was let go, has leaks and the offensive line will face defenses more similar to Oklahoma than Georgia Southern or North Dakota in the Big Ten.
Where might that leave Thompson? Perhaps the same place he was during most of Saturday's second half, watching Purdy run the offense.